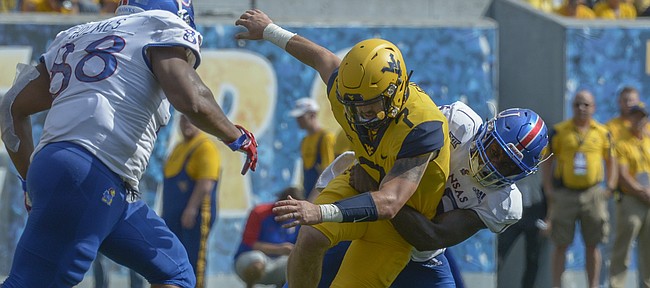 Morgantown, W.Va. — The Kansas defense played with anger, born of an insult, one delivered by the opposing coach no less.
The Jayhawks played as if they were tired of being the butt of jokes, fed up with not getting credit for the improvements they have made, ready to fight back and fight hard.
The defense did its part Saturday in a 38-22 loss to West Virginia at Milan Puskar Stadium, where 57,419 watched a more competitive game than they imagined, but little else went right for the Jayhawks (2-4 overall, 0-3 in the Big 12).
West Virginia quarterback Will Grier entered as a strong Heisman Trophy candidate who had never thrown an interception in the red zone. He came out of it as a shaky Heisman hopeful and threw three interceptions in the red zone.
It didn't keep the Mountaineers from remaining undefeated because KU's best offense was its Defense, first name Hasan, a cornerback turned safety who returned his two interceptions for a combined 88 yards.
Daniel Wise lived in West Virginia's backfield all day, and the Mountaineers resorted to holding him repeatedly, not always drawing the flag and never dousing his fire. What got into a defense that the previous week allowed 48 points, four touchdown passes and an average reception yardage of 20.8 at home against Oklahoma State?
Old-fashioned bulletin board material, that's what.
During his weekly press conference, West Virginia coach Dana Holgorsen was reminded that eight different Kansas players had picked off a pass. His answer cracked up the room.
"How many of those came from Rutgers?" Holgorsen asked. "I'm just curious."
KU's players clearly considered that talk cheap and answered it in the best way possible.
"We just heard something about some Rutgers effect and our minds just blanked out and we knew it was time to go," Defense said. "They said something about us only catching picks against Rutgers, so we just knew we had to show them what we're about. You have to have a different opinion on us now, I feel. We did our job, we executed. We didn't get the Dub, but we held our own for the most part."
Whatever it takes to motivate athletes in a game as emotional as football is welcome.
Holgorsen's staff spends a lot of energy recruiting in the state of New Jersey, so the shot at Rutgers might benefit the Mountaineers on signing day, but it hurt them Saturday.
"We knew we couldn't let it be a fluke," Defense said of KU intercepting four passes at Central Michigan, three the next week vs. Rutgers, surpassing its 2017 total of four picks. "We knew we had to make big-time plays in a big game. You can make big plays in small games, but at the end of the day, no one really remembers them or they try to joke about it, so you have to make them on the big stage, too."
Defense became the ninth Kansas player to pick off a pass, Devon Ferguson the 10th. Defense's second pick gave KU 11 interceptions on the season.
Defense made his first pick at the goal line and returned it 28 yards. His second pick also came at the goal line and was returned 60 yards down the left sideline until Grier himself caught him from behind.
Run out of gas?
"I don't want to say, 'yeah,' but yeah," Defense said. "I was using all my energy trying to get to him and I couldn't get past him. I was too tired. That air is definitely something different."
Interesting. Although mountains are visible from the stadium, the elevation of Morgantown (960 feet) ranks fifth in the Big 12, behind Lubbock (3,202), Norman (1,171), Manhattan (1,020) and Stillwater (984).
An abundance of allergens, perhaps?
At any rate, Defense, a junior from Jacksonville, Fla., who came to Kansas after one year in junior college, had a terrific game one week after a particularly rough one.
He has the perfect mentality for a defensive back. Like closers in baseball, D-backs have to forget the bad ones and go right back to believing supremely in their ability.
Defense attributed the big-play day from the secondary to two factors: First, relentless pressure from the men up front. KU had five sacks and 10 tackles for loss. Second, Defense said he felt Grier underrated the defensive backs' abilities.
"I feel like he definitely slept on us. I feel like we have a lot more talent than we get noted for just because the score isn't always the way it seemed," Defense said. "Like today, the score kind of got away at the end, but that wasn't the game at all. I feel like he didn't have much respect for us, putting the ball in places he knows he shouldn't put it, and we had to make up for it."
Ricky Thomas has been sidelined for a few weeks and Mike Lee missed the game with an undetermined injury, so Defense and Jeremiah McCullough started at safety.
"Without Mike Lee it's a big loss," Defense said. "He's a big-time playmaker all over the field. Without him we knew we had to cover a lot of ground because he's our ground-coverer. Play gets out, he's always going to get there first. I don't know how, but he always gets there first."
If national awards were given weekly for most improved performers, Defense would be a candidate.
Yet, the Kansas offense — shuffling quarterbacks, too many pass plays, not enough runs, etc. — and a muffed punt kept it from being closer. But with Wise leading up front and Defense in the back, the defense did its job in a tough road environment against the No. 9 team in the nation.