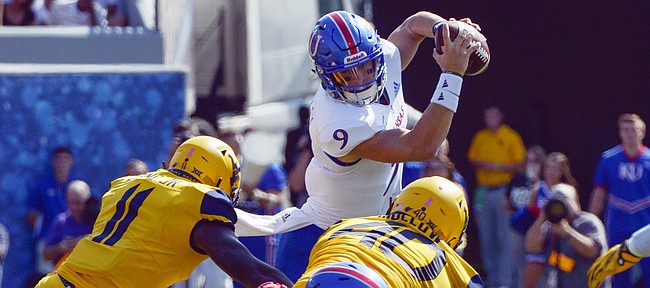 Morgantown, W.Va. — "Take Me Home, Country Roads" blared over the speakers at Milan Puskar Stadium on a sunny Saturday afternoon as West Virginia defensive lineman Reese Donahue proposed to his girlfriend, Sarah Moore, the scene playing out on the video boards above the end zones on either end of the venue. Donahue's teammates and the WVU fans in the stands unleashed a cheer of jubilation as Moore accepted and the couple embraced.
The mood inside the visitors locker room, where Kansas football players and coaches further considered the flubs that kept them from truly challenging the No. 9 Mountaineers with an upset bid, couldn't have been more disparate.
Mountain mama, did the Jayhawks fail to capitalize in a 38-22 defeat.
On a day that the KU defense pressured redshirt senior West Virginia quarterback Will Grier into not only some "bad decisions," as his head coach, Dana Holgorsen described them, but also harassed the Heisman Trophy hopeful into some off-brand version of himself, the KU offense couldn't turn Grier's four giveaways into any more than seven points.
Fourth-year KU head coach David Beaty, more subdued by the time his postgame press conference rolled around than during the heat of the game, when he appeared livid about KU's missteps on more than one occasion, said the Jayhawks (2-4 overall, 0-3 Big 12) "obviously" didn't do enough to win.
"I think one of the things that sticks out to me is probably the points off turnovers," Beaty said. "(The Mountaineers) are a very, very talented offensive unit. They're going to put some points on the board. We have to be opportunistic when we get those chances and I think we scored seven points off those (four) turnovers. Can't happen. We've got to be better there. That'll kill you. You've got to make good on those opportunities."
KU's defense stole the ball from Grier (28 of 41 passing, 332 yards, four touchdowns, three interceptions, five sacks, one fumble lost) for a fourth time when the QB left the pocket trying to make a play, just past the midway point of the third quarter. The Jayhawks' sophomore hybrid defensive end and linebacker, Kyron Johnson, strip sacked the QB, allowing senior defensive tackle J.J. Holmes to pounce on the turf and cover the ball.
At that juncture, KU trailed by just seven points and needed 56 yards to score a touchdown and potentially tie the game in front of 57,419 predominantly WVU fans.
"We were feeling really good," Holmes said of that moment, when the Mountaineers (5-0, 3-0) only led 21-14 and KU had the ball. "Big turnover at a big time. I feel like we just did our jobs on that play. And that's what happens when we do our jobs."
KU's offense couldn't reciprocate with a game-swinging drive, though. Instead, senior quarterback Peyton Bender, who replaced starter Carter Stanley at quarterback before the end of the first quarter, suffered a sack on the very next snap, leading to a three-and-out.
"The defense gave us multiple opportunities to really pull the game close," Bender said, after he completed 16 of his 25 throws, for 191 yards and two TDs, with an interception in the loss. "They kept the game close. We were down by a score in the third quarter. They gave us our opportunities to get the job done but we just couldn't get the ball in when we needed to on offense, which is disappointing."
Grier looked more like himself on the ensuing WVU possession, however, leading the team on an 11-play, 77-yard touchdown drive that put KU in a 28-14 hole entering the fourth quarter.
Long before the Mountaineers pulled away, assuring KU of its 42nd consecutive loss in a true Big 12 road game, it seemed Beaty, now 5-37 as KU's head coach and 1-29 in the Big 12, was willing to throw the kitchen sink and any utensils and knickknacks in its vicinity at WVU.
The Jayhawks tried to jolt their afternoon by going for it on 4th and 1 on their own 45-yard line on their opening possession — to no avail as Stanley and Pooka Williams mishandled an exchange, leading to a fumble, which Stanley fell on for a loss of downs.
There was a second quarter fake punt, when senior Ryan Schadler picked up eight yards to extend what proved to be a fruitless drive that ended with a punt.
Not long after that trick play, Stanley threw a lateral out to senior receiver Steven Sims Jr., then the QB took off the opposite direction to run a pass pattern, before Sims misfired on an incompletion.
And Beaty went away from Stanley as KU's quarterback by the fourth possession of the game.
What led to what could be perceived as a desperation approach?
"We basically game plan," Beaty said, "and look at it like, where are our opportunities, right? They gave us some opportunities for some things. You don't get it back. We would have had that first down had we not had that exchange issue. And it would've been good. But we didn't get it. So you've got to execute. And then the fake punt, we executed it well. We knew it was going to be available. We knew we just had to call it at the right time and it worked out good. We knew we were going to have to steal some possessions, because they score a lot of points. … Luckily it worked out there a little bit for us."
The offense rarely clicked, however. Stanley threw KU's first interception of the season on the third series and finished the day five of eight, with 15 yards passing a week after helping KU put up 28 points in a home loss to Oklahoma State.
Freshman running back Pooka Williams experienced his first unremarkable Saturday as a college football player, rushing for 65 yards on 12 carries, with a long of 16, while making three catches for another 13 yards.
Bender also threw his first interception of the season, squandering a second-quarter possession that came on the heels of one of Hasan Defense's two interceptions.
The Jayhawks' 286 yards and 16 first downs didn't come close to WVU's offensive production of 509 yards and 29 first downs. The Mountaineers, despite their turnovers, which included a pick by sophomore safety Davon Ferguson, were able to run 80 plays — 20 more than Kansas.
KU's defense certainly wasn't flawless, but mistakes and misinterpretations by offensive players too often offset the play of their counterparts, who made 10 tackles for loss, led by redshirt senior Daniel Wise's 3.5 and two sacks.
"I wouldn't say it's frustrating," Wise said. "I'd say just more of a challenge to get back out there and give the offense another shot and another opportunity to get the ball in the end zone. That's what it's about. Whether they can put the ball in the end zone or not, we're just going to do our job and give them opportunities to score."
Special teams cost KU, too. In the fourth quarter Kwamie Lassiter II mishandled a punt return, allowing the Mountaineers to recover a fumble after going three-and-out on offense.
Beaty said that came at a "very key moment" for his team, which trailed 28-14 with 8:40 to go.
"It was uncalled for. There's just absolutely no reason," Beaty began. "Now, I would've loved to see that one reviewed, because I know we had it (recovered) initially, for sure. But I know (officials) know what they're doing, so that's how it went down."
KU now heads into its midseason bye week with plenty, including its starting QB spot, to figure out before playing at Texas Tech on Oct. 20.
"There's some things that we've got to make sure we don't let those things show up," Beaty said, referencing KU's three giveaways and other miscues.
SCORING SUMMARY
FIRST QUARTER
9:28 — Leddie Brown 15 pass from Will Grier. Evan Staley kick. Four-play drive for 35 yards, in 2:03. (WVU 7, KU 0.)
5:21 — Brown 1 run. Staley kick. Seven-play drive for 80 yards, in 2:12. (WVU 14, KU 0.)
0:12 — Mavin Saunders 18 pass from Peyton Bender. Gabriel Rui kick. Six-play drive for 72 yards, in 2:11. (WVU 14, KU 7.)
SECOND QUARTER
11:52 — Jovani Haskins 14 pass from Grier. Staley kick. Seven-play drive for 75 yards, in 3:20. (WVU 21, KU 7.)
THIRD QUARTER
10:50 — Khalil Herbert 31 run. Rui kick. Seven-play drive for 75 yards, in 4:10. (WVU 21, KU 14.)
0:00 — Martell Pettaway 12 pass from Grier. Staley kick. Eleven-play drive for 77 yards, in 4:21. (WVU 28, KU 14.)
FOURTH QUARTER
5:05 — Staley 49 field goal. Eight-play drive for 30 yards, in 3:35. (WVU 31, KU 14.)
2:20 — David Sills V 17 pass from Grier. Two-play drive for 30 yards, in 0:41. (WVU 38, KU 14)
0:00 — Daylon Charlot 18 pass from Bender. PAT pass from Bender to Kwamie Lassiter good. Nine-play drive for 75 yards, in 2:20. (WVU 38, KU 22)