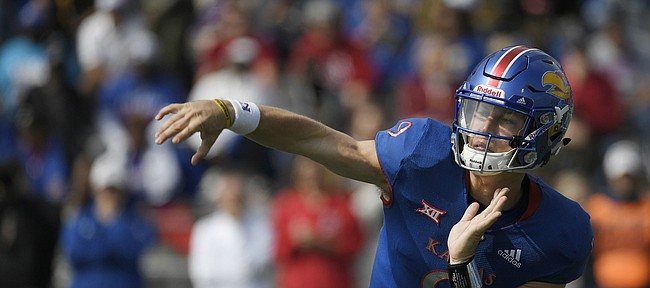 — Kansas (2-3 overall, 0-2 Big 12) at No. 9 West Virginia (4-0, 2-0) • 11 a.m. kickoff, Milan Puskar Stadium • Game-time forecast: 76 degrees, cloudy, 51% chance of rain • TV: ESPN2 • Radio: KLWN, FM 101.7 / AM 1320
— Log on to KUsports.com for our live game blog and follow our coverage team on Twitter: @KUSports, @BentonASmith, @TomKeeganLJW and @SJacksonLJW
Keys for Kansas
1. Keep the offense clean
Between new starter Carter Stanley, former starter Peyton Bender and backup Miles Kendrick (currently out with a shoulder injury), Kansas quarterbacks have thrown 147 passes without putting a single one of them in a bad enough spot to be intercepted by a defender (KU has completed 93 throws for 879 yards and eight touchdowns).
The KU offense, five games into the season has run 334 plays and only coughed the ball up via turnover twice — a Bender lost fumble against Nicholls in the opener and a Takulve Williams lost fumble this past week versus Oklahoma State — a number good enough to tie for first nationally.
The Jayhawks can't give away any possessions at No. 9 West Virginia if they want to have a chance at pulling off an upset.
"If there is one thing I'm proud of our quarterbacks on, is we have put it in jeopardy very few times," KU head coach David Beaty said. "And I'm not even just talking about interceptions, I'm talking about putting it in jeopardy. I think they've made good decisions, and I think it speaks to their offseason preparation for understanding what defenses are doing to them. We've got to continue to do that, because it's going to pay dividends for us down the line, there's no doubt about it."
Podcast episode
Following the Kansas football team's homecoming loss to Oklahoma State, beat writer Benton Smith and sports editor Tom Keegan discuss new starting quarterback Carter Stanley, empty seats at David Booth Kansas Memorial Stadium, redshirts (or a lack thereof), the state of head coach David Beaty's job security and much more ...
2. Trust your running backs
Of course, the safest way to avoid turnovers is to rely on handoffs and pitches to KU's running backs, Pooka Williams, Khalil Herbert and Dom Williams.
Thanks in large part to freshman Pooka Williams' 15 rush attempts and 118.5 yards per game, the KU rushing attack (184 yards per game) has the attention of opponents.
"I'll tell you this – the (Pooka) Williams kid and Herbert are both explosive backs," WVU defensive coordinator Tony Gibson said earlier this week, when he also said Pooka "runs angry."
What's more, according to Gibson, KU's quarterbacks have done well with their zone reads, pulling the ball back enough to keep defenses keyed on KU rushers off balance.
"But those two backs are as good as any backs we'll play all year long," Gibson added of Pooka and Herbert. "Williams is the fastest back that we'll play all year long."
Though it came against different personnel, in 2017 Herbert found massive holes in WVU's 3-3-5 scheme, leading to his career day — 36 carries, 291 yards and two touchdowns.
KU will have to create similar lanes for its offensive star, Pooka Williams, and its other backs to sustain drives and put up the points needed to compete with the Mountaineers (42.2 points per game).
3. Test the WVU secondary early
Due to a targeting penalty he picked up at Texas Tech this past week, WVU redshirt junior cornerback Josh Norwood will serve a one-half suspension during the first two quarters against KU.
So if the Jayhawks want to mix in some big Stanley pass plays with their running game it will probably be best to establish that threat in the first half, with the home team's secondary down a key member.
"We'll have to piece it together for a half," WVU head coach Dana Holgorsen said of his team's pass defense, "which we have enough depth to be able to do that, and then we'll get him back in the second half. And he'll probably hit that field pretty quickly, and he'll be ready to roll. He loves to play football, so he will be ready to go play in the third quarter, I can assure you"
Sophomore Derrek Pitts Jr. likely will start in Norwood's place.
Success for Stanley and KU receivers won't be a given, though. In WVU's victory at Texas Tech, Keith Washington Jr. made seven total tackles, broke up three passes and returned an interception 51 yards for a TD in his first career start, which led to him sharing Big 12 Newcomer of the Week with KU running back Pooka Williams.
Mega Matchup
WVU QB Will Grier vs. KU's pass defense
For the first time since then-Oklahoma quarterback Baker Mayfield visited Lawrence in 2017, the Kansas defense will have to contend with a Heisman Trophy candidate.
WVU redshirt senior QB Will Grier has thrown for 332 yards or more in every game so far this season and has completed 72.1 percent of his 136 passes, with 17 touchdowns and three interceptions.
A 6-foot-2, 223-pound former Florida quarterback, Grier is averaging 367.3 yards of total offense per game, which ranks No. 1 in the Big 12 and No. 3 in the nation.
In KU's first five games, the defense hasn't often pressured, hurried or sacked opposing quarterbacks (see: KU's 1.0 sacks per game, tied for 118th among FBS teams). So it's up to the Jayhawks and defensive coordinator Clint Bowen to figure out how to turn a weakness into a strength in a hurry.
Because Grier is so precise, KU redshirt senior linebacker Joe Dineen said, pressuring WVU's star QB will be a necessity.
"You hear it all the time in the NFL and stuff — any time you give guys who are really accurate a lot of time to throw, they'll just pick you apart," Dineen said, "no matter how good your secondary is and no matter how good your guys are playing back there. You can't give (Grier) a bunch of time."
Bowen, Dineen said, will scheme ways for the defenders to better pressure Grier in the pocket.
WVU offensive linemen, no doubt, will be prepared to take on different looks, because they have heard all week about how they lost too many blocking matchups in the second half against Texas Tech.
While KU's front six will try and hassle Grier as best they can, the secondary will have to prove it can keep talented receivers in front of them, instead of getting beat over the top or in the open field. Junior Marcus Simms (24 receptions, 433 yards, two touchdowns), senior David Sills V (23 catches, 294 yards, five TDs) and senior Gary Jennings Jr. (22 receptions, 311 yards and six scores) all have proven difficult to stop when Grier looks in their direction.
Dineen thinks whether or not the defense as a whole is successful will depend on the Jayhawks getting to Grier.
"And try to get pressure in his face," Dineen said, "so he doesn't have all the time in the world to throw it."
Through two Big 12 games, KU has surrendered 284.5 passing yards a game. The Jayhawks didn't record a sack against OSU.
Jayhawk Pulse
Despite back-to-back losses to open Big 12 play, the Jayhawks have yet to display true discouragement. Their trip to Milan Puskar Stadium is likely to further challenge that resolve.
It has now been a full decade since the program won a conference road game — Oct. 4, 2008, at Iowa State. And Beaty's KU teams are 5-36 overall, with just one Big 12 victory.
If KU has any semblance of momentum, it's because in a 20-point loss to OSU, players seemed invigorated by the play of Stanley, who started for the first time this season. He, too, will be fired up to play at WVU, because his mother, Beth, graduated from the university and he grew up watching Mountaineers games with her and other family members.
But KU will need much more than that to escape Morgantown with a signature win.
Tale of the Tape
KU ….. WVU
KU run D vs. WVU run game √
KU pass D vs. WVU pass game √
√ KU run game vs. WVU run D
KU pass game vs. WVY pass D √
Special teams √
Prediction
West Virginia 51, Kansas 26