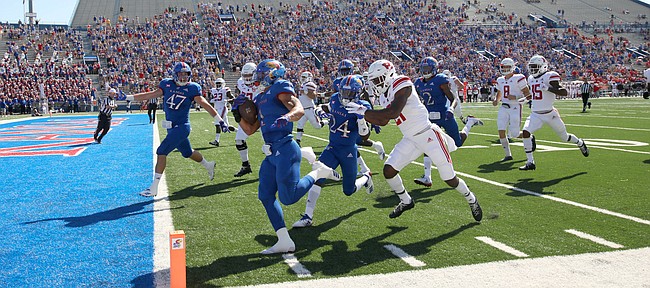 Currently tied for fourth in the nation in passes intercepted, the Kansas football defense has benefited from eight different players contributing an interception during the first five weeks of the season.
When asked about that fact at his weekly press conference, seemingly to gauge what kind of challenge the Jayhawks' pass defense might present to the West Virginia offense this coming weekend at Milan Puskar Stadium, head coach Dana Holgorsen interjected with a question of his own.
"How many of those came from Rutgers?" Holgorsen asked. "I'm just curious."
While some of that back and forth had to do with the coach having some fun at the expense of a one-time Big East opponent, it also highlighted the fact that KU's air pilfering has all but disappeared since the Jayhawks drubbed Rutgers, 55-14, on the strength of three interceptions and a pair of pick-sixes.
Podcast episode
Following the Kansas football team's homecoming loss to Oklahoma State, beat writer Benton Smith and sports editor Tom Keegan discuss new starting quarterback Carter Stanley, empty seats at David Booth Kansas Memorial Stadium, redshirts (or a lack thereof), the state of head coach David Beaty's job security and much more ...
The previous week, a 31-7 win at Central Michigan, the Jayhawks padded their takeaway numbers even more, with four interceptions.
With nine interceptions thrown this season, Rutgers ranks 128th nationally in that category. Central Michigan comes in at 123rd, with eight of its passes being picked off.
In Big 12 games, KU (2-3 overall, 0-2 conference) has intercepted one pass, courtesy of junior Elmore Hempstead Jr., in the third quarter against Oklahoma State. The rest of KU's interceptions came against CMU and RU, as the Jayhawks intercepted no passes versus either Nicholls State or Baylor.
"They've played five games, they play a lot of people in the secondary, so they've defended a lot more passes than we have," Holgorsen continued. "What's our interceptions at? We had three last week. I was proud of that."
On the season, the WVU defense has secured four takeaways through the air (tied for 43rd) in four games.
The eighth-year Mountaineers coach didn't let the conversation end, though, without giving credit to KU's pass defense and what coordinator Clint Bowen has done to make those interceptions possible.
"They're dropping more people," Holgorsen said. "And so, those games they won, it forced Rutgers and Central Michigan to be in a lot of passing situations to where they were throwing a lot of balls into drop eight, which we know from going against (WVU defensive coordinator Tony Gibson) that it's hard to do."
Thomas still out
One of those eight Jayhawks with an interception, sophomore safety Ricky Thomas, will once again be out of the lineup for KU on Saturday at No. 9 West Virginia (4-0, 2-0).
Thomas, a 5-foot-10, 185-pound transfer from Blinn College (Texas), has been out with an undisclosed injury after starting the first three games of the season.
"Hopefully we can get him back," KU head coach David Beaty said. "We got a bye week coming up (idle Oct. 13). We're hoping to get him back after that. Tough kid, working hard through it but suffered a pretty significant setback, so hopefully we can get him back. He can be helpful."
Beaty had said a week earlier that Thomas returned to practice.
Defense filling in
In Thomas' absence, KU junior Hasan Defense, who started Week 1 at cornerback, has taken his spot in the starting lineup.
In each of the past two games, Defense has made an error that directly led to an opponent passing touchdown.
"You know, we've asked him to move over and play that. I know that he's got a lot that he has to get better at and learn, and that comes with not playing the position a lot, even though it's more of a nickel-type deal that he's playing, but there are still some differences to it," Beaty said of Defense's position switch, which came after the junior spent all of preseason camp splitting reps at the safety and cornerback spots. "I look for him to continue to improve and we're going to continue to look at other guys, because some of them are starting to get to a point where they can help, too, right? They're starting to become more knowledgeable on what we're doing, and it's going to make us not have to play those guys as many snaps, hopefully."