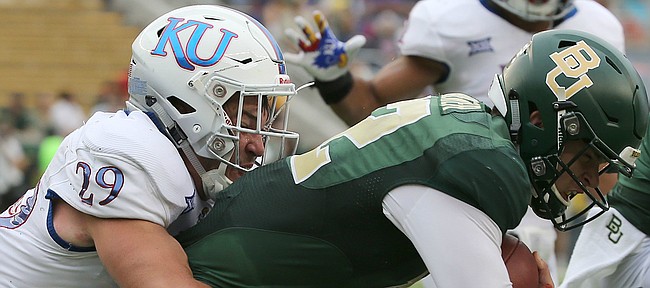 Mention to Joe Dineen how much the evaluators at Pro Football Focus seem to love his play at linebacker, and the University of Kansas redshirt senior will start laughing.
So, yes, Dineen is aware of PFF's grades, tweets and articles touting his ability.
This season, Dineen's name routinely shows up on PFF's Big 12 Team of the Week — KU redshirt senior defensive tackle Daniel Wise joined him this week. But it reached another level when PFF, in an article titled "The best college player at every position through Week 5," identified Dineen as the nation's top linebacker, giving him a season grade of 90.8 at this point.
"I like seeing stuff like that," Dineen admitted. "It's cool to see kind of like a third-party deal and see what they think."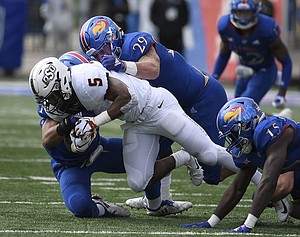 Steve Palazzolo wrote at ProFootballFocus.com: "Dineen narrowly edged out a number of other linebackers and he's done his best work in the run game, where his 91.2 grade is tied for sixth in the country. He ranks third in run-stop percentage at 17 percent, and he's missed only three tackles on the season. In the passing game, Dineen has added five pressures and he's posted a solid 78.5 grade in coverage."
Each week, Dineen receives in-house assessments from KU linebackers coach Bill Miller and defensive coordinator Clint Bowen to keep track of his impact as a defender.
Although Dineen, a fifth-year senior from Lawrence, ranks second in the Big 12 with 63 total tackles (Oklahoma linebacker Kenneth Murray has 64) and has routinely been one of KU's most productive defenders, he downplayed the high marks he has received from PFF.
"I have no idea how they grade. It's crazy how they get some of the grades that they do, based on some of the games I've played and stuff, where I didn't think I played, as well," Dineen said, making it clear it's also something he enjoys checking out and will keep tracking.
In 2017, Dineen led not just the Big 12, but all of FBS with 7.6 solo tackles per game. Still, he said one area of weakness for him then was his pass coverage.
"Obviously, an interception helps that," Dineen said of his improvement, while referencing his first career pick at Central Michigan in Week 2. "But I think I'm just more comfortable in my zone coverages than I was last year. I feel like, last year, I would chase a lot of things that carried out of my zone and stuff like that. But I feel like, this year, I'm more comfortable in my zone drops."
As PFF highlighted, Dineen doesn't miss many tackles. That doesn't make the ones that went awry any easier for him to forget.
"It seems like the ones that I do miss I really, really want back," he said, before crediting assistant coaches Miller and Bowen for placing so much emphasis on technique and proper tackling.
Plus, Dineen said, much of his individual success originates from teammates rallying to the football, as well.
"A lot of times, I'll be there and hit him first, but then, a lot of guys will help me get him down," Dineen said. "It really is a team effort and getting a lot of guys to the football."