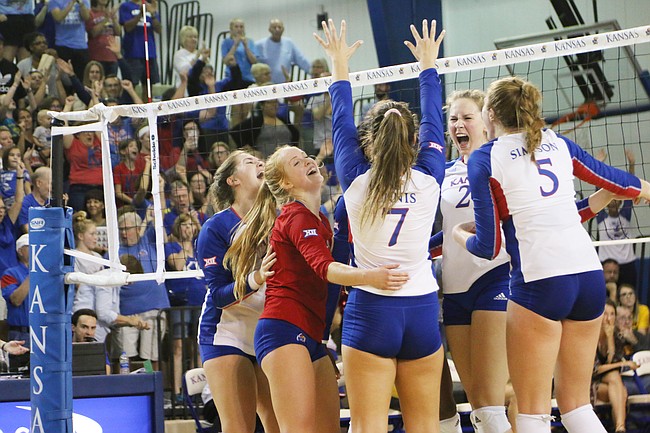 After being within 2 points of being swept, the University of Kansas volleyball team responded with a 43-16 scoring run to dominate in a 3-2 (22-25, 22-25, 25-23, 25-9, 15-7) win over West Virginia Wednesday night.
In the fifth set, when Kansas was within 2 points of victory itself, "Grove St. Party" by Waka Flocka Flame boomed over the loudspeakers, Horejsi Family Athletics Center was just getting ready to burst out in excitement and junior outside hitter Jada Burse was only starting the party on the bench.
The Jayhawks orchestrated volleyball craziness for the second time this season — rallying back down two sets. Kansas did it against Arkansas, as well, in the first match of the season.
Giving the Mountaineers 27 points off of attacking errors leading up to the fourth set, the Jayhawks only tallied one in the final two sets. Kansas held West Virginia to single digits in its 25-9 win for the first time this season in a 25-point set.
"I just felt the team take a big exhale when we finally got to that fourth set," head coach Ray Bechard said.
Returning to the starting lineup, junior Allie Nelson dominated the court used every ounce of effort to save points.
"I'm tired, like I'm emotionally exhausted right now," Nelson said. "Physically I'm like ehh, but like, I just need to go to bed."
She has a reason to. Nelson led the match with 19 digs, while also landing one of the Jayhawks six aces.
"When we see her hustling, going after everything, that's just motivation for us to keep going hard," middle blocker Zoe Hill said.
Playing most of the match in place of freshman defensive specialist and libero Lacey Angelo, freshman Audri Suter tallied 10 digs, which matched a season high. Bechard rotated Angelo in mostly to serve, with Suter successful behind the line herself with an ace.
Going into the match, Kansas had 10 outings with more than 10 team blocks, but only connected on one heading into the third set. Of Kansas' 43, 11 were with the help of Hill.
"Our coaches remind us that that's our strongest part of our game, we know that's what we need to do to get the win," Hill said.
Bechard praised Hill's ability to stay consistent with her blocking form, and to be patient for when a matchup may turn in her favor so she can connect offensively.
"When you can score points off a block off a block or a service ace, those points are huge," Bechard said. "(Zoe's) pretty relentless. As a middle, you might not get a block for an hour but you got to make the same move, the same attempt, the same technique every time, and she's true to that."
Kansas (10-4, 3-0 Big 12) plays host to Baylor at 1 p.m. Saturday.