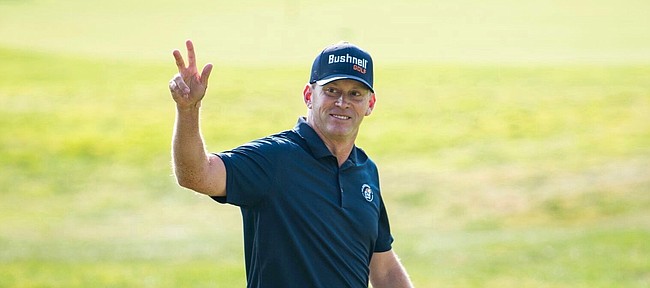 Two-time University of Kansas All-American and Lawrence resident Chris Thompson tees off at 3:20 p.m. Thursday in the Safeway Open, his first tournament as a member of the PGA Tour.
Thompson qualified for the tour by finishing 21st on the Web.com Tour money list. At 42, he is the oldest rookie on the tour.
Thompson tees off on No. 10 at Silverado Resort and Spa North in Napa, Calif., and is playing with Cameron Davis, 23, of Australia, and Joey Garber, 27, who finished one spot behind Thompson on the Web.com Tour money list.
Thompson, from Independence, Kan., joins fellow Jayhawk Gary Woodland on the PGA Tour.
Woodland won't be competing in Napa and his first competition on the 2018-19 schedule will be in back-to-back tournaments in Asia next week and the week after.
Asked how he thought Thompson would do, Woodland said: "If he believes in himself, he'll be fine. He's good enough. He just has to believe he's good enough."