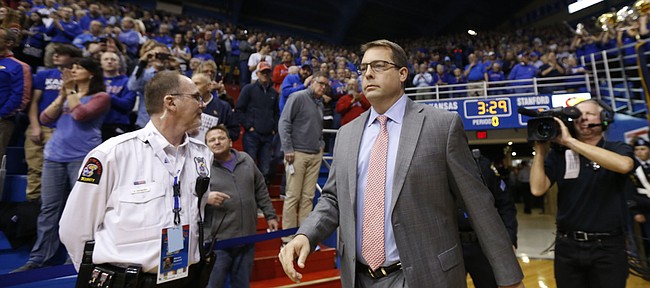 Two years ago, almost to the day, former Kansas guard Jerod Haase, now in his seventh season as a college head coach, led the Stanford Cardinal into Allen Fieldhouse for a regular season clash with Haase's alma mater.
The reunion had all of the elements of emotion that Haase expected, from nostalgia upon walking into Allen Fieldhouse for the first time in years to the uneasy feeling of seeing Kansas stitched across the jersey of his opponent and everything in between.
Haase's squad came up on the losing end that day, just as 236 out of 239 challengers have done during Bill Self's 16 seasons in charge at Kansas. But the Stanford coach said the outcome had nothing to do with his ability to handle his return to Kansas.
"I think I did a pretty good job last time," Haase told the Journal-World during a phone interview earlier this week. "I've always been able to compartmentalize things and really focus on the task at hand. I certainly appreciated all of the love from friends and the fans and how nice everybody (was), and the reality is, it is emotional."
And just because Saturday's 4:30 p.m. tipoff will mark Haase's second trip to KU in the past three years — not to mention the fact that Stanford hosted Kansas in Sacramento last December — Haase does not believe that the return trip will be any less emotional.
"I was surprised by the reception," said Haase, who was greeted by a loud and prolonged roar during pregame introductions two years ago. "It is touching and it is emotional. And even though I was able to move on fairly quickly, it does mean a lot because I gave a lot of blood, sweat and tears in that building and have some great memories there."
Two years ago, Haase brought a group to Lawrence that started two seniors and three juniors. This time around, it's almost the complete opposite, with five underclassmen — three sophomores and two freshmen — in the Stanford starting lineup, a reality that has taken way more of Haase's attention than anything.
Asked to share what advice he would give to his young squad about how to handle playing in Allen Fieldhouse, Haase chuckled.
"I don't think there's a whole lot of prep work," he said. "I think they're excited about playing there. And I don't want to build it up in their minds in a way that will make it harder to play there. We'll talk about it and then kind of let them see it for themselves.
"We probably don't have an answer to solve the noise and emotion of the Fieldhouse. But I'm hoping they'll benefit and gain a boost from some of that noise and adrenaline and play better because of it."
As for the biggest challenge Haase sees when studying film of the second-ranked Jayhawks, the Stanford coach said KU's roster turnover during these past couple of seasons did nothing to diminish the monster task that competing with Kansas on its home floor presents.
"The thing that makes it difficult is just how good they are," Haase said. "I don't know that the turnover makes it any more difficult because they always have such outstanding players and coach Self and his staff do such a great job. It's an unbelievable team and we're going to have to do a lot of things right to have a chance to compete with them. … The biggest thing for us is just focusing on us continuing to improve as a team."