Friday, November 30, 2018
When Kansas running back Dom Williams first learned, days before the season's conclusion, that Les Miles had been named the football program's new head coach it admittedly caught the sophomore off guard.
"I was just kind of shocked," Williams recalled of his initial reaction. "Having him from LSU and not coaching anymore, it was kind of a shock. It came out of nowhere."
But the more he let his mind soak in the idea of playing for Miles at KU, the more Williams liked it. And, Williams revealed, it's a reality all of the program's running backs are ready to experience.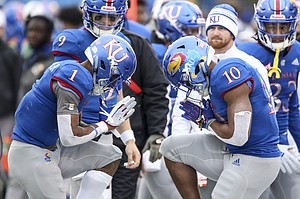 "Yeah, just being an RB, having a coach who likes to run the ball, I feel like that's a sign that an RB looks forward to and gets excited about," said Williams, who finished his sophomore season as KU's third-leading rusher, with 55 carries and 231 yards.
In Miles' final full season at LSU, in 2015, the Tigers' offense revolved around a star running back, Leonard Fournette, who ran for 1,953 yards and 22 touchdowns — both program records.
Even though Miles would be the first to point out that his LSU teams threw the ball when they had the weapons (see: Zach Mettenberger's 3,000-yard passing season in 2013, when LSU had receivers Jarvis Landry and Odell Beckham Jr.), the Tigers' offenses during the coach's 11-plus seasons there often had a run-heavy, old school feel.
And it's that reputation that intrigues KU's running backs, with Pooka Williams (1,125 rushing yards and seven touchdowns) and Khalil Herbert (499 yards, five TDs) joining Dom Williams as potential rushers in 2019.
"I feel like it's something special that no other college has," Dom Williams said. "These three great backs to be able to choose from and rotate."
Podcast episode
Now that the Les Miles era of KU football has officially arrived, KUsports.com and Lawrence Jouranl-World beat writer Benton Smith is joined by Matt Tait and Shane Jackson to discuss all that Miles has been working on already and answer your questions regarding the future of the program, recruiting, Pooka ...
From an individual standpoint, Dom Williams' season began with him more involved in the offense during the nonconference portion of the schedule, when he averaged 8.3 carries a game and 4.2 yards a rush. Then he went six straight Big 12 games with two or fewer carries before he reemerged in the season's final three weeks, when he averaged 4.7 yards per carry on 22 rushes.
The sophomore already had ran for 32 yards on just four attempts at Oklahoma before a knee sprain ended his night prematurely.
"It was just another test," Williams, a 5-foot-10, 195-pound back from McKinney, Texas, who was rated a four-star prospect in the Class of 2017, said of his sophomore season. "Just life. Going through ups and downs and being able to stay strong and keep pushing to be able to come back at the end of the season and do better."
Being the No. 3 running back as a sophomore didn't make Williams think about leaving KU. He told the Journal-World he will be back for his junior season.
What's more, Williams is excited about the direction of the program.
"I feel good just seeing all the talent that we have coming back and feel like we're going to have a great offseason," he said.
None of the Jayhawks, of course, were satisfied with the team's 3-9 record this season. Still, returning players such as Williams felt the way KU closed the schedule — a four-point loss at Kansas State, 15-point loss at Oklahoma and a seven-point home loss to Texas — showed that the program is getting closer to where they want it to be.
The hope among many of the players who will suit up for Miles in his first season at Kansas is that 2019 can be the year the program makes a noticeable shift toward turning things around.
"I feel like just these past few games, seeing how close we are to breaking through and putting some more wins in the column is motivating," Williams said. "I feel like next year will be the year."