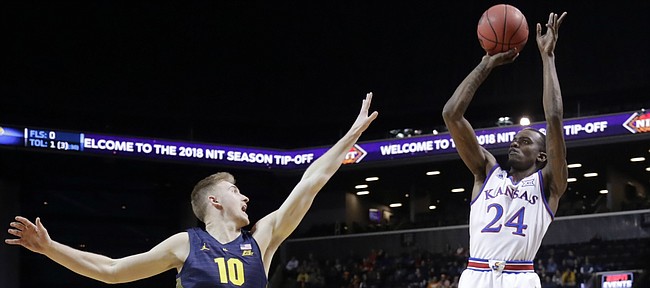 The Kansas basketball program's annual boot camp routinely takes place in September, shortly after the players report to campus and a new school year officially begins.
But earlier this week, thanks to a lackluster effort by the second-ranked Jayhawks during a regularly scheduled Tuesday practice, a mini-boot camp broke out during an evening session scheduled at the last minute by KU coach Bill Self.
"It wasn't like a boot camp, but it had the energy of boot camp," KU junior Mitch Lightfoot said Thursday. "Everyone there was turned up and we were playing hard. It felt good to get out there again. We definitely needed it."
The reason?
It goes beyond one bad day at the office. And has been a lingering problem for the Jayhawks so far this season, despite their 5-0 start. The players are aware of it and Self is uncovering every stone to see if he can find ways to fix it.
"We have good days, we have bad days, but we just try to go into practice every day and give 110 percent," sophomore guard Charlie Moore said Thursday. "Sometimes it doesn't go as planned, but we're just trying to get better."
Self has not been shy about criticizing his players during the bad days and he said earlier this week that he did not view Tuesday's second session as a true punishment.
"I don't think that this has been a very good practice team, especially of late," Self said during his Thursday press conference. "I thought, early in our practice sessions, that this team liked to practice. They had energy and things like that. I think this week, even last week, (we) maybe just (haven't been) playing with the passion or energy in practice."
The reason is hard to pinpoint and, at least through Thursday, had escaped Self's watchful eye.
Conventional wisdom might suggest that the blame for a lack of energy and focus would be spread throughout the roster, but Self said that had not been the case with this team.
"Last week, I thought that was our problem," he admitted. "This week, I don't think it is. I think we've had some guys step up."
But the difference between stepping up in terms of focus and attention to detail and stepping up from an effort standpoint leaves a gray area that Self and his coaching staff can see right through.
A practice jersey dripping with sweat doesn't mean much. Yelling at the top of one's lungs does not indicate extreme focus. And finishing first in a sprinting drill does not illustrate that a player is locked in while the coaches are teaching 3-point defense.
"You can try hard and still look like crap," Self said. "And there's definitely a difference between competing and trying hard. Anybody can try hard. You shouldn't get a ribbon for that. That's the baseline. Competing is focus and concentration and, you know, listening. There's a lot of intangibles that go into competing and I don't think we've been very good at that in practice of late."
Because just three true veterans exist on this KU roster — Lightfoot, Lagerald Vick and Udoka Azubuike — the process of moving past these sluggish stretches has not been automatic.
But Lightfoot believes the Jayhawks are taking steps in the right direction every day.
"I just think it's different than the past two years," he said. "We had a bunch of older guys, so there was experience there and it's just a matter of us getting into that rhythm and figuring out that we've got to bring it every day if we want to get the most out of this year."
That's the goal every year for Kansas basketball. And Self is both realistic about the challenges facing this particular squad and optimistic that the way they've shown an ability to compete on game night means it can become a regular thing in practice as well.
"We may not ever get to where we want them to be," Self said. "I don't know that every team does that consistently." "But, you look at us, against Tennessee with a one-day scout and 30-minute practice, that's about as good a carrying out of a defensive game plan as we can possibly do. So, I know we've got it in us. I just don't think the focus has been quite as good as what it should be."
Garrett good to go
After being held out of last Friday's win over Tennessee with concussion-like symptoms and missing a couple of practices in the days after that, sophomore guard Marcus Garrett has returned to practice and is on pace to play in Saturday's 4:30 p.m. game against Stanford at Allen Fieldhouse.
"Marcus practiced the day before yesterday," Self said Thursday. "And had no problems. So we think he is (on track to play on Saturday)."
More like this story on KUsports.com