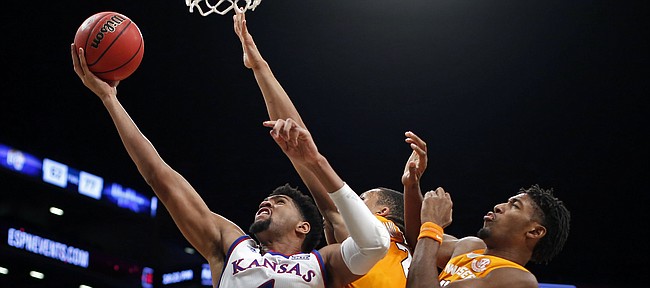 After four days of basketball-centric time in New York City last week, the Kansas men's basketball team celebrated its NIT Season Tip-Off title with a little fun in the Big Apple.

From the top of the Freedom Tower's One World Observatory to the heart of Times Square, the Jayhawks soaked up a little life in the big city before returning home on Sunday afternoon.
"First of all, it's great to come to the city," KU coach Bill Self said after the Friday win over Tennessee. "It's fun to play here in Barclays, it's fun to play, obviously, in (Madison Square) Garden and I think our fans enjoy being here, especially over the holiday.
"It's been great to be here. But, beyond that, to win two games — one which you get dominated the first half and then play lights out to start the second, and another where things, obviously, weren't looking very good for us — I think speaks wonders for our guys growing up and, certainly, for our young kids to experience that."
With tough victories over Marquette and No. 5 Tennessee now in the rearview mirror, the Jayhawks (5-0) are set to move into a stretch where five of their final seven nonconference games will be played at Allen Fieldhouse.
And while those upcoming games figure to be a major part of this team's development and maturation, Self left New York still with a handful of questions but one key answer.
"The one thing I do know about our team, more so now than ever, I think they'll compete and fight," he said.
Kansas did just that in both games at Barclays Center in Brooklyn, coming from behind in the second half each time to pull out a victory.
While efforts like that have made the early portion of this season equal parts stressful and exciting for the Jayhawks, Self returns home in search of some consistency.
Three different players have led Kansas in scoring during the Jayhawks' five victories, a freshman, a senior and a junior transfer.
Quentin Grimes carried the offensive load against Michigan State. Lagerald Vick topped 30 points and went for a career-high against both Vermont and Louisiana. And Dedric Lawson recorded a double-double in both games in Brooklyn. He now has three double-doubles this season and is starting to look more comfortable with each game.
"If I had returning guys, I think I can have a decent feel (for the identity of our team) in a month or so," Self said. "But I don't really know what we have yet because it's been a different guy every night. … The good thing is you've got different guys stepping up different nights.
"We've got to get a lot better than what we are," Self added. "And we certainly need to be mentally tougher in some ways and we've got to execute better and carry out assignments better."
The next month or so — which includes a Dec. 8 game at Sprint Center in Kansas City, Mo., and a true road game at Arizona State on Dec. 22 — will go a long way toward transforming the Jayhawks into the kind of team they'll be when Big 12 play rolls around in January.
And with every passing day this team gets a little more familiar with itself and a little more comfortable with what Self and the coaches are asking.
The fact that their ongoing development led to two big wins and a trophy in New York only helped the process.
"This was great," Lawson said of playing two high-profile games in a place like New York City. "This is something you always dream of, going out there for a Top 5 battle. You see it all day on the ticker on ESPN and you get nervous, you get jitters and once the lights get bright it's time to show up. So it's something that you look forward to."
Added Kansas sophomore K.J. Lawson: "Playing in New York, it's the Mecca of basketball and it's just a great feeling, being able to play here and feel the energy in the city."
Kansas will be off this week and will return to action on at 4:30 p.m. Saturday, when Stanford and head coach Jerod Haase come to Allen Fieldhouse for their third matchup with KU in the past three seasons.