As the 2018 season concluded for the Kansas football team on Friday, with a 24-17 loss to Texas at David Booth Kansas Memorial Stadium, it proved difficult in the raw aftermath of a disappointing campaign that cost head coach David Beaty his job for the Jayhawks to fully ponder what's next.
Even though the Jayhawks suffered three one-score defeats during their 3-9 season, the time for considering how close they may be to a breakthrough had not yet arrived.
"Yeah, it's too early," junior safety Mike Lee said, when asked how good KU could be in 2019.
Even so, Beaty, after coaching the team for the last time, told juniors and underclassmen in the locker room afterward that he wanted to see them keep pushing the program forward.
"It's gonna be our time next year," Lee added of Beaty's message for the players who will suit up for for his replacement, Les Miles.
While the next KU football roster won't include the names of key leaders such as Daniel Wise, Joe Dineen and Jeremiah Booker, Lee plans on conversing with those players who are graduating and moving on before sliding into that type of role.
Photo Gallery
Kansas football v. Texas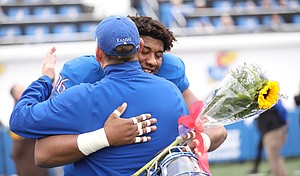 View a gallery of images from Friday's game between the Jayhawks and Longhorns at Memorial Stadium in Lawrence, Kan.
"I'm all in with it," Lee asserted. "If I've got to get this program to a bowl game, that's what I'm going to do. Whatever it takes, I'm going to be here."
Lee, a 5-foot-11, 181-pound safety from New Orleans, finished his junior season with 68 total tackles, one interception, three forced fumbles and one fumble recovery.
Emotional exit
After learning Nov. 4 from Jeff Long, KU's athletic director, of his firing, Beaty said he tried to spend his final three weeks on the job working as he normally would. Even if doing so came with some emotional challenges.
"I'm an emotional guy when I care about something," Beaty said. "When you care about something you should carry emotion, you know. This place is special to me. It needed that, I think. It needed that. And I'm glad that we gave that to this place. Now it's like we said to our guys that are in there, and underclassmen, it's your turn to step up and be the leaders of the group and let's try to get it to the next level."
The closer Beaty got to KU's season finale versus Texas, the more the end felt imminent. He knew the conversations between coaches and players would be moving during their final hours working together.
According to Beaty, the most difficult moments came on the eve of their last game and then in the postgame locker room.
"But I mean, you know what? We're going to be, they're going to be in our life forever, so it's not like it's the end," Beaty said. "We certainly won't interfere — that's not what I mean. But those kids, there are guys that we have developed relationships with and, hey, it doesn't end here."
His fourth season in charge proved to be Beaty's best, with KU finishing 3-9. Kansas went 0-12 in 2015, 2-10 in 2016 and 1-11 in 2017.
Senior receiver Steven Sims Jr., who spent the entirety of his college career playing for Beaty, said the coach taught him to be a better man, through their shared struggles.
"I feel like life and football kind of go hand in hand. Just some of the things you're going to go through. He just taught us to keep pushing through. Keep fighting. No matter what the situation or circumstances," Sims said, going on to reference KU's winless 2015 season as the point where those lessons began. "You've got to keep fighting, no matter. The sun's going to come up the next day and you have to go back to work."
Senior quarterback Peyton Bender said he enjoyed playing for Beaty.
"That man has done a lot of things for me," Bender said. "I appreciate everything he has done and all the opportunities he gave me to come here, for having my back and giving it his all. Words can't describe how much that has meant to me. I've had a couple talks with him the last few days and we have a great relationship to keep in touch."
Beaty leaves Kansas with a 6-42 overall record and 2-34 mark in the Big 12.
By Saturday, Beaty's name had been deleted from the KU football program's online roster page, where Miles is now listed as the head coach, instead of incoming head coach as he was previously.
Beaty's coaching career began in 1994, when he worked as an assistant at Garland Naaman Forest High (Texas). His first head coaching job came at North Dallas High. He entered the college ranks at Rice, as the team's passing game coordinator and receivers coach, in 2006.
In 2008, Beaty joined KU for the first time, as a receivers coach on Mark Mangino's staff. He would return to Rice in 2010 as an offensive coordinator before jumping right back to KU in 2011, as the co-offensive coordinator and receivers coach for Turner Gill.
From 2012-14, Beaty worked at Texas A&M; as a receivers coach and recruiting coordinator before KU's athletic director at the time, Sheahon Zenger, hired him to take over the Kansas football program.
Currently out of a job, Beaty has stated the past couple weeks he plans on finding a new coaching opportunity quickly, after taking a little time off with his family.
Miles plans to interview all of the assistants on Beaty's final KU staff and determine whether there is any mutual interest in keeping any of them in place moving forward.
Jayhawks headed to Shrine Game
Although Friday marked the final time redshirt seniors Dineen and Wise would play together at KU, they will soon be on a football field together again, showcasing their skills for NFL coaches and scouts.
Both Dineen, a linebacker form Lawrence, and Wise, a defensive tackle from Lewisville, Texas, have accepted invitations to play in the 94th East-West Shrine Game.
More than 70 players who participated in last year's game entered the 2018 season on NFL rosters.
The East-West Shrine Game will be played Jan. 19, at Tropicana Field in St. Petersburg, Fla. It will air on NFL Network.