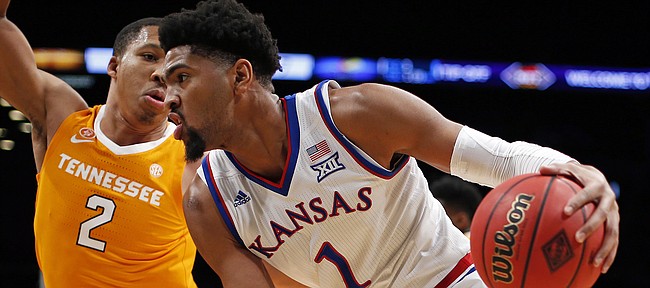 New York — Their pick-and-roll might not have been as vicious at 3 feet tall as it is today at 6-foot-9 and 6-foot-7. But Dedric and K.J. Lawson sure are glad to be back out on the court together making plays for their team.
"That's been our game our whole life," Dedric said after he and his brother combined for 32 points and 19 rebounds in KU's 87-81, overtime win over Tennessee on Friday night at Barclays Center. "We've been playing together since age 3 and 5, just going out there competing. He has my back, I have his back and we look after each other."
The Memphis transfers who joined the Jayhawks 19 months ago and sat out the 2017-18 season, played major minutes together for the first time as Jayhawks in the hard-fought win over the No. 5-ranked team in the nation.
And while it was Dedric whose 24 points and 13 rebounds lit up the stat sheet and earned him NIT Season Tip-Off MVP honors, K.J.'s contributions (eight points, six rebounds, two steals in 19 minutes) were just as important to KU coming out on top. In fact, it was K.J.'s style and service that may actually have been more fitting for Friday night's tone.
"It's just a toughness game," K.J. said after KU's come-from-behind victory. "I just like games like these, where you just go against guys that's going to compete and not going to back down. It's not a pretty game, everybody's not shooting 3s, everybody's trying to force it down your throat."
Dedric, the preseason All-American and Big 12 player of the year pick who has found his way into a bright spotlight since arriving at Kansas, played 41 minutes against the Volunteers and recorded the 39th double-double of his college career.
He topped 20 points for the third time in five games with Kansas and eclipsed the mark for the 17th time in 70 career games.
But none of those numbers mattered to the younger Lawson brother, who said, yet again, that all he was worried about Friday night was helping Kansas pick up a victory. The added bonus of seeing his brother play a big role alongside him was at least a little bit sentimental.
"It's a great feeling being back out there playing in a tough game with K.J.," Dedric said. "That's something that you dream of growing up, playing with your brother in a tough environment and it was a great experience being here."
With Udoka Azubuike struggling through foul trouble and reserve forwards Mitch Lightfoot and David McCormack playing limited minutes because of the makeup of Tennessee's lineup, it was the Lawson brothers who were asked to scrap and battle the big, bruising Tennessee bodies.
And on the big stage, in a game that Self said just two days earlier Kansas needed more than Tennessee, the two Tennessee natives delivered.
But don't think for a second that the Lawsons drew added motivation from facing the flagship school from their home state.
"We really don't go on that side of town," said K.J. of Knoxville, Tenn. "That's West Tennessee. We really (just stay) in the corner."
Had K.J. done that on the Barclays Center floor on Friday, Kansas (5-0) might have lost. Instead, he stuck his nose in there, battled for everything he got and played more minutes in this one game (19) than he had in KU's first four games combined (17).
"That's how I like to play," K.J. reiterated when asked why he found success. "I like to play physical. That's what I look forward to, and I'm just glad I had the opportunity to show (what I can do)."