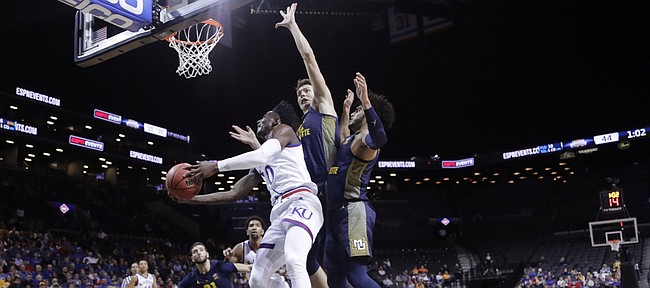 New York — It's a Top 5 showdown on Black Friday for the NIT Season Tip-Off title at Barclays Center.
And Kansas coach Bill Self believes the game could be more important for his second-ranked Jayhawks than it is for No. 5 Tennessee.
The reason?
It has nothing to do with future seeding, fancy trophies or feel-good victories. Although the Jayhawks (4-0) would take a win in any of those categories, as well.
But the reason Self believes this one is so important for his still-forming squad has everything to do with mindset.
"We need this game," Self said Wednesday after KU's 77-68 win over Marquette. "I think we may need this game more than Tennessee needs this game to be quite candid. We're young and we're not as tough as we need to be. And we better be pretty tough on Friday, the way they play, or they can make us look pretty bad."
Few players know that better than KU point guard Devon Dotson, who played high school ball with Tennessee star Grant Williams at Providence Day in Charlotte.
Noticeably excited about the opportunity to face Williams for the first time in his college career, Dotson did not let the vision of his personal reunion cloud his view of how talented the Volunteers are.
"They're a great team and we're looking forward to it," Dotson said.
Added Self: "They have interchangeable parts. They've got a bunch of strong cats. And they can switch a lot of stuff and positions, the way they run their offense, are pretty much interchangeable."
Self said earlier this week that Tennessee (4-0) was a team that, "legitimately has a shot to win the national championship." But there's little denying that it's KU's roster and coaching staff that is more familiar with games of this nature.
Tonight marks Tennessee's first top-five showdown since 2008, when then-No. 2 Tennessee won at No. 1 Memphis, 66-62.
History and results from the past mean little to this Kansas team, though. All that matters tonight was summed up perfectly by sophomore guard Marcus Garrett after Wednesday's victory.
"I just know they're a hard-working team," Garrett said of the Vols. "They play tough and I know we need to play with that same toughness if we want to beat them."
---
No. 2 Kansas Jayhawks (4-0) vs. No. 5 Tennessee Volunteers (4-0)
Time: 8 p.m. | Location: Barclays Center, Brooklyn, New York
TV: ESPN2 | Radio: IMG Jayhawk Radio Network
Not going to be home for the game? Sign up for ESPN+ and watch your Hawks on the go.
Log on to KUsports.com for our live game blog coverage and follow the KUsports.com staff on Twitter: @KUSports @mctait @bentonasmith & @SJacksonLJW
Keys for Kansas
1. Defense wins
If ever there were a game when Kansas did not need a reminder about the importance of defense, this should be it.
After a disastrous first half against Marquette, KU took control of the game with its defense. Better effort, better urgency and more active hands bottled up the Marquette offense and led to an 18-point second-half edge for the Jayhawks.
Forty-eight hours should not be too much time to retain that lesson.
What's odd about the Jayhawks' sub-par defense so far this season is that it hasn't hurt them in the rankings. The Jayhawks rank fourth in defensive efficiency (89.1) and ninth in offensive rebounding percentage allowed.
Look for KU to start this one the way it started the second half against Marquette in an environment that should be much more lively from the jump.

2. Size must show up
One of KU's biggest strengths entering the 2018-19 season was the size and depth of its front line. And the Jayhawks could use those big bodies to show up in this one.
The average height of Tennessee's starting five ranks the Vols as the 20th tallest team in the country — at 78.4 inches, just over 6 feet, 5 inches — which is just slightly taller than the average height of KU's starting five (77.7 inches, 6 feet, 4.8 inches), which ranks 57th in the country.
It's hard to say that an inch here or there gives any team a noticeable advantage, but if KU big men Udoka Azubuike and Dedric Lawson aren't ready to go right out of the gate — an issue they had Wednesday vs. Marquette — the physical play of Tennessee's big bodies all over the floor could give KU more trouble than it wants.
Tennessee is also the 37th most experienced team in the country and has the fourth most experience among major-conference teams. The Volunteers do not put any freshmen on the floor for significant minutes, a stark contrast to KU starting two.
3. Depth could be big
The Volunteers played just nine players in their Wednesday-night win over Louisville at Barclays Center and one of them played just one minute.
Beyond that, only one player — junior Lamonte Turner (25) — logged more than 12 minutes off the bench during Tennessee's win.
The Volunteers rank 340th nationall (of 353 teams) in bench minutes, compared with a No. 247 ranking for KU in the same category.
Clearly, Tennessee coach Rick Barnes prefers to stick with his starters, so if KU can get a couple of those guys in foul trouble, the Jayhawks could take advantage of the better bench.
Mega Matchup
KU junior Dedric Lawson vs. Tennessee junior Grant Williams
It remains to be seen whether these two actually match up with each other much — this would be a good outing to have Silvio De Sousa available — but there's no denying their importance to their teams and their respective offenses.
KU's offense was much sharper on Wednesday night running things through Lawson, who finished with 26 points and 12 rebounds and led Self to say afterwards, "He got 26 tonight and I thought he left a couple out there that he can tighten up and he can score a lot more."
As for Williams, who was a high school teammate of KU point guard Devon Dotson at Providence Day School in Charlotte, he enters the game averaging 23 points and nine rebounds per game.
"I need to watch a lot more," Self said Wednesday of his knowledge of the Vols. "But I've watched enough tape to know that, obviously, they have a superstar."
Probable Starters
No. 2 Kansas
G – Devon Dotson, 6-2, 185, Fr.
G – Quentin Grimes, 6-5, 210, Fr.
G – Lagerald Vick, 6-5, 190, Sr.
F – Dedric Lawson, 6-9, 235, Jr.
C – Udoka Azubuike, 7-0, 270, Jr.
No. 5 Tennessee
G – Jordan Bone, 6-3, 174, Jr.
G – Jordan Bowden, 6-5, 193, Jr.
F – Grant Williams, 6-7, 236, Jr.
F – Admiral Schofield, 6-6, 240, Sr.
F – Kyle Alexander, 6-11, 215, Jr.