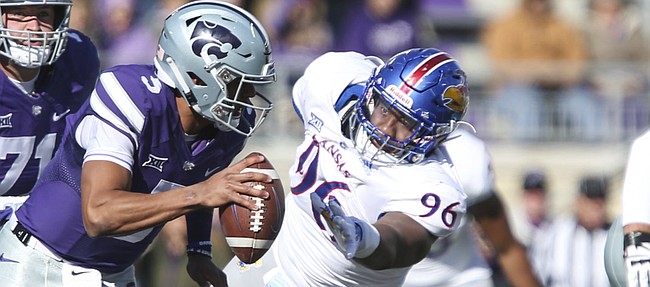 — Kansas (3-8 overall, 1-7 Big 12) vs. No. 11 Texas (8-3, 6-2) • 11:05 a.m. kickoff, David Booth Kansas Memorial Stadium • Game-time forecast: 49 degrees, cloudy, 47% chance of rain • TV: FOX Sports 1 • Radio: KLWN, FM 101.7 / AM 1320
— Log on to KUsports.com for our live game blog and follow our coverage team on Twitter: @KUSports, @BentonASmith and @SJacksonLJW
Keys for Kansas
1. Let the seniors lead
Some of the most important players on the Kansas football roster will be playing their final game for the Jayhawks this Black Friday.
So why not let them take KU as far as they can one last time?
A strong defensive performance will be of paramount importance in the Jayhawks' upset bid — Las Vegas oddsmakers favor Texas by roughly 16 points. And that's the side of the ball where this team's leaders operate.
Redshirt seniors Daniel Wise and Joe Dineen are the types of talents capable of not only embracing the moment but delivering critical plays and inspiring their teammates to match their intensity.
Along with the two captains, KU's defense has seniors KeyShaun Simmons, J.J. Holmes, Brian Lipscomb, Keith Loneker Jr., Shak Taylor and others in its ranks.
Offensively, this will be quarterback Peyton Bender's finale. He hasn't been perfect the past two weeks, but his completion percentages have improved — 61.8 percent at Kansas State and 70.4 percent at Oklahoma. A steady, turnover-free game from Bender would go a long way toward making this one competitive.
And the senior QB would like nothing better than setting up senior receivers Steven Sims Jr. and Jeremiah Booker for big performances.
2. Harness your emotions
These past three weeks haven't been easy for the Jayhawks or their coaches, since David Beaty was informed he wouldn't be retained as head coach beyond the season's conclusion.
There are players in the program that care greatly about their outgoing coach, Beaty, as well as his assistants.
Between that and it being Senior Day and the season finale, and returning players perhaps looking to impress incoming head coach Les Miles, there will be no shortage of motivating factors at play.
Whether individual Jayhawks are able to channel all of those appropriately — or tune them out if need be — just might determine how effective they play and whether KU's game plan can work.
Will the Jayhawks rally around Beaty or the idea of giving KU's seniors one last memorable victory?
They can't let their emotions get the best of them, because the Longhorns figure to play inspired, too, with a win securing them a spot in the Big 12 Championship Game.
3. Try to do what other UT foes haven't
We all know by now that one of the strengths of the KU defense this season has been its ability to create turnovers. With 14 interceptions on the season, the Jayhawks enter their finale tied for 13th in the nation for most picks.
But can they steal any of Texas quarterback Sam Ehlinger's passes out of the air? Not many defenders have.
The Longhorns' sophomore QB has thrown a program- and Big 12-record 295 consecutive passes without having one intercepted. A defender hasn't picked off Ehlinger since his final attempt against Maryland back on Sept. 1, the season opener. In the 10 games since, his reads and decisions have resulted in zero interceptions thrown and an 8-2 record for Texas in that stretch.
Though Ehlinger aggravated a shoulder injury against Iowa State this past Saturday and only played in the first half, he was able to practice this week and UT coach Tom Herman said he expects his No. 1 QB to play.
On the year, Ehlinger has completed 65 percent of his 334 passes for 2,620 yards and 21 touchdowns. Ehlinger has also rushed for 375 yards and 10 TDs.
Mega Matchup
Pooka Williams vs. Texas defense
KU's magical freshman running back from Louisiana, Pooka Williams is the one man on the roster capable of completely changing a game with his skills.
The Jayhawks' trip to Oklahoma a week ago turned out relatively competitive because the Sooners had no answer for Williams, the 5-foot-10, 170-pound true freshman. Now, in order to compete with the Longhorns, they'll have to successfully unleash him again.
At OU, Williams racked up 312 all-purpose yards, with 252 coming on just 15 carries.
Beaty said the freshman running back has been extraordinary because the Jayhawks are able to use him in such a variety of ways.
"He's got the best hands on our team — and there'll be a lot of kids mad at me after this talk because of that. But he does," Beaty said of Williams, who ranks second for KU with 32 receptions, behind Sims' 48. "If you shake his hands, they belong on about a 6-5 guy and he's not tall at all to be honest with you. Very unique. But he has got terrific hands. We put him out wide. He might be one of our better receivers. And he's thrown a pass, he's caught a pass, he's ran the ball into the end zone for touchdowns (nine total)."
With 1,022 rushing yards on the season, Williams became just the 15th player in program history to hit the 1,000-yard mark and the first since James Sims in 2013.
"For a freshman to come in and do that, and he does it with some electrifying runs, man, I feel so fortunate to have been able to witness it, to be alongside him on this team," Beaty said. "He's only a better person than he is a player, which should speak volumes about what type of kid he is."
UT's rush defense ranks 37th nationally (136.5 yards per game).
Jayhawk Pulse
KU has lost seven on its eight Big 12 games, but the vibe around Anderson Family Football Complex doesn't match that of a typical last-place team.
Yes, the Jayhawks lost at Oklahoma last week. Nonetheless, the fact that the offense put up 40 points really seemed to encourage players on both sides of the ball.
Then there is the Les Miles effect. The new KU coach's interaction with the players thus far has been limited to a five-minute introduction on Sunday. But the fact is his presence takes away some uncertainty about the program's future.
Returning players already have something to be excited about for 2019 and the seniors want to go out with a victory. Positive vibes alone don't win football games, but they certainly can't hurt.
Tale of the Tape
KU ….. UT
KU run D vs. UT run game √
KU pass D vs. UT pass game √
√ KU run game vs. UT run D
KU pass game vs. UT pass D √
Special teams √
Prediction
Texas 34, Kansas 24