Tuesday, November 20, 2018
New York — Raised in the tradition-rich Duke basketball program, Marquette coach Steve Wojciechowski is well-aware of what life as a blue blood is like.
And this week, the man Duke fans lovingly called "Wojo" is on the other side of it.
Before his Marquette Golden Eagles (3-1) hit the road to face second-ranked Kansas (3-0) in the semifinals of the NIT Season Tip-Off at 6 p.m. Wednesday at Barclays Center in Brooklyn, Wojciechowski offered up his thoughts on the Jayhawks past and present.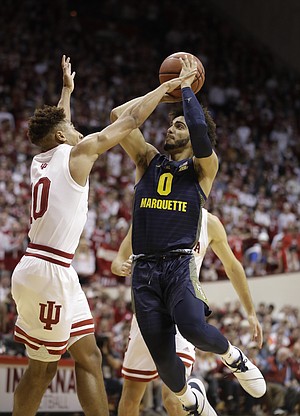 "We have an unbelievable amount of respect for Kansas and their program and Coach (Bill) Self," Wojciechowski said. "And, obviously, I think they're as talented as any team in the country this year."
When asked what he considered to be the "biggest" issue of matching up with the Jayhawks (3-0), Wojciechowski laughed and keyed in on the very word that was used in the question.
"Biggest would be probably the right way to say it," he said. "They're huge inside. It's a double-edged sword, because their front court puts amazing pressure on the rim and they're very efficient when they get it deep. But they generally are at their best when they're hitting 3s."
The Jayhawks enter Wednesday's showdown shooting 47 percent from 3-point range, a number much higher than most believed was attainable this season. And Wojciechowski called the way KU senior Lagerald Vick has shot the ball so far this season "scary."
But it's not just Vick who worries Wojciechowski.
"(KU freshman) Quentin Grimes, who we recruited very heavily, is an elite scorer," the Marquette coach noted. "(Devon) Dotson has been really good as a freshman. So, it's not like, take away the inside game and you'll be fine. Or take away the outside game and you'll be fine. There's a reason why most people think they're as good a team as there is in the United States. They can hurt you in so many areas."
That fact was not lost on Marquette junior Markus Howard, the Golden Eagles' top scorer who will be counted on heavily to help Marquette keep pace with Kansas.
Howard, who hails from Chandler, Ariz., made it clear that he understood that all of the praise his coach had for the Jayhawks was not exactly a new development.
"You don't even have to look at the rankings to know that Kansas is one of the top teams in the country," Howard said. "They deserve that right. They come year after year with a very competitive team, with great recruiting classes, greatly coached by coach Self. Just having the opportunity to go toe-to-toe with them is going to be really great for our team."
And instead of being intimidated by the showdown, the Golden Eagles are looking forward to getting as much as they can out of the matchup, win or lose.
"I'm really excited," Howard said. "In my opinion, I think we have one of the toughest schedules in the country and it's an unbelievable experience to play against top-tier teams like Kansas. Playing against a team like that is definitely going to raise your level of play."
Added Marquette junior Sam Hauser: "It's going to have to. You have to rise to the occasion."
During his playing days at Duke, Wojciechowski was one of the easiest players in college basketball to spot when he turned his game up and rose to the occasion. His signature floor slap as he dug in on defense is still talked about to this day. And Self actually brought it up earlier this week.
"You mean, does he run up and down the sideline and slap the floor in a stance?" joked Self when asked about Wojciechowski's coaching style. "I would say that he probably does not. I know Steve, but I don't know him well. We've all seen him play while he was at Duke, he was certainly a guy who got the most out of what he had and was a great leader for them. As far as his mindset and philosophy, they're much improved defensively, but they are ultra-aggressive and shoot that ball offensively. I'd say there's some similarities with that and how Duke played."
He might not be playing, but Wojciechowski seemed ready all the same.
"Big-time game on a huge stage against a national powerhouse," he began. "Those are the type of games we want to play in.
"It's a huge challenge, but one we welcome. Our team needs to be challenged. That's how we figure out where we're at. Our nonconference (schedule) challenges us consistently, and I'm not sure there'll be any bigger (challenge) than the one against Kansas."