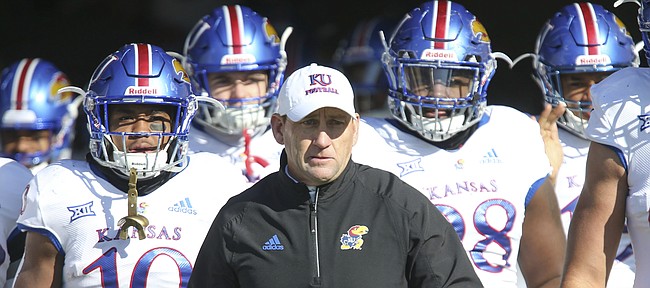 As David Beaty closes out his final days as football coach at the University of Kansas, he couldn't escape at least a few questions about the future of the program and his successor, Les Miles.
Asked during Monday's Big 12 coaches media teleconference for his thoughts on KU hiring Miles and whether he had spoken with the incoming coach, Beaty said he didn't anticipate crossing paths with his replacement.
"Obviously, it wouldn't matter what I think," Beaty began. "But I've heard nothing but terrific things about him. And I haven't spoken with him and we probably won't speak, but that's OK. I'm going to be the coach here through the rest of this week, and then it's going to be time for a changing of the guard. I hope and pray for Jayhawk nation that they will get behind him, that they will give him the things that he needs to be successful, the things to build on his own pedigree to where he can come here and take this thing to the next level. I know there's a lot of excitement in Lawrence right now for him and the staff that he's going to bring in."
Podcast episode
Moments after Kansas introduced Les Miles as the program's 40th head coach in team history, the KU Sports staff did an emergency podcast at Allen Fieldhouse. KU football reporter Benton Smith is joined by Matt Tait and Shane Jackson to discuss Miles' introductory press conference and where the Jayhawks go ...
While Beaty and his assistants prepare for Friday's finale against Texas (11 a.m. kickoff, David Booth Kansas Memorial Stadium) all week at Anderson Family Football Complex, Miles is working out of a temporary office at Wagnon Student-Athlete Center. Miles will remain in Lawrence through Wednesday, before heading out of town to spend Thanksgiving with his family. He isn't expected to attend Friday's KU game.
In the meantime, Beaty and his staff are tasked with plugging away and trying to put in a game plan that will give KU (3-8 overall, 1-7 Big 12) a chance of competing with No. 11 Texas (8-3, 6-2).
"And our job is to go win this game. To help those (players) that are going to still be here," Beaty said, adding a victory to close the 2018 season would benefit recruiting for the next staff, as well. "So I think that's how we can help."
Although neither this season nor his four-year run as KU's football coach met Beaty's expectations, he stated he will leave the program behind feeling proud about certain aspects of his tenure.
"Only the ones who have been inside know where we started and where we're at today," Beaty said. "You know, it's a production business. So at the end of the day, it's about production and production is spelled out with W-I-N — you've got to win. We weren't able to do that at a high enough level fast enough. And I get that. So it's the way of the world and we understand it."
Heading into his final game as KU's football coach, Beaty is 6-41 overall and 2-33 against Big 12 opponents.
Even so, he pointed to players these past four years laying the foundation for KU football's future — one that won't include him.
"The one thing that I am very proud of are the men who have came through our program, that are in it now, the amount of kids that we graduated, the amount of kids that have represented this university with class, integrity and the things that they've done in the community. And the way that they continue to focus on getting a little bit better every day," Beaty said. "Because rebuilding, that's how you do it. There's no — there's only one way to rebuild, and it's to endure. That's it. It's not going to be easy. But it'll be worth it. But it's going to be tough."
When KU's season officially ends on Black Friday, Beaty will find himself with some rare downtime as he figures out what comes next in his career.
The outgoing coach said he plans to spend some quality time with his wife, Raynee, and daughters, Averie and Alexa.
Then, he plans on finding his next job.
"Man, I'm a coach. I don't know that I can do anything else, to be honest with you," Beaty said. "I'm (48) years old. I've got a lot of ball coaching left in me. I've got to continue to work. I've got to continue to get better and continue to go help young men become better men."
No Beaty press conference
Unlike every other game week Tuesday of his four seasons as KU's football coach, Beaty did not have a press conference this week.
A KU spokesperson said the reasoning behind the change had to do with KU playing on a short week that included the Thanksgiving holiday and Beaty not having as much time as usual for game planning with his fellow coaches.
This unusual modification to the coach's schedule was revealed on Sunday, the same day KU announced its athletic director, Jeff Long, had hired Miles to replace Beaty.
KU plays No. 11 Texas on Friday, the same day that No. 6 Oklahoma plays at No. 12 West Virginia. Longhorns coach Tom Herman, Sooners coach Lincoln Riley and Mountaineers coach Dana Holgorsen all had their press conferences this week.
Pooka's 4th conference award
After producing 312 all-purpose yards for Kansas in Saturday's loss at Oklahoma, freshman running back Pooka Williams Jr. was named the Big 12's Newcomer of the Week for the fourth time this season.
Williams set a new KU freshman rushing record with 252 yards and also ran for two touchdowns. His 16.8 yards per carry were the third-most in Big 12 history. Plus, the freshman running back from Louisiana threw a TD pass.
Oklahoma State's Taylor Cornelius won Offensive Player of the Week after passing for 338 yards and five touchdowns and running for 106 yards in the Cowboys' upset win over West Virginia.
Jayhawks invited to showcase game
The NFL Players Association Collegiate Bowl announced two KU seniors have accepted invites to play in the the postseason showcase this year.
Both receiver Steven Sims Jr. and center Alex Fontana were among the participants revealed this week.
The NFLPA Collegiate Bowl is scheduled for Jan. 19, 2019, in Pasadena, Calif.