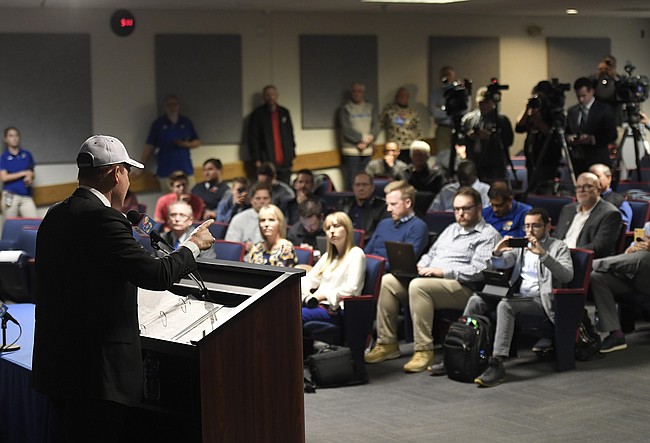 The University of Kansas football team has found its new head coach.
Les Miles was introduced as the program's 40th head coach in team history Sunday afternoon. Miles brings to Lawrence 142 victories, a BCS national championship and two SEC titles in 15-plus seasons as a head coach, the most career wins of anyone who has coached football at Kansas in the modern era.
Most recently, Miles served as the head coach at LSU (2005-16), where his teams averaged 10 wins per year in his 11 full seasons. He led LSU to bowl games in each of those 11 seasons (winning seven), and won 42 games against Top-25 teams and 16 over Top-10 teams.
Here are comments from players, current media members and college coaches on KU hiring Miles:
BILL SELF, Kansas Head Men's Basketball Coach
"I've known of Les from a distance ever since he coached at Oklahoma State, and have enjoyed watching him coach both there and at LSU. His hiring brings excitement, interest and credibility to our football program, which in turn will do so much for our university. I know he and his staff will hit the ground running, and I am looking forward to connecting and working with him."
RAY BECHARD, Kansas Head Volleyball Coach
"Coach Miles is a proven winner at the highest level. He will energize not only our football program, but also our entire athletics department and our student body. We're confident that Coach Miles can lead KU football to a new level of competitiveness in the Big 12 Conference and nationally."
JERRY JONES, owner, Dallas Cowboys
"On the football field, Les Miles is a proven winner who knows how to teach the game and produce results. He also has the unique qualities necessary to lead young men and make a difference in their lives. I believe, however, that Les' greatest asset is his integrity and the very high level of character that he exudes naturally. Some people talk about sincerity and doing things the right way. Les Miles defines that standard on a daily basis."
TROY AIKMAN, former quarterback, Dallas Cowboys
"I always had a great deal of respect for Les when he was coaching here in Dallas. What he accomplished at Oklahoma State in the short time that he was in Stillwater speaks for itself."
LEONARD FOURNETTE, running back, Jacksonville Jaguars
"He's one hell of a coach. The relationship we built with him over three years is amazing. No matter what, he always loves us and always will."
NICK SABAN, head coach, Alabama
"Les Miles is one of the most respected colleagues in terms of the competition, rivalry and the great teams we faced. I have tremendous amount of respect for Les Miles and what he was able to accomplish at LSU and the great competitive teams he had for a long, long time. We wish Les and his family well."
DERRIUS GUICE, running back, Washington Redskins
"The first time I ever met Coach Miles, Ben and Manny and myself were playing basketball at his house, and I remember Coach Miles coming out and shooting the ball and just making every shot. That's the first memory I have with Coach Miles — he could shoot. He can shoot it. He's got a set shot. He's not going to move, but he'll flick it on you."
ODELL BECKHAM, Jr., wide receiver, New York Giants
"I love Coach Miles. He was great from the day I got there until the day I left."
MIKE GUNDY, head coach, Oklahoma State and former Miles assistant
"I have a lot of respect for him as a football coach. All he has done is won a bunch of football games on the road and at home and kept them highly ranked. He's had six or eight Top-10 recruiting classes, so what he has done is pretty good.
"I enjoyed the time that I was here (Oklahoma State) with him as an assistant when he was the head coach, because offensively we were together every day. We'd argue all week over this and that and then on Saturday we would go out and have fun and score points and the system we were in was good. It does not surprise me the success he is having. He kind of got the ball rolling here and I was fortunate to take his place and then able to keep it going from that point on. Everyone needs to be thankful for what he did here."
DAVE WANNSTEDT, co-host, FOX college football studio show
"It (is) a good hire for Jeff Long. They're trying to raise a lot of money for facilities there. Les brings credibility from that standpoint with his résumé. And Les recruited in Texas, keep in mind."
LEE CORSO, ESPN Game Day co-host:
"College football is better for Les Miles being in it."
KIRK HERBSTREIT, ESPN Game Day co-host
"You can win at Kansas; it's been proven in the past. Most people know Les Miles from LSU, but don't forget his time in Stillwater. He's been in that conference, he understands that conference. This is a big hire. He can recruit with his personality."
PATRICK PETERSON, former LSU All-American and Arizona Cardinals Pro Bowl cornerback
"He was fun to play for and made it fun every day. That's why he's able to recruit the way he does. I'd go back in a heartbeat and play for him if I had it to do all over again. He just has this special way of getting the best out of guys and making them believe that they can do anything."
JOHN WANGLER, former quarterback at Michigan and Miles' roommate when they were graduate assistants under Bo Schembechler.
"There was never a dull moment with Les. He's always had that goofy sense of humor about him, and he's not afraid to let his hair down and enjoy life. You can see that in the way his teams play. They play extremely hard for him."
DAVID LaFLEUR, former LSU All-American and Dallas Cowboys tight end, whom Miles coached at the Dallas Cowboys.
"There was always some meaning or tidbit of information (in what he said) that you'd hang onto, and it would help you down the road. He's good for the game. He really is, so passionate and so full of life. The thing I always admired most about him was the compassion he showed for his players. He brought the personal side to it, which was refreshing, especially when you think about the pressure in that league. It didn't take you very long to learn that he cared about you a lot more than just being a football player. He cared about you as an individual. There are a lot of coaches who preach that. Very few back it up. He's the best coach I've ever played for. He's a great individual, both on and off the field. He's great with the players, and away from the field he makes sure everything is done the correct way. I can't say enough about the guy. He brought a lot of enthusiasm into the game, and he's just a joy to be around."
BILL McCARTNEY, former Colorado Coach, who in 1982 hired Miles to be Colorado's offensive line coach, Miles' first full-time coaching job.
"Coaches think they do it, (but) players do it. It's about recruiting. It's about stacking the deck. It's about competition at positions. Les understands that. He's also an old offensive lineman. He's unselfish. He's about team. He's about us. He doesn't take credit for what the players do. He knows it's about them. He's always going to defer, and that's why they trust him and respond to him the way they do."
SCOTT RABALAIS, The Advocate (Baton Rouge, La.)
"The game is unquestionably more fun with Miles in it. One of the most charming character actors in the history of the game will be at it again. With his 142 career wins and .721 career winning percentage (to date), a national title and two Southeastern Conference championships at LSU, Miles should one day be enshrined in the College Football Hall of Fame."
BARRETT SALLEE, CBSSports.com
"He took over an Oklahoma State program in 2001 that finished with sub-.500 records in 11 of the previous 12 seasons. After a 4-7 season in 2001, Miles led the Cowboys to three straight bowl games. He took over for Nick Saban in Baton Rouge, and the program didn't miss a beat. During his 12 years at LSU, his worst recruiting class finished No. 14 in the nation according to the 247Sports Composite rankings. That class came in his first season in Baton Rouge in 2005 in a shortened recruiting cycle due to the coaching change."
DENNIS DODD, CBSSports.com
"Miles has plenty of Big 12 experience having coached Oklahoma State from 2001-04. He would bring immediate credibility as a coach, recruiter and face of the program with no NCAA baggage."
ROSS DELLENGER, Sports Illustrated
"Miles helped turn Oklahoma State from a Big 12 punching bag that had made one bowl trip in the previous 12 seasons into a feisty competitor in the early 2000s. Miles brings with him victories and titl"
s. In the nation's most competitive division, Miles brought LSU two SEC titles and the 2007 national championship, leaving with the second-most wins of any coach in the school's history."