Les Miles is the new head football coach and Kansas and all anyone wants to talk about is if the partnership between the national champion known as "The Mad Hatter" and one of the longest suffering college programs in NCAA history is going to work.
There's plenty of time to get to that. And we will in the coming hours, weeks, months and years.
But jumping to that question and talking today about bowl games and Big 12 contention that are, at best, a few years down the road, is skipping over the Jayhawks' most recent football victory.
No, Kansas didn't upset No. 6 Oklahoma on Saturday night; though they did cover the spread and, in the process, provide Miles with a nice glimpse of what he's inheriting. And, no, I'm not talking about the TCU win on Oct. 27.
I'm talking about landing Miles in the first place.
Photo Gallery
KU football introduces Les Miles as next head coach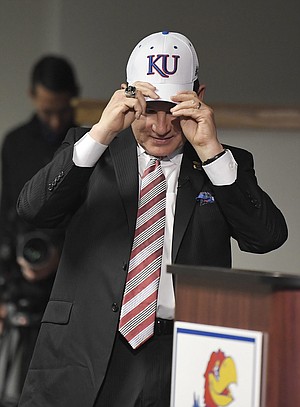 Les Miles was introduced as the next KU football coach Sunday afternoon.
When it comes to the biggest wins in program history, there are a few against Missouri, the Orange Bowl win over Virginia Tech in 2008, a couple of Sunflower Showdown wins and then hiring Miles.
This really is that big.
Twice this decade, Kansas football fans have both heard and uttered the phrase, "It can't get any worse."
And then it did.
Turner Gill was fired at 5-19 and Charlie Weis went 6-22 in the two-plus years that followed. After Weis was sent packing, David Beaty came in and sits at 6-41 heading into his final game as KU's coach.
And that's just the record issue. Fan apathy, recruiting woes and national irrelevance reached new heights with each hire.
Miles is here to put an end to that.
Forget breaking the cycle. How about breaking the excitement meter?
Podcast episode
Moments after Kansas introduced Les Miles as the program's 40th head coach in team history, the KU Sports staff did an emergency podcast at Allen Fieldhouse. KU football reporter Benton Smith is joined by Matt Tait and Shane Jackson to discuss Miles' introductory press conference and where the Jayhawks go ...
First-year Kansas Athletic Director Jeff Long did just that during the past couple of weeks, when he sought out and landed one of the biggest and most accomplished coaching candidates available in years.
But Les Miles is not just a big hire for the Kansas football program today. Miles is the biggest hire in the 100-plus-year history of the program. And it's not particularly close.
The overwhelming national take is that this is a good move for Kansas, a no-brainer of sorts, given Miles' reputation as a winner (114-34 at LSU) and the existence of that national championship ring he owns.
It's the polar opposite to the national response that came following news of the Charlie Weis hire in 2011, which drew laughter and a, 'Wait, you're serious?' response from most who cover college football.
Some are grumbling, of course. Kansas fans and a few national pundits. But they clearly don't get it. Kansas football needed something like this. And Jeff Long delivered.
Now the heavy lifting begins.
Landing a big name with a sparkling resume from one of the best programs in college football does not fix anything overnight. And it certainly does not guarantee any number of victories.
The Kansas job is hard. There's still a sizable hole to climb out of.
No one knows if this marriage is going to work. Not Miles. Not Long. Not anyone wearing a KU uniform. And especially not anyone who says they know.
And say all you want about how Kansas fans really only want to watch their team compete for bowl eligibility and see some fun and excitement return to Memorial Stadium on Saturdays. Maybe a few more fans, too.
But that's bologna.
Long didn't make this hire for a six-win season every couple of years. And Miles certainly didn't take the job to go 6-6 every year.
Both of them believe Kansas can do better than that. If they didn't, neither one would be here.
They might not be expecting Miles to add to his ring collection, but they're not expecting to be average either.
Kansas is going for it. And who cares about whether the future shows that hiring Miles worked.
It works today. Big time. And KU football is relevant again. Just like that.
https://www.youtube.com/watch?v=_uv9IsRhbYc
https://www.youtube.com/watch?v=7yjWMiRobIo