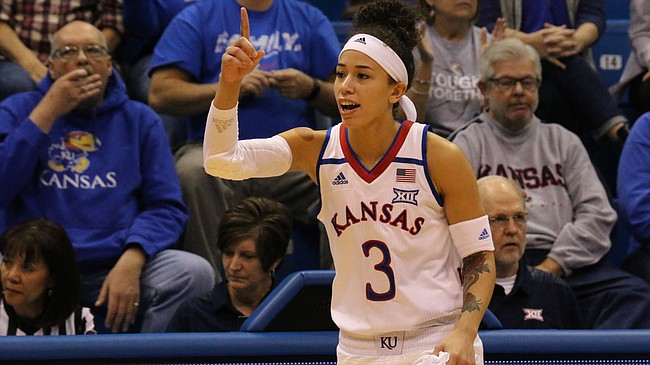 Jessica Washington waited patiently to be checked in along with Briana Osorio and Michaela Wilson. It's the first time she's played in a game in over a year.
And at the highlight of the game she said she was the most excited for, it didn't even take 10 seconds for Washington to head to the line for free throws.
Clank, as Washington turned back toward midcourt grinning.
Clank, as the second one went in and she laughed more.

"Those first two free throws were like me getting my jitters out a little bit," Washington laughed.
It took eight minutes to score her first point, but once Washington hit her first 3, she felt right back at home in Kansas' 65-54 win over Alabama A&M; Sunday afternoon.
Washington sparked an 8-0 run off a pair of 3-pointers and an assist in the paint to fellow guard Christalah Lyons, pulling away from Alabama A&M; after a back-and-forth first quarter.
"I thought she made effort plays," head coach Brandon Schneider said. "She's rusty, which is to be expected. It's been a long time since she played in a game. When you're not able to play in exhibitions and kind of knock some off, I feel like these next few games will feel like exhibition games for her."
Continuing her unselfishness, Washington had a few looks where she appeared to be open in the second half. Instead of taking the early shot, she would pass the ball around and find an open guard.
When she wouldn't take the ball down the court, Lyons would do the same.
Lyons finished with a team-leading five assists with Washington being tabbed for one. Unmarked on the stat sheet, she would move the ball around and create unselfish plays. The collective effort in moving the ball around led to Lyons' game-high 16 points.
"They're a group we definitely want to play together," Schneider said of Lyons and Washington. "I think it's tough to stay in front of both those two guys. They can get to the rim, and they can score at all three levels. We're going to want to have them out on the court together as much as we can."
Schneider expressed his excitement for the wall the two can create moving forward, which wouldn't have even happened had Washington not missed the season prior.
"It's going to be a scary sight," Lyons said.
To open up the second half, the Bulldogs were pinned against the wall. They continued to put up shot after shot, and even outscored the Jayhawks in the second half by four.
Washington made 1-of-8 field goals in the second half (1-of-6 for 3), with just a 3-pointer. Nevertheless, with every miss, and every minute, Washington continued to smile and laugh it out.

"I wasn't really too worried about the makes and the misses," Washington said. "I don't even want to look at the stat sheet."
Even when she finishes at the team's third-highest scorer with 12 points.
"I think that I'll have better shooting nights moving forward," she said. "I can just smile just to be playing basketball again and feeling great and healthy."
Kansas (3-0) plays host to George Mason (3-1) at 7 p.m. Wednesday.