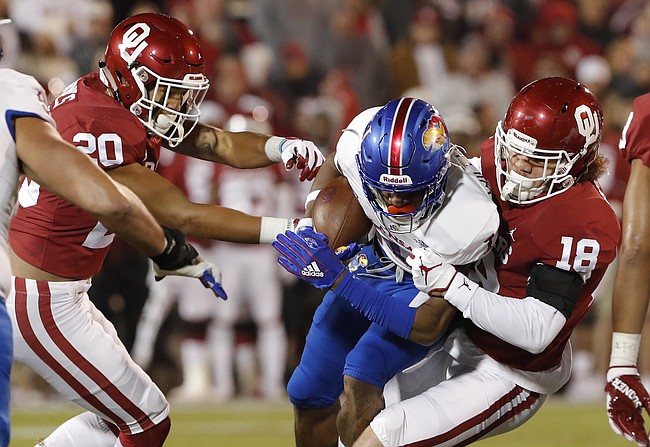 Kansas made enough plays to keep things interesting against No. 6 Oklahoma.
In the end, though, the Sooners' high-octane offense proved to be too much for the Jayhawks to overcome. OU scored on all but two of its drives to claim a 55-40 win over KU (3-8, 1-7 Big 12) Saturday night at Oklahoma Memorial Stadium.
Oklahoma (10-1, 7-1) has now won 14 consecutive meetings with Kansas.
In the loss, freshman running back Pooka Williams ran for a career-high 252 yards and two touchdowns on 15 carries. Williams also completed a 9-yard touchdown pass to Jeremiah Booker early in the fourth quarter.
Here's a quick look back at some of the action:
• The game turned when: With 9:03 left in the first half, Oklahoma took the lead for good.
After the Jayhawks claimed a 10-7 lead, the Sooners answered with a quick score. Oklahoma needed less than three minutes to march 65 yards on seven plays. OU quarterback Kyler Murray hit a wide-open Carson Meier for a 20-yard touchdown connection. It gave the Sooners a 14-10 lead, in which they never trailed after that.
Entering Saturday, 51 of Oklahoma's 63 offensive touchdown drives (81 percent) took less than three minutes of game clock.
• Offensive highlight: Early in the game, Williams demonstrated his talents on the national stage.
Williams had consecutive long runs during KU's 93-yard drive, which took just seven plays and 3:17. Williams accumulated 62 yards on just two runs during the team's long drive, including a 39-yard rush on second and short.
Following a timeout, Williams hit paydirt with a 23-yard touchdown run to give Kansas a 7-0 advantage.
• Defensive highlight: Mike Lee set the tone with a huge stop early in the contest.
Oklahoma appeared poised to score on its first offensive drive of the game, marching into Kansas' territory. After missing a tackle, Lee ripped the ball out of Kennedy Brooks' hands and Lee ended up with the loose ball.
As a result, the Sooners' drive was halted on the opposition's 10-yard line. The Jayhawks proceeded to take the first lead of the game on the ensuing drive.
•Up next: Kansas plays host to Texas at 11 a.m. Friday.
SCORING SUMMARY
FIRST QUARTER
2:50 — Pooka Williams 23 run. Gabriel Rui kick. Seven-play drive for 93 yards, in 3:17. (KU 7, OU 0.)
1:19 — Kyler Murray 7 run. Austin Seibert kick. Four-play drive for 59 yards, in 1:31. (KU 7, OU 7.)
SECOND QUARTER
12:02 — Rui 45 field goal. Eleven-play drive for 47 yards, in 4:17. (KU 10, OU 7.)
9:03 — Carson Meier 20 pass from Murray. Seibert kick. Seven-play drive for 65 yards, in 2:50. (OU 14, KU 10.)
0:18 — Kennedy Brooks 7 run. Seibert kick. Nine-play drive for 60 yards, in 4:02. (OU 21, KU 10.)
THIRD QUARTER
10:52 — Khalil Herbert 3 run. Rui kick. Seven-play drive for 45 yards, in 3:10. (OU 21, KU 17.)
5:32 — Murray 11 run. Seibert kick. Thirteen-play drive for 77 yards, in 5:13. (OU 28, KU 17.)
0:50 — Brooks 13 run. Seibert kick. Seven-play drive for 51 yards, in 3:10. (OU 35, KU 17.)
FOURTH QUARTER
14:05 — Jeremiah Booker 9 pass from Williams. Rui kick. Four-play drive for 62 yards, in 1:45. (OU 35, KU 24.)
13:44 — Murray 75 run. Seibert kick blocked. Two-play drive for 75 yards, in 0:21. (OU 41, KU 24.)
12:05 — Curtis Bolton 9 punt block return. Seibert kick. (OU 48, KU 24.)
9:39 — Williams 42 run. Herbert pass from Bender. (OU 48, KU 32.) Five-play drive for 75 yards, in 2:27. (OU 48, KU 32.)
5:25 — Grant Calcaterra 11 pass from Murray. Seibert kick. Ten-play drive for 75 yards, in 4:13. (OU 55, KU 32.)
2:31 — Khalil Herbert 25 run. Conversion good. (OU 55, KU 40) Seven-play drive for 75 yards, in 2:54
More like this story on KUsports.com