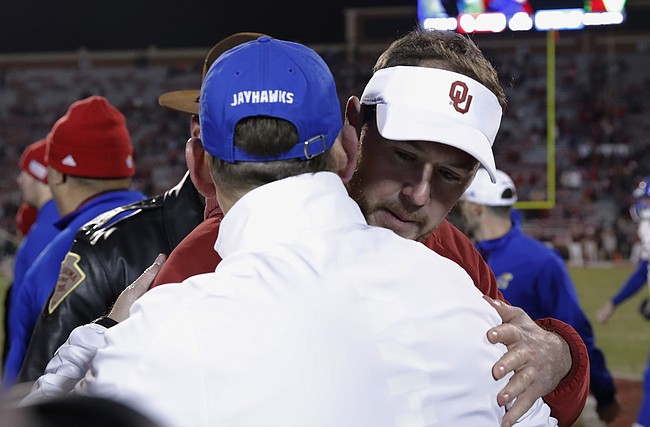 Norman, Okla. — Before Saturday night's nationally televised matchup between Kansas and No. 6 Oklahoma on FOX, analyst Dave Wannstedt discussed all the buzz surrounding KU's coaching search.
Jeff Long, now KU's athletic director, hired Wannstedt to coach Pitt when the AD oversaw the athletic department there. The one-time Long hire was on board with the growing buzz that KU will lure Les Miles to Lawrence.
"It would be a good hire for Jeff Long. He would win the press conference," Wannstedt said on the pregame broadcast. "They're trying to raise a lot of money for facilities there. Les brings credibility from that standpoint with his résumé. And Les recruited in Texas, keep in mind."
Sports Illustrated reported on Friday that KU and Miles, the former LSU and Oklahoma State coach, are in the final stages of negotiating a contract that would make Miles the Jayhawks' next head coach.
Near the conclusion of the FOX broadcast of KU's 55-40 defeat, play-by-play announcer Tim Brando, who knows Miles well, hinted an announcement regarding the future of KU football was "more than likely" coming on Sunday.
SVP eying Miles to KU smoke
Already a public supporter of Miles finding his way to the sidelines at Kansas, ESPN's Scott Van Pelt had more to say about that growing speculation on SportsCenter late Friday night.
"I'm not saying he's going to be as good as he was at LSU," Van Pelt said. "That would be ridiculous. But they cannot be worse. And at least they figure to be interesting."
In 11-plus seasons at LSU, Miles went 114-34, before being fired four games into the 2016 season.
Bledsoe's night
Prior to kickoff Saturday night, OU honored its 2018 senior class, which included a name well known by football fans back in Lawrence.
Former Lawrence High standout Amani Bledsoe, now a junior defensive end with the Sooners, will be a part of the team's graduating class this year.
Rated a four-star prospect in the Class of 2016, Bledsoe chose OU over Kansas.
Saturday night versus the Jayhawks Bledsoe contributed one total tackle but also made three pass deflections.
Rare production
KU's 40 points at Oklahoma were the most scored the program has scored against the Sooners since 1996, when KU put up 52. It was also the most points KU scored against a Big 12 opponent since 2010, when the Jayhawks scored 52 against Colorado. KU's 40 points at Oklahoma were the most on the road against a Big 12 opponent since 2007, when the Jayhawks had 43 at Oklahoma State.
Coaching connections
A tight ends and fullbacks coach this season at Kansas, assistant coach Garrett Riley, of course, is the brother of Sooners head coach Lincoln Riley.