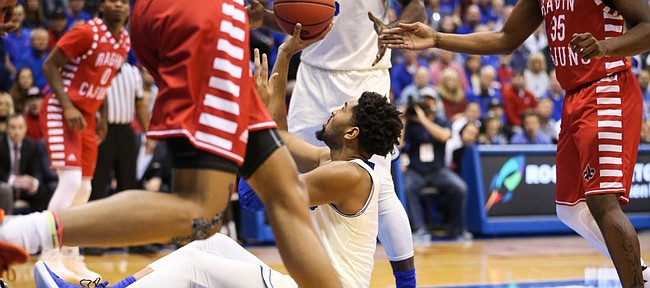 Some things are just meant to be.
And that certainly seemed to be the case on Friday night at Allen Fieldhouse, when Kansas coach Bill Self explained that, purely by coincidence, he had just spoken with the high school basketball coach who was on the bench back in 2005 the day Blake Hoffarber hit a buzzer-beating shot from his butt in the 4A Minnesota state championship game to send things to double-overtime before Hoffarber's Hopkins High — the same school where Top 40 Class of 2019 big man Zeke Nnaji currently plays — went on to win it all.
What does any of this have to do with Kansas, which knocked off Louisiana, 89-76, on Friday night?
Well, like Hoffarber 13 years ago, KU junior Dedric Lawson on Friday also scored from a seated position.
Photo Gallery
Kansas vs. Louisiana at Lafayette
View a gallery of images from Friday night's game between the Jayhawks and Ragin' Cajuns at Allen Fieldhouse.
The bucket, Lawson's first since finishing scoreless against Vermont on Monday night, came immediately after the Memphis transfer had missed a shot near the rim and been knocked to the ground in the process.
As the ball came off the rim on the left side of the lane, it fell right into the waiting hands of Lawson, who caught it while sitting on his butt and immediately threw it back up off the glass and in for two points for the home team.
"I thought I got fouled when I got it," said Lawson explaining the wild shot after the victory. "I really thought they blew the whistle and I just shot it back up."
Moments later, when Self was asked if he had ever seen someone score like that, he immediately went to Hoffarber's shot.
"I have," Self began. "The kid from Minnesota, Blake Hoffarber, or whatever. Wasn't it the state championship game? He was on his butt from the 3-point line and made it. I think his feet may have been across the line and they only gave him two. The reason I bring that up, I just talked to the coach, coincidentally, who coached him that game and I brought that up. But I remember Blake doing that. I don't know if I can remember anybody else doing that. (Lawson's) was in traffic, too. And I think he may have got a rebound also sitting on his butt. That was pretty amazing."
The bucket was one of six on the night for the 6-foot-9 Lawson, who finished 6 of 11 from the floor and 7 of 10 from the free-throw line for 19 points and six rebounds in 27 minutes.
Surely, with numbers like that, Lawson snapped out of the funk that held him scoreless on Monday, right?
"No. No. Dedric, he got 20 against Michigan State and it felt like he should've got 30 and he got 19 tonight and he should've got 30," Self said. "And he knows that. But, still, you've got to be a pretty good player to put up numbers like that and not have a good offensive game."
Despite those numbers, Lawson still appeared to be in his own head a little and never looked to be playing loose and free without thinking. His five turnovers might have had something to do with that.
But, as he did Monday night, Self left Allen Fieldhouse on Friday believing better days are ahead for his starting 4 man and not worried in the least about Lawson's game.
"I just think he kind of had a rough week a little bit," Self said. "He's a lot better than that and he'll play. We obviously need him to play at a high level. He can finish better and he'll play better. He just didn't have a great week. But I'm glad we've got him."