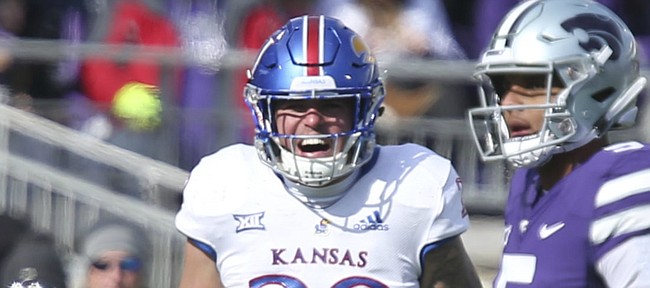 Kansas senior linebacker Joe Dineen Jr. has experienced his fair share of early kickoffs in his career.
That's why Dineen is looking forward to playing one of his last games as a Jayhawk in front of a national audience. KU (3-7, 1-6 Big 12) is slated to take on No. 6 Oklahoma (9-1, 6-1) at 6:30 p.m. Saturday in a road conference clash that will be broadcast on Fox.
"When you sign up to play Division I football, you sign up to play under the lights in big-time stadiums," Dineen said. "I'm really excited that (this is) one of the last opportunities I get to play, and in a stadium like Oklahoma. I'm really excited, and it is going to be a great opportunity."
Despite the later start, the Jayhawks don't plan to change their game day routine up this weekend.
"It is not too different, just makes it a longer day," running back Khalil Herbert said. "It is the same preparation as any other day. Night time reminds me of high school, so it is fun."
KU's main mission is to do better than last year's showing on the national stage.
The only time Kansas played a nationally televised game in the evening last year was when the team suffered a 43-0 loss to TCU. In that game, KU's offense managed to record just 21 total yards on 49 plays, including 17 on the team's final drive.
During the halftime broadcast, former USC quarterback Matt Leinart was asked to talk about KU and just dropped his head into his hands and started to laugh.
It is something that is still on the Jayhawks' minds as they enter their first primetime game since then.
"We've got some atoning to do for that," head coach David Beaty said. "We need to go out there and play well. We need to make sure that we go out there and do the things that we need to do to go win the game."
If Kansas can avenge last year's showing in the primetime slot, it would be a significant way for the seniors to close out their final road tilt.
It could also have a huge impact on the future of the program for KU's next head coach.
"For the guys that are going to be here, it's going to help them get new buddies that are going to be good players," Beaty said. "So we need to get this thing done for the future of the guys that are on this team that are still going to be here."
More like this story on KUsports.com