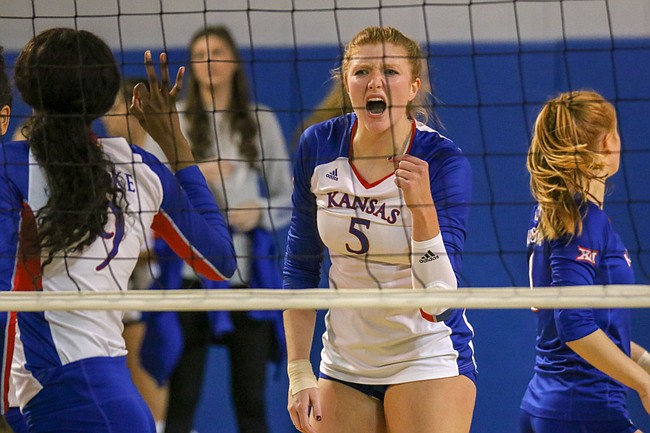 Kansas coach Ray Bechard didn't even need radio play-by-play broadcaster Jackson Schneider to finish his postgame question.
"After a match like this, when you started off so well, you kind of faded towards the end," he began. "How do you ..."
"Faded?" Bechard interrupted. "Dropped of the cliff? Yeah. Faded? Yeah. Heavy faded. Yep. Sorry."
On Wednesday night, the Jayhawks dropped a 2-0 set lead for a five set (22-25, 23-25, 25-12, 25-20, 15-9) loss to Kansas State. It is now the fourth match they have lost since upsetting Texas at home.
Ahead of Wednesday night, the Wildcats sat in eighth place in the Big 12 with a 3-10 conference record. Now, half their seasons' conference wins are against the Jayhawks. With the win, they move to 14-11 on the season.
For the fourth-straight match, Gabby Simpson was tabbed with the role of primary setter. On a steller night offensively, Simpson finished the day with a triple-double with 10 kills, 46 assists and 14 digs.
For a season-high night in kills, assists and digs, she added a pair of aces from service and two block-assists, while only making two attacking errors. Simpson distributed almost 20 attempts to five members of the Jayhawks' frontline.
Ashley Smith and Rachel Langs led in kills with 15. Langs paced the Jayhawks to a fifth set on her efficient night with a .591 attacking clip, adding seven blocks (two solo).
Despite her dominant offensive night, Bechard thought Simpson's dominance told a different story.
"I don't know how many miles she ran tonight, but too many because of our passing," Bechard said.
One half of a collegiate volleyball court is a 29.5 foot square, so Simpson would have had to make 178 trips down and back.
While a wild assumption, it wouldn't be a surprise if Simpson had actually done that.
After easily taking the first set, the Jayhawks started to fall off when they had three chances at set point late in the second set, winning slim at 25-23. Kylee Zumach entered the match for K-State late in the second set, and dominated the court from then on with 15 kills.
Lacking offense in the third set with just eight kills, Kansas started to make sloppy errors and force balls back into K-State's system earlier than it could have. With eight errors, the team fell flat in efficiency with a .000 clip.
Though its offense started to pick up in the fourth set, Kansas didn't fix its errors, making seven and another four from service. By the time things seemed to click in the fifth set, it was too late.
Zoe Hill played on the right side, also for the fifth-straight match. On 19 swings, Hill had a pair of kills in the first set and only landed one over the next four. She finished with a negative efficiency (-.105) with five errors.
"There's times it looks like, 'Hey, let's not lose the set, let's go out and win the match.' That's a tough mindset to be in," Bechard said. "There's just no excuses. K-State beat us. We did not execute at the level we need to and it's on us, it's on us."
Despite its record, Kansas State came into the match slotted at No. 52 in RPI. Kansas, which received votes in the weekly AVCA poll, is No. 27. The Jayhawks are looking to return to the NCAA tournament for the seventh-straight season and have three games left in their regular season.
"Physically and mentally we looked tired. That's not something we really looked this year. I understand it's late in the year," Bechard said. "Holy cow, when you're trying to fight for a top-3, top-5 finish in the Big 12, when you're trying to go to the NCAA Tournament, that response is unacceptable."

Kansas (15-9, 8-5 Big 12) will travel to face TCU at 1 p.m. Saturday.
More like this story on KUsports.com