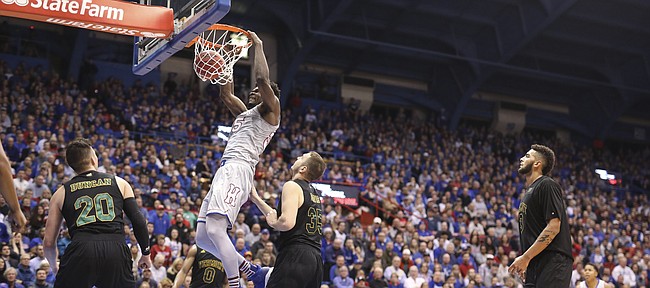 Give Kansas junior Udoka Azubuike all the credit in the world for improving his conditioning to the point where he can play 34 minutes in a game the way he did during Monday night's 84-68 victory over Vermont at Allen Fieldhouse.
But give Vermont an assist for part of it.
With the Catamounts' smaller lineup causing matchup problems for KU's big men, Kansas coach Bill Self rode the hot hand in the front court, and, on this night, that hand was the rather large one attached to his 7-foot center.
With Silvio De Sousa still in street clothes awaiting further clearance from the NCAA and Self declaring starting 4 man Dedric Lawson "out of it" for most of his 19 minutes on the floor, Azubuike was asked to play 70 percent more minutes than he did in KU's opener against Michigan State.
The result was a monster night from KU's most dominant player, who came close to matching career highs in both points (23) and rebounds (11) while also proving to be a capable defender on the perimeter and in the paint.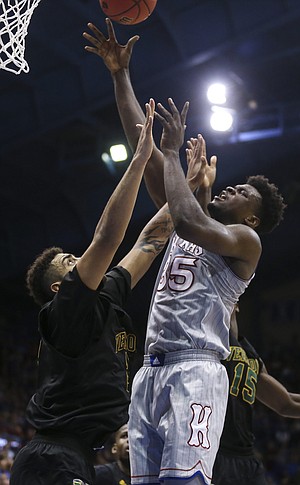 "Don't read anything into why (freshman forward) David (McCormack) didn't play," Self said after the victory. "If Dok's not in foul trouble and they're going to play with that (small) lineup, it's hard for other (big) guys to play."
Junior Mitch Lightfoot was the only other one who did, but he was limited to six minutes — all in the first half — and yielded playing time to a smaller KU lineup for much of the game.
"I thought Mitch gave us some good minutes the first half," Self said. "But the second half, Dok was on such a roll and I thought we were much better with Marcus (Garrett) in the game at the 4."
This idea of playing small ball with a wing at the 4, of course, is nothing new. Josh Jackson did it for the majority of the 2016-17 season and Svi Mykhailiuk and Lagerald Vick handled the roll throughout the 2017-18 season. KU won a lot of games and put up some incredible numbers both seasons.
With the Jayhawks loaded with front court depth heading into the 2018-19 season, many believed that the four-guard look would be a thing of the past for Kansas. But through two games, Self has found himself utilizing that lineup more and more each time out.
Self has said the smaller look leads to better flow, creates more space on the court and gives his skill players more room to operate.
While one's mind typically goes to KU's weave action and guards attacking to basket when hearing about more open space, playing four guards also opens things up for Azubuike. A lot.
And as long as he is able to stay on the floor — by avoiding foul trouble and improved conditioning — that means big things for Kansas and bad news for the opponent.
Consider Azubuike's numbers in Monday's win over Vermont. On the same night that one of KU's veteran players was red hot, recorded a career-high 32 points and simply could not miss, it was Azubuike who took the most field goal attempts. And it's the KU game plan and the team's execution that deserves credit for that.
"We got the ball to Udoka where he wanted it and he had a lot of good finishes," Self said. "He missed some shots that he normally makes. That's the worst he's shot it since he's been at Kansas, 10-for-17, which tells you how good he usually shoots it."
It wasn't just Azubuike's offense that benefited by his ability to stay on the floor. Azubuike's defense also looked much improved over what he showed most of last season.
After blocking four shots in the season opener against Michigan State, Azubuike added another against Vermont and attacked every miss en route to his 11 rebounds.
"I think sometimes when he's in foul trouble, I think he's hesitant to do that," Self said. "So we've got to certainly keep him aggressive."
Added Azubuike: "I'm just trying to play my game. I mean, this is my junior year. I know what's going on and all that stuff. I know what I'm doing and what I'm capable of doing. I just go out there and do it."
Two games in, Azubuike already has delivered one 34-minute game. He played that much in a single game just twice last season and only topped 30 minutes five times in 36 games.
It's still early and two games is a small sample size, but Azubuike's playing time is trending up. That's good news for the Jayhawks and bad news for KU's opponents.
Kansas returns to action Friday night, when it hosts Louisiana at 7 p.m. at Allen Fieldhouse.