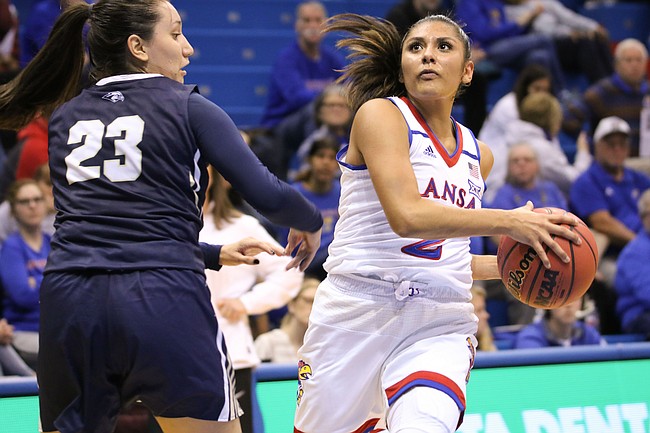 Usually boasting a booming tone that can be heard throughout Allen Fieldhouse, head coach Brandon Schneider sat comfortably and quiet on the Kansas bench as the Jayhawks jumped out to an early 18-point lead at the end of the first quarter.
He wasn't alone – the short pause of respect before any player takes a free throw loomed 49 times in Allen Fieldhouse on Tuesday night in the Jayhawks' 70-58 win over Oral Roberts.
Of the 128 points scored between the two teams, almost a third were scored from the charity stripe. The two teams lived and died in the lane, as the Jayhawks went to the line 26 times. They scored 24 points off 32 free-throw attempts.
Unsatisfied with some of the Jayhawks' undeveloped perimeter shots, Schneider thought his team should have taken more. He shifted his offensive looks to Bailey Helgren, Tyler Johnson and Austin Richardson on the inside, only attempting six 3-point shots in the second half.
"You don't do that unless you've got an 18-point lead," Schneider said. "We made some decisions like we had an 18-point lead, and continuing to execute and play the right way escaped us for a couple of quarters."
Misti Cussen, who's is in her seventh season as head coach at Oral Roberts, remembers Schneider's program at Stephen F. Austin (2010-15). At the time, both programs played in the Summit League.
"(Schneider's) style is to kind of hunt the rim and kind of get there," Cussen said. "I think that's kind of normal when you've got two teams that are aggressively trying to hunt the rim and get those high percentage shots. I just thought it was lopsided, and that was our fault."
Kansas' senior loaded backcourt of Kylee Kopatich, Briana Osorio and Christalah Lyons had a rough start from the field. The trio started the game with just two baskets on 12 shots at the half.
The freshman duo of Aniya Thomas and Brooklyn Mitchell came off the bench to pace the Jayhawks in scoring, combining for 30 points. Mitchell, who made 4-of-6 from the field, also had an impressive day at the line as she made 5-of-6.
"They made some mistakes, as most freshmen do, but the problem is, you have some seniors making the same mistakes freshmen make," Schneider said. "That's not acceptable, especially 330 practices in your career, and the two freshmen have had 30."
The two only played seven minutes in Kansas' game against UMKC on Wednesday because Schneider said that they were not mentally ready to play. Without even being asked it specifically, Thomas reiterated Schnieder's postgame thoughts on her play last Wednesday.
"I was more ready for the second game than I was the first game," Thomas said.
After Tuesday night, he probably had the same conversation with his third newcomer to appear this season.
Niccolly Ramalho made her regular-season debut in a Jayhawk uniform after being ruled out against UMKC in game one due to an NCAA mandate.
Like Thomas and Mitchell against UMKC, Ramalho, the junior college transfer from Highland Community college and native of Sao Paulo, Brazil, entered the game in the first quarter, but left early. Ramalho grabbed a rebound in five minutes of action.
"I need her to look for a shot," Schneider said. "I think she had some opportunities in the first half to get her eyes to the basket, and I just need her to be more confident in taking open shots, especially when the ball's coming inside."
Kansas (2-0) plays host to Alabama A&M; Sunday at 2 p.m.
Washington set to return to court Sunday
After missing 32 straight collegiate games with multiple injuries, Schneider said that sixth-year senior Jessica Washington will return to the court for Sunday's game with Alabama A&M.;
"I think you add a player who's a very dynamic offensive threat, I think she's somebody who's going to draw a lot of attention," Schneider said of Washington after the Jayhawks' exhibition with Washburn. "Through her unselfish plays, she's going to be able to create offensive opportunities for others."