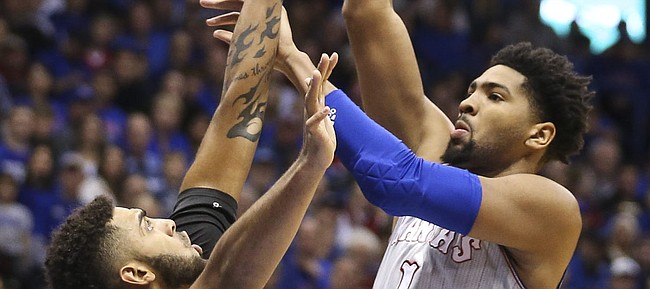 The lights were on well past midnight in the gymnasium at McCarthy Hall, where the Kansas men's basketball players reside.
And would anyone be surprised if KU junior Dedric Lawson was the one in there using that electricity?
Less than a week after recording a double-double in his KU debut, the Memphis transfer was a dud in the Jayhawks' home-opening victory over Vermont on Monday night at Allen Fieldhouse.
Lawson grabbed seven rebounds in 19 minutes to keep the night from being a total waste. But most of those were the result of his 6-foot-9 frame standing taller than nearly every Vermont player on the floor.
It was Lawson's offense that was the bigger issue in this one. After flashing a knack for efficient scoring during KU's two exhibition games, Lawson now is just 5-of-24 from the floor in his first two regular season games as a Jayhawk.
The junior starter's off shooting night against Michigan State in the season opener (5-of-18) was rescued by his ability to get to the free throw line, where he made 10 of 12 on his way to 20 points. The fact that he played twice as many minutes as he did Monday night also helped.

On Monday, Lawson missed all six shots he took, did not get to the free throw line a single time and sat for more minutes than he played. He also recorded four fouls and turned the ball over three times.
"He was out of it," KU coach Bill Self said after the game. "Even when we'd run something to get him an uncontested layup, he couldn't get it to go down."
Despite Lawson's Monday night struggles, Self emerged from his postgame press conference with the belief that the junior forward would bounce back.
"Everybody is going to have games like that," Self conceded. "But he'll play more like his talent level on Friday (against Louisiana, 7 p.m. at Allen Fieldhouse). I'm pretty sure of that."
Of course, in sports, there are no sure things. Self reminded folks of that on Monday night and crossed over to another sport to make his point.
"You know, there's no guarantee that guys will play well," he began. "Just because a guy throws four picks, there's no guarantee the next game he's going to throw four touchdowns and no picks. I mean, who knows?"
Self probably never would have guessed that Lawson would go scoreless against Vermont. But he also might not be surprised at all if Lawson followed in senior Lagerald Vick's footsteps and delivers a strong bounce-back effort.
Vick, you surely recall, was virtually invisible in scoring two points in 32 minutes against Michigan State. He responded by delivering a career-high 32 points, on a school record 8-of-8 clip from 3-point range, on Monday night.
One thing that Vick said helped him push through the frustration and disappointment of his season-opening performance was immediately getting back into the gym and working through it.
"I'd prefer nobody have off nights," Self said Monday. "But I think it shows something (when guys respond)."
Lawson has never been shy about working on his game or putting in the necessary time to improve. And, in many ways, he's been his own toughest critic.
After KU's exhibition opener against Emporia State, when the junior forward poured in 31 points and grabbed 15 rebounds in his unofficial KU debut, all he wanted to talk about afterwards was how disappointed he was that he only recorded one assist.
That mentality bodes well for a bounce back to this latest sub-par effort. And Self seemed confident that Lawson would use Monday as motivation the way Vick used Michigan State.
"We'll see how he responds," Self said. "That was obviously a rough night. … Guys maybe get a little comfortable. Dedric played very unathletic tonight. They blocked everything and (Vermont guard Anthony) Lamb had his way whenever he wanted to. So hopefully that's good for us over time.
"We'll find out. … He's a good player, and this may have been the best thing that ever happened to him if he responds favorably, which I think he will."