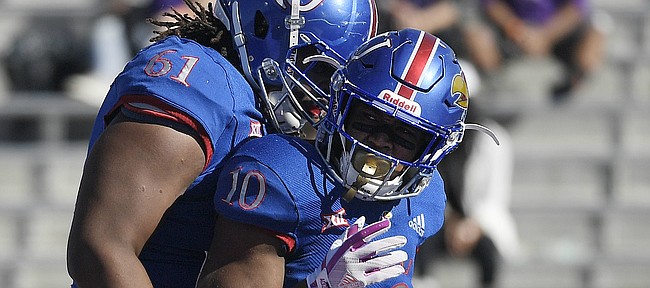 As Kansas Athletic Director Jeff Long continued Tuesday in his search to find the football team's next head coach, the program's players entered their second week of trying to prepare for a Big 12 game under the guidance of short-term head coach David Beaty.
Coming off a gut-wrenching 21-17 loss at rival Kansas State this past weekend, the Jayhawks are doing their best to ignore the buzz surrounding Long's search.
Junior offensive lineman Hakeem Adeniji said the coaching staff currently in place has done "a great job" of not reacting to Beaty's firing and its looming consequences, and is keeping the players on the same page.
"At the end of the day, we're worried about what's happening at hand. We still have games left to play that we want to win," Adeniji said.
With a Saturday road trip to No. 6 Oklahoma and a season finale versus No. 13 Texas on Black Friday still on the schedule, Adeniji, KU's third-year starting left tackle, said players make it a point to try and not pay attention to what's out of their control.
"We kind of have to," Adeniji said. "That has nothing to do with what we're trying to get done at the moment. That would only be a distraction."
Their best efforts on that front, though, at times, only get them so far. Speculation about whom Long may or may not be interested in hiring inevitably finds its way to the players' eyes and ears.
"There are rumors. It's the internet," Adeniji said. "People can say anything nowadays and it gets blown up. I try to stay off, me personally. I don't really pay attention to it, because anyone can say whatever they want to."
Junior running back Khalil Herbert said the players met in the days after Long announced Beaty's firing and resolved to focus on what they're hoping to accomplish on the field.
At some point in the not-so-distant future, of course, KU's players will know the identity of the next head coach. When they meet him and hear his pitch for the program's future, might underclassmen who aren't on board consider leaving Kansas?
"That's a good question," Herbert began. "But the guys on the team that I know right now are invested. I don't know what will happen in the future. You know, we'll see. Right now, I know that guys are committed through and through."
Such decisions, Herbert added, can't completely be considered until a new head coach is in place.
Adeniji concurred that players transferring is "always a possibility" when a coaching change takes place.
"Personally, I haven't thought about that," Adeniji added, "because we've got these games ahead of us. You just have to focus on the most important thing at that time. That's something that could come up in the future, but not really too worried about it right now."
And Adeniji won't get too excited about any hearsay until Beaty's replacement becomes official.
"Yeah, I've got to hear it from the AD's mouth," Adeniji said.
Redshirt senior linebacker Joe Dineen Jr., of course, won't play a down for the next head coach. But when asked Tuesday what types of qualities the man tasked with turning the program around should possess, Dineen didn't mind offering his thoughts.
"First of all, I think, to any coach out there that's on the edge, maybe, of coming here, I really don't think KU is far away. I mean, I think the guys that are here work hard and they want to be good, and there's a lot of young talent that has gotten Big 12 experience that in turn really does help win ball games," Dineen said. "But I just think he needs, obviously, patience, and then, you know, I don't know. Honestly, I think coach Beaty had the right (qualities) — I mean, I really do — it's unfortunate that what happened, happened, but I really think that the qualities that he possessed are the qualities that a good head coach needs. Really, my message would just be that KU is not that far away from being really competitive and winning some football games."
As for Beaty, who has two games remaining in his four-year run as KU's head coach? He said at his weekly press conference it was not his place to say what qualities his replacement would need.
"The couple things that stick out to me is whoever it is, they're going to be damn lucky. This is a great place, not good, but a great place," Beaty said. "Terrific folks that work here. Terrific people in our state. Great fans that deserve better, and a ton of great kids. Great kids, and you know, I think that their leadership is in good hands. So whoever gets the job is going to be very lucky, a very lucky individual.
Asked whether anyone he knew in the coaching business had reached out to him to get the lay of the land at KU or Beaty's take on the program, the coach said "nobody" had done so.
"Guys, we respect one another in that regard," Beaty replied. "I'm sure they'd reach out to some of my assistants if they knew that they were contacted. But I haven't heard, looked, I have no idea. But it's not my job. It's my job to make sure we go get these games won. And I believe and know that we can do it."
Beaty said he couldn't see himself "sitting around" in the year to come, and that finding another coaching job would be best for him.
"But you've got to be wanted," Beaty said. "There has to be a situation where you would fit, and guys know better than to call me, even if they wanted to talk to me right now."