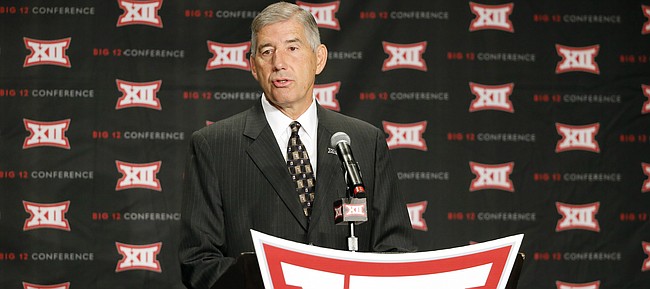 When Big 12 commissioner Bob Bowlsby got off the plane in Lawrence, he was greeted by a group of local reporters.
Bowlsby, of course, knew he was not the reason for this welcoming party at the Lawrence Municipal Airport. It marked the second time that reporters were at the airport regarding the coaching search since Kansas Athletic Director Jeff Long announced that David Beaty would not be the head football coach following the conclusion of the 2018 season.
But Bowlsby, who served as the keynote speaker for the James Naismith Lecture Series at the University of Kansas on Tuesday night, understands the buzz around a coaching search better than most.
Before Bowlsby became the Big 12 commissioner in 2012, he was an athletic director for Stanford University and the University of Iowa for a combined 21 seasons between the two stops.
"Hiring a football or basketball coach, there is nothing more important that an athletic director does," Bowlsby told the Journal-World. "Jeff Long is a very experienced administrator. I know that he knows what he is looking for."
Long officially began the search on Nov. 4, when he announced that he would not be retaining Beaty. The announcement came one day after KU's 27-3 home loss to Iowa State. Beaty, who is in his fourth season, has a 6-40 overall record, including 2-32 in Big 12 play.
This season, the Jayhawks (3-7, 1-6 Big 12) have already notched the most wins in a year since Beaty took over.
"One of the difficulties in our league, is that it is hard to start up a program and make progress," Bowlsby said. "I don't think there is any question that the Kansas football team is much better than they were a year ago, and yet it is hard to find wins. That's the task the new person is going to have to undertake."
Long's quest to find the next KU coach marks the fourth such search this decade for Kansas.
To put that in comparison, only two current Big 12 teams have had more than two different coaches since 2010. Both Texas and Baylor have had three different coaches this decade, while Kansas State and TCU have had the same head coach over that span.
However, Bowlsby does not believe KU's revolving door at the position has hurt the league's image.
"You certainly want every program to have an opportunity to compete at the highest level," Bowlsby said. "It wasn't that long that they were competing in the Orange Bowl. It can be done, but the fact is, it is a zero-sum game. It is one of the things I like least about college athletics, especially competing against athletic directors I liked. You want to win for yourself and your own university, but the only way to get that done is to have somebody else take some losses."
Bowlsby talked about his own personal background in athletics during his speech, which was titled "Positivity is a Choice," in front of students at Capitol Federal Hall Auditorium.
The Department of Health, Sport and Exercise Sciences invited Bowlsby for the James Naismith Lecture Series, which was established in the spring of 2008 to honor the legendary founder of the game of basketball and the first chair of the KU exercise sciences department.
"I like to get out to campuses," Bowlsby said. "We (also) put together a couple meetings. I brought five or six staff members with me that will meet with their counterparts. When we get a chance to make it out to campuses, I try to make it worthwhile."