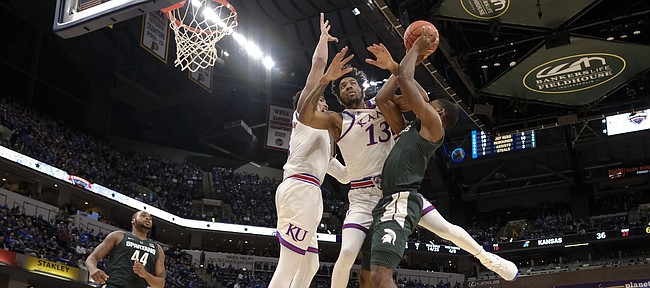 Despite knocking off a top-10 team in the season opener, Kansas was unable to keep its No. 1 spot in the latest AP poll, which was released Monday morning.
This came as no surprise, though, as Duke overwhelmed Kentucky in the nightcap of the Champions Classic. The Blue Devils (2-0) moved up to the top spot of the poll after being ranked No. 4 in the preseason. In addition, Duke passed UCLA for most all-time No. 1 rankings.
Meanwhile, the Jayhawks (1-0) were bumped down to No. 2 following their 92-87 win over Michigan State in the first game of the Champions Classic. KU also dropped from its No. 1 preseason ranking without losing a game in 2004 when the team narrowly defeated Vermont in its season opener and was bumped down in the third AP poll.
According to @KPIsports, three men's basketball teams who were ranked the top team in the preseason fell in the next poll without losing. North Carolina in 1977-78 (replaced by Kentucky), Kentucky in 1980-81 (replaced by DePaul) and North Carolina in 1983-84 (replaced by Kentucky) all accomplished that feat.
Kansas received 14 first-place votes in the first poll of the 2018-19 regular season.
Here is a complete rundown of the latest top-25: 1. Duke 2. Kansas 3. Gonzaga 4. Virginia 5. Tennessee 6. Nevada 7. North Carolina 8. Villanova 9. Auburn 10. Kentucky 11. Michigan State 12. Kansas State 13. Oregon 14. Florida State 15. Syracuse 16. Virginia Tech 17. Mississippi State 18. Michigan 19. Clemson 20. UCLA 21. TCU 22. LSU 23. Purdue 24. Marquette 25. Buffalo
More like this story on KUsports.com