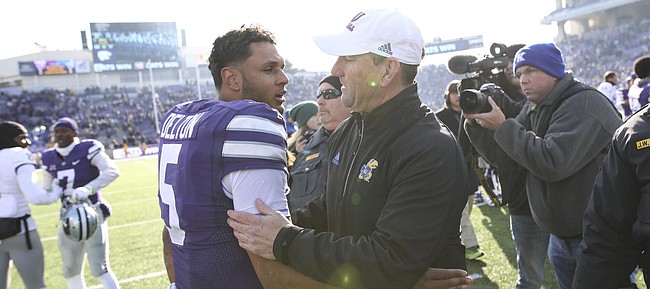 Manhattan — The dream ending was there for the taking.
And Kansas couldn't grab it.
OK. So maybe calling it a dream is a little dramatic. But given the nightmare that has been Kansas football for the last decade, winning in Manhattan on Saturday certainly would have qualified as a dream come true.
But the Jayhawks could not get it done.
Saturday's 21-17 heartbreaker at Bill Snyder Family Stadium was not one of those could-not-get-it-done to the tune of 55-10 efforts either. This was a could-not-get-it-done-but-probably-should-have kind of day for Kansas (3-7 overall, 1-6 Big 12), and that's what made it sting so much in the visiting locker room.
Photo Gallery
KU football vs. Kansas State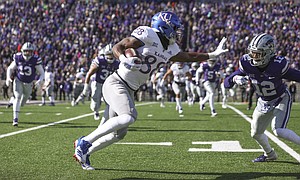 KU football falls to Kansas State in Manhattan Saturday afternoon.
"I felt like we were prepared to win this one," said senior linebacker Joe Dineen. "We really felt like we were going to come in here and compete well and come away with a victory. So, yeah. This one hurts."
There are so many layers to the concept of a dream ending at Kansas these days that it's important to separate them out, even if the whole idea is irrelevant because of Saturday's final score.
Yes, the Jayhawks had the ball, with a chance to win, at the very end the game. But the KU offense's last-ditch attempt to come out on top in a back-and-forth battle ended with senior quarterback Peyton Bender's empty hand coming forward with the ball on the ground behind him in the final 30 seconds.
Too bad, too. Bender played an otherwise solid game and appeared poised to play the role of hero as the clock ticked down.
The fumble that sealed KU's fate wasn't completely shades of Montell Cozart's failed attempt to kill the clock in a home loss to South Dakota State back in 2015, Beaty's first season.
But no one will call you crazy if your mind went there after this gaffe.
And then there's the fast-approaching end for the seniors. Winning in Manhattan and snapping a nine-game losing streak to your in-state rival — heck, perhaps even being the final straw that pushes Snyder out and opens up a greater opportunity to compete in a series in which KU now has lost 23 of the last 27 times — certainly would have been the stuff of dreams for KU's most experienced and longest suffering players.
Senior wideout Jeremiah Booker, who grabbed a nine-yard touchdown midway through the third quarter, talked a lot after the loss about finishing what he started and how that mentality would benefit him and his teammates later in life.
Senior receiver Steven Sims Jr., whose 65-yard sprint to pay dirt actually gave Kansas a fourth-quarter lead, lamented a lost opportunity.
"Definitely," said Sims, when asked if a win Saturday could've created a dream ending. "It could've been a spark, but it didn't turn out that way. A lot of us guys, we wanted that Governor's Cup bad. We've never had it. We played our heart out today, but we came up short."
To some degree, every college football game ever played has its moments of imperfection. A missed assignment here. A slip there. A turnover or bad coaching decision elsewhere. And there were plenty of those on Saturday.
Muffed punts. Players hiding penalty flags. Complete chaos at times, comfortable confusion at others. Fumbled snaps. Dropped touchdowns. Unintentional onside kicks. It was all there. And for once it was not just on the Kansas side.
But mistakes happen when guys are playing hard. And there's no denying that both sides did plenty of that in this one, even if it wasn't always pretty and, at times, brought back memories of the classic futility battles of the 1980s between these two programs.
Those days eventually ended and once-far-fetched dreams of bowl victories and competing at the highest level came true from both programs, even if only temporarily for Kansas.
It's hard to project which side is closer to regaining that glory today and Saturday's game made that crystal clear.
Kansas State won the game. But Kansas probably should have. Depending on how you look at it, KU left anywhere between 6-14 points on the board after catching a couple of favorable breaks but failing to capitalize. That stings in a game decided by four.
The bottom line is this: Beginning, middle or end, Beaty's time at Kansas, which is now down to its final two games and officially will be finished 13 days from today, was filled with mistakes and frustration, disappointment and despair.
A victory by Kansas on Saturday would have been a nice going-away present and the players, no doubt, would have loved to give that to Beaty as a thank-you for the time he invested in them.
"(There) was a lot of motivation for us to come out here and play hard for him," Dineen said of Beaty. "We wanted to come out here and send him off with that one."
But true to form, they could not get it done.
The only difference between a loss like this and the more typical losses to K-State that have come throughout the past 10 years is that the players were left with a lot more what-if moments after this one.
The gap has closed. Kansas has shown it can compete with Kansas State again. But whether that reflects well on the Jayhawks or poorly on the Wildcats is still up for debate.
More like this story on KUsports.com