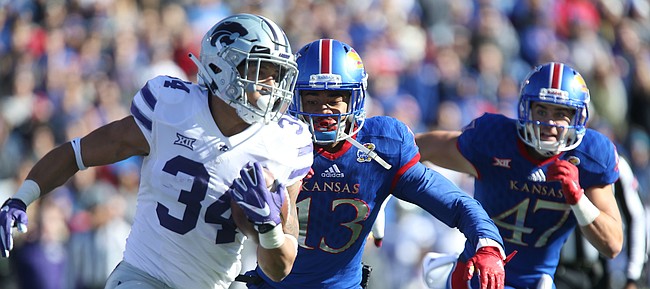 — Kansas (3-6 overall, 1-5 Big 12) at Kansas State (3-6, 1-5) • 11 a.m. kickoff, Bill Snyder Family Stadium, in Manhattan • Game-time forecast: 30 degrees, mostly sunny, 0% chance of rain • TV: FOX Sports Networks • Radio: KLWN, FM 101.7 / AM 1320
— Log on to KUsports.com for our live game blog and follow our coverage team on Twitter: @KUSports, @BentonASmith, @mctait and @SJacksonLJW
Keys for Kansas
1. Stop Alex Barnes
Kansas State's offense only averages 337.8 yards per game (114th nationally) this season, and 102.0 of those — a little more than 30 percent — have come as the direct result of handing the ball off to junior running back Alex Barnes.
The 6-foot-1, 225-pound back from Pittsburg leads all Big 12 rushers in yards per game and has scored nine touchdowns on the ground. Despite opponents knowing what's coming from the Wildcats, Barnes is averaging 5.3 yards per rush.
In K-State's past four games Barnes ran for a career-best 250 yards at Baylor while adding three touchdowns, put up 181 rushing yards and four TDs versus Oklahoma State and added 102 rushing yards in a loss to TCU. Only Oklahoma, which limited Barnes to 28 rushing yards, successfully stopped him in October.
With five returning starters on the offensive line, including midseason all-American Dalton Risner at right tackle, K-State has the personnel to slowly bludgeon a defensive front or blow open running lanes for chunk plays.
The Jayhawks know what is coming. The difficult part will be proving they can stop Barnes. He has broken the 100-yard mark and scored at least one touchdown in each of his previous two encounters with Kansas.
Podcast episode
As the Kansas football program moves on from head coach David Beaty, and athletic director Jeff Long zeroes in on the team's next leader, KU football reporter Benton Smith is joined by Matt Tait and Shane Jackson to discuss the timing of the move, coaching candidates and much more.
2. Keep finding ways to take it away
If KU has done one thing well with any consistency during what is now officially head coach David Beaty's swan song, it's create turnovers. Thanks to defensive coordinator Clint Bowen's group, KU enters this Sunflower Showdown in Manhattan with 10 fumble recoveries and 13 interceptions.
That second number grabbed the attention of K-State's legendary coach, Bill Snyder.
"It is really substantial when you look at a team that has 13 interceptions," Snyder said at his weekly press conference. "They have skill and the ability. They are a very physical football team and consequently can create fumbles. They have good quickness and speed in the back end and consequently can break on thrown balls and do, which leads to interceptions. They are playing well, and they have created the vast majority of turnovers by good play."
Whether it's Alex Delton or Skylar Thompson at QB for the Wildcats, they aren't likely to throw the ball often. Thompson (injured last week versus TCU) has attempted just 17.2 throws in nine games and Delton averages 10.5 passes in six. Thompson completes 56.1 percent of his attempts and has three interceptions, while Delton sits at 52.4 percent with two picks.
"We know going in," KU redshirt senior linebacker Joe Dineen said, "that they're not going to beat themselves."
Whether it's through the air or just forcing a fumble, KU's defenders will bolster the visiting team's upset chances with some takeaways.
3. Let's get crazy
Beaty really has nothing to lose, with just three games remaining in his four-year run as KU's head coach.
So why punt on 4th and short?
Why settle for field goals if a first down and finishing a drive with a touchdown is feasible?
Kansas has lost 43 true Big 12 road games in a row, dating back to a 2008 win at Iowa State.
Chances are it's going to take something drastic for that skid to finally end.
If Beaty takes an aggressive play-calling approach into his final weeks in charge, perhaps the Jayhawks can kill that road skid on his watch.
Mega Matchup
KU rushing attack vs. K-State defensive front
The Wildcats' most glaring weakness is their rushing defense. So a KU offensive game plan focused on feeding running backs Pooka Williams and Khalil Herbert is a must.
K-State opponents are averaging 176.7 rushing yards a game and 5.4 yards per carry.
Williams, KU's breakout star from Louisiana, is the first true freshman in the Big 12 with 600-plus rushing yards and 200-plus receiving yards since Corey Avery pulled off the same feat for KU in 2014.
In his eight career games, Williams averages 88.9 rushing yards and 32.4 receiving yards. His game-breaking speed, agility and overall feel in the open field have allowed the first-year back to average 6.1 yards per carry.
"He is a very talented young guy," Snyder said of Williams. "He creates problems for us and anyone else because of what he brings to the table. When he has the ball in his hands, he is very difficult to get your hands on. We have to be extremely well disciplined in our tackling. He can make you miss, and he can make you look bad in the process. He is also effective in the passing game. He gets open and they get the ball to him. He has had games with six to seven catches, which makes him a viable threat in that part of it, as well."
The Jayhawks have made a point the past two weeks to keep junior Herbert involved as a rusher, too. He recorded 21 carries both in a win against TCU (38 yards and a TD) and a loss to Iowa State (91 yards).
Even if K-State takes a lead or bottles up KU's rushers early on, sticking with Williams and Herbert gives the Jayhawks' offense a chance.
Jayhawk Pulse
This could've been a turbulent week for KU's football players, considering it kicked off with the news that their head coach won't be retained for the 2019 season. However, the Jayhawks appear to be handling it well.
Maybe that's because, relatively speaking, Athletic Director Jeff Long's announcement wasn't especially disruptive.
"I wouldn't say it's hard or difficult to focus at all,"redshirt senior defensive tackle Daniel Wise said, "because throughout my years and throughout this season there's been a lot of hearsay on Twitter or hearsay here or there, or stuff going on we might not like. Things may not always be going the way we want it to be and it's all distraction. Just the main thing we're focused on is winning games."
And with the cloud of what will happen to Beaty dissipated, the players might be better off now than they would have been if his firing remained uncertain.
Said Beaty: "I see those guys rallying together around our staff, and really just kind of bonding with the task at hand. It just kind of happens to be the week that we're playing K-State, which I don't know that many people would think that that would be a positive, but for us it's turned into a mega-positive. So we're excited about the opportunity, and like I said, they know me. There's not going to be distractions. We're not going to sit here and moan and gripe and complain about things. We're going to continue to work forward and make sure that we get the job done, the task at hand, which is to come away from this game with a win."
Junior safety Mike Lee said by the time players dove into game preparation, Beaty's dismissal wasn't a distraction.
"That was our goal regardless was to focus on football," Lee said. "We still have three more games. We can still win these three games and go to a bowl game."
Tale of the Tape
KU ….. KSU
KU run D vs. KSU run game √
√ KU pass D vs. KSU pass game
√ KU run game vs. KSU run D
KU pass game vs. KSU pass D √
√ Special teams
Prediction
K-State 24, KU 17
More like this story on KUsports.com