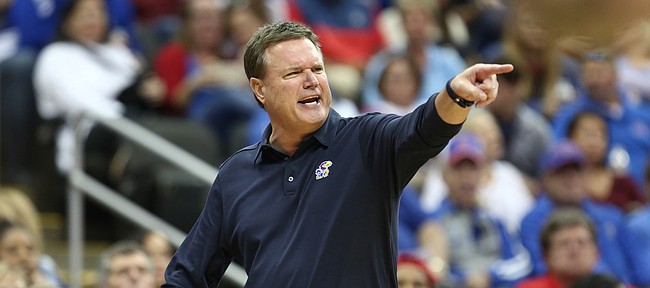 Since University of Kansas athletic director Jeff Long announced his decision to move on from David Beaty as KU's football coach, basketball coach Bill Self has not spoken with the soon-departing football coach in person.
During his Friday press conference inside Allen Fieldhouse, Self was asked about any conversations he may have had with Beaty.
"Well, we haven't talked. We've texted back and forth several times," Self said.
According to Self, Beaty, in his fourth and final year at KU, is excited for Saturday's game at Kansas State.
"I'm hoping that the players rally around the situation and perform at a level that gives us certainly a great opportunity to win an in-state rivalry game this weekend," Self said.
The 16th-year Kansas basketball coach went on to compliment Beaty for how he handled the news that Long won't retain him.
Podcast episode
As the Kansas football program moves on from head coach David Beaty, and athletic director Jeff Long zeroes in on the team's next leader, KU football reporter Benton Smith is joined by Matt Tait and Shane Jackson to discuss the timing of the move, coaching candidates and much more.
"The one thing that I think is you can tell a lot about people when they're going through tough times. A lot of times decisions are made that put people into situations, but sometimes they're made for the betterment of the big picture," Self said. "I don't think anyone around here would say David Beaty is anything less than a true pro in how he's handled it."
Given his connections within the college athletics universe, Self also was asked whether any potential football coaches have reached out to him about the opening at Kansas.
"No," Self said. "I have not gotten any calls from any coach concerning this position."