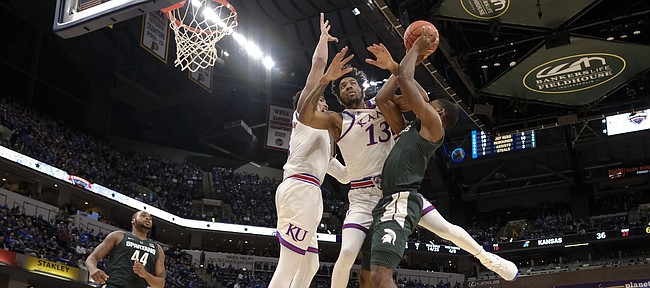 As he predicted he might, Kansas coach Bill Self went 10 deep during Tuesday's victory over No. 10 Michigan State in Indianapolis.
And the luxury of KU's added depth played a huge role in determining the outcome of the top-ranked Jayhawks' season opener.
"It won the game for us," said Self of using Marcus Garrett, Charlie Moore, Mitch Lightfoot, K.J. Lawson and David McCormack off the bench in support of starters Devon Dotson, Quentin Grimes, Lagerald Vick, Dedric Lawson and Udoka Azubuike. "We played all 10 guys and all 10 guys contributed in a favorable way. So it was obviously important. But I can't see us doing that as much unless foul problems create that."
To some extent, that was the case on Tuesday. Azubuike played just 20 minutes because of lingering foul trouble. And six other Jayhawks finished with three or more fouls.
But assuming the Jayhawks (1-0) foul less in the future, it seems Self would rather play eight or nine deep than use all 10 available scholarship players. He said as much on Friday at his first weekly news conference of the season.
"Can you play 10? We did the other night," Self said. "But, without foul trouble, Dok would've played 30 (minutes) instead of 20. (And) we don't need Dedric playing 38 either. He needs to be a 30-minutes-a-game guy.
"I think it's not as difficult right now because you know that Marcus and Charlie are going to play," Self continued. "I think where it becomes difficult is, if you don't have foul problems, how do you play all (five guards) and play K.J.? So that's what I'm looking at. Do you play K.J. as a sixth perimeter player or do you play him as your fourth big?"
Having more bodies to work in the front court was vastly different than what Self became used to during the past couple of seasons.
In addition to the added bonus of having enough big men to run in and out of the lineup when foul trouble presented itself, the extra bodies also had an impact on the way some of Self's bigs performed.
Look no further than Azubuike for proof of that. The 7-foot junior in one half of KU's first game of the season, recorded roughly 7 percent of the blocks (4) that he recorded all of last season.
The reason? Both Self and Lightfoot believe the freedom to just play and not worry about fouling led to Azubuike's strong defensive showing.
"His first foul was a cheap one," Self recalled. "Right after that he made an unbelievable block when (MSU's Aaron) Henry went up to try to score and it led to a layup for us. I'm not sure he would've gone after that ball last year. So I thought that was very positive. … He's got to be smarter, but I think he played much more aggressive."
Added Lightfoot when asked what role the added depth played in KU's opener: "That's huge. On last year's team, we only had two big guys until (withheld sophomore) Silvio (De Sousa) got there. And you really had to pick your spots because if you'd foul (the team) would have to go five guards. So it's great to have some big bodies to put in there. And not just big bodies, but players who are very capable."
What's more, Lightfoot said KU fans might have just seen the beginning of a big defensive season for KU's biggest player.
"The ability to change shots is something he could be really great at just because of how big he is and how athletic," Lightfoot said of Azubuike. "His timing has really gotten better throughout the years, and he knows when to jump now and when to pick your spots. That's how shot blocking is. You have to know when to pick your spots because, if you don't, you're going to pick up silly fouls and you can't block shots from the bench."
Asked at KU's media day in early October whether he anticipated the added depth helping his overall game, Azubuike did not hide his excitement.
"Yeah," he said. "I feel a lot less stressed.
"This year, we have a lot of depth and right now I'm worried about trying to do the little stuff, like rebounding the ball and doing the intangible things to help the team. I'm not worried about if I get one or two fouls and having to go to the bench because I know that we have other bigs that can come in and take the role."
Self said he expected to start the same five on Monday, when KU returns to action against Vermont at 8 p.m. on ESPN2 in the home opener at Allen Fieldhouse.