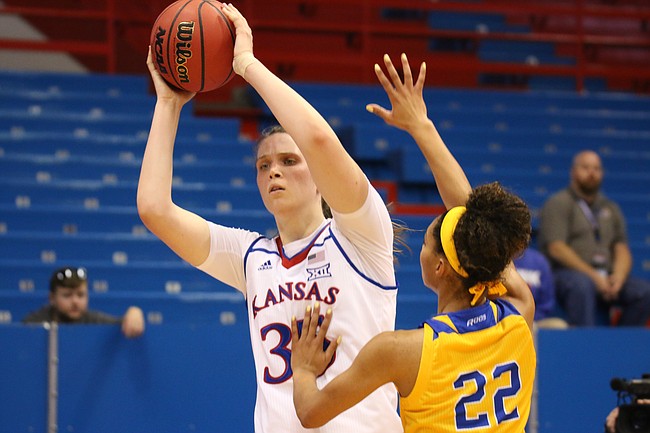 After swatting five blocks in the paint, senior guard Kylee Kopatich had something to add on a question for Bailey Helgren about how her mentality was after "exploding on the defensive end" in Kansas' 67-55 win over UMKC on Wednesday night.
"The huge blocks," Kopatich clarified to Helgren.
While Helgren answered, she then looked at the stat sheet and couldn't contain her excitement.
"Oh, you had five blocks," she said.
"Really?" Helgren replied, even more shocked.
"Dope!" Kopatich said as she stood up with a smile.
Helgren immediately made an impact early in the game, starting at center and creating pressure to force a 15-5 run where Kansas (1-0) only missed one shot.
By the end of the game, Helgren and senior Austin Richardson combined for 21 rebounds.
"It's great to see positive things happen for (Bailey), because she's a kid that's worked really, really hard and really improved," Kansas coach Brandon Schneider said.
Richardson finished her second double-double going back to exhibition play after 14 points and 12 rebounds. Richardson reached it in the fourth quarter with four key rebounds (two offensively and two defensively). Kopatich called her offensive rebounds in particular "crazy."
"She's one person who I think we can rely on to hit shots at all three levels and get us going," Helgren said.
As time ticked off the clock, and more Jayhawks saw the court, the shots got sloppier and the hot start was stuck in the past. At one point both teams combined for 32 percent from the field. UMKC closed the deficit to nine in the fourth quarter with five minutes to play.
"We got the lead because we were making shots, and sometimes that can be a little bit of fool's gold," Schneider said. "We started taking three after three, we shot one free throw in the first half (and) and really settled for the first open jump shot. That ended up biting us."
Standing out in the first two exhibitions on offense, freshmen Anayia Thomas and Brooklyn Mitchell only played seven minutes. Thomas was the only one to score a basket on two shots, and Mitchell didn't score on two 3-point attempts.
Mitchell and Thomas turned the ball over five times, and didn't tally a rebound, steal or assist. When asked of his decision to bench the duo after the game, Schneider was quick to share the reason behind his decision.
"I didn't think they were mentally ready to play," Schneider said. "That was demonstrated not only through their play, but through their approach."
Sixth-year senior Jessica Washington missed her 31st straight game since tearing her ACL ahead of the 2017 season. Washington wore a boot on the bench for the first exhibition with Fort Hays State, and has been in sweats for the teams past two appearances.
Kansas plays host to Oral Roberts (1-0) at 7 p.m. Tuesday.