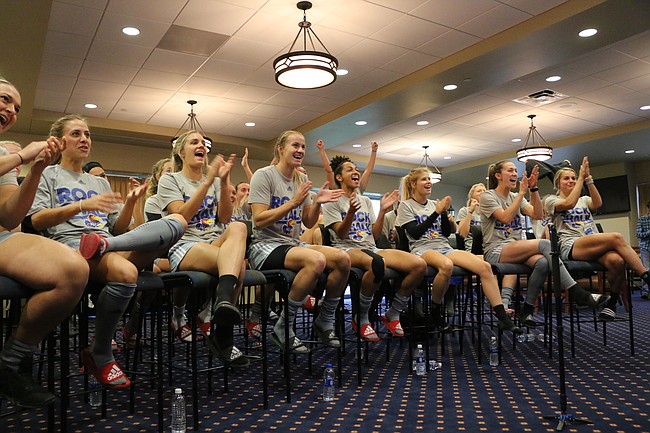 The Kansas women's soccer team waited for a long time Monday afternoon.
After failing to secure a Big 12 championship following a first-round loss to Texas in the conference tournament, Kansas (RPI No. 22) was a team in search of one of 33 at-large bids.
After waiting through a commercial break, and three quarters of the bracket, Kansas was the 61st out of 64 teams to start celebrating. Smiles and celebration erupted as the Jayhawks found out they will play host to Saint Louis at 7 p.m. Friday at Rock Chalk Park.
"When you're waiting for the last quadrant, I guess it gets a little nerve-wracking, but we did have a good feeling we'd be in," senior forward Grace Hagan said. "Talking to the coaches, we were about 90 percent sure we'd be hosting."
The Billikens are a familiar team for coach Mark Francis to prepare for. Kansas played host to Saint Louis on September 14, earning a 3-2 win. The Jayhawks went down 2-0 less than 20 minutes into the game, only for Hagan to storm back and even the score by half, and score again in the 53rd minute for the hat trick.
But since the loss to Kansas, Saint Louis (18-3-1, 10-0 Atlantic 10) has gone on a 14-game winning streak en route to an Atlantic 10 conference championship. The Billikens fell to Kansas State to start the season, then to Vanderbilt later in the month. Kansas State finished last in the Big 12 with an 0-9 record.
"It's almost like you're going into the conference tournament where you've played the teams that you're about to play again," Hagan said. "We know (they finished their season well), we know they're not a team to underestimate and that they could give us a good game any given day."
Should Kansas advance, it will meet the winner of No. 1 seed North Carolina and Howard. The Jayhawks would play host to Howard in the event of an upset over North Carolina, but will travel to Chapel Hill, N.C., if the Tar Heels earn a win.
"(Saint Louis is) going to be a close game, just like the one was earlier this year," Francis said. "Obviously, once you get to the NCAA tournament, if you're going to advance, you're going to beat good teams."
The other seeded teams in the same quadrant as Kansas are No. 4 Texas, No. 3 Santa Clara and No. 2 UCLA. Kansas has also played Texas twice in the season. In the Women's College Cup, each quadrant has four teams seeded 1-4.
Texas (RPI No. 10) joins six Big 12 programs represented in the tournament along with Baylor, Texas Tech, West Virginia and TCU. The Jayhawks finished sixth in the Big 12 at the end of their regular season.
Jayhawks look to EPL for penalty kick inspiration
Unlike a draw in the regular season, postseason matches have to end with a decision by penalty kicks if two overtime periods end with the score tied. Kansas had its first taste of that this season — and for the second year in a row — falling to Texas in penalty kicks, 3-1.
Kansas senior Lauren Breshears entered the net to defend the penalty kicks, and made only one save. Ceri Holland was the only Jayhawk to net a goal.
Kansas looked to the English Premier League to improve on that.
"We're working on technique and a transition that a lot of teams use (in the EPL), going with a keeper, without a keeper, knowing how to read it and how you're going to react," Hagan said.
Francis said that Kansas volunteer assistant Derek Shoare, a Wolverhampton, England, native, is friends with someone who works for Southampton in the EPL and drafted a checklist of some of the ways England prepared for the World Cup.
England scored on each of its four penalty kicks in its Round of 16 matchup with Columbia this past summer in Russia, advancing to the semifinals with Croatia.
"Yesterday, at the end of the scrimmage, we did PKs for each team in a real shootout, and we scored 11 of the 12," Francis said. "Whatever he's doing is working."
More like this story on KUsports.com