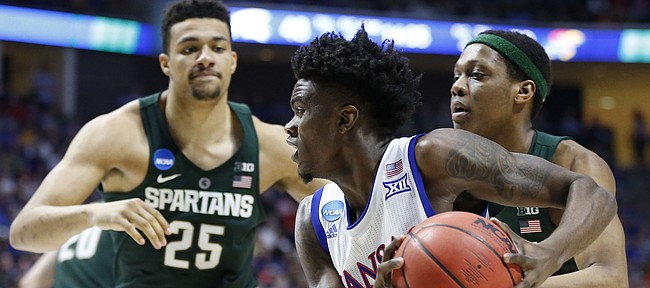 Indianapolis — To this point in his college career, the biggest stage on which Kansas junior Dedric Lawson has found himself playing came during his freshman season at Memphis, when the Tigers faced UConn in the championship game of the American Athletic Conference tournament.
Well, that or Late Night, of course.
That all figures to change Tuesday night, when fans of four of the biggest programs in college basketball and national media from coast to coast invade Bankers Life Fieldhouse for the annual Champions Classic that will tip off the college basketball season with No. 1 Kansas taking on No. 10 Michigan State at 6 p.m.
The announced attendance at that AAC title game at Amway Center in Orlando a few years ago was 7,990. The capacity for Tuesday's venue is nearly triple that, at 20,000.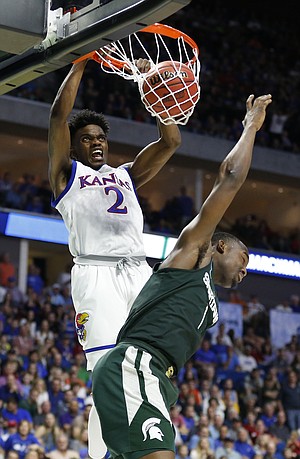 Lawson delivered 21 points and 11 rebounds in 39 minutes in the 72-58, 2016 loss to UConn that, as he painfully recalled, gave the Huskies an automatic bid to the NCAA Tournament.
Although no such reward is on the line Tuesday, Lawson is treating the season opener like there is.
"This is as big as it gets," said Lawson, noting, once again, that playing in games like these was the reason he transferred to Kansas. "I remember at Memphis, watching these type of games before we would go play, and I always wanted to be in that spotlight, to go out there and display my talent. I know a lot of the guys feel the same way."
Added Lawson's older brother, K.J., who joined Dedric in transferring to Kansas from Memphis before the 2017-18 season: "Every game's a big game when you're No. 1 in the country or when you're ranked so high and people have high expectations. We've just got to go out there and execute what Coach (Bill) Self puts out there for us and just play and have fun."
Tuesday's experience is not new for a handful of Jayhawks. Senior Lagerald Vick will be playing in his fourth Champions Classic game. Juniors Mitch Lightfoot, Udoka Azuibuike and even sophomore Marcus Garrett have all been through a night like this before, too.
Beyond that, all four of those guys experienced life on college basketball's biggest stage while taking part in the Final Four a mere seven months ago.
Their advice for the eight Jayhawks who will be experiencing a Champions Classic atmosphere for the first time is simple.
"I just try to tell them to block out the crowd and try not to listen to what people say," Garrett said of his advice to the young Jayhawks. "Especially now that we're preseason No. 1. I feel like a lot of people are hyping (us) up and I'm just trying to keep (us) level-headed."
That, of course, is easier said than done — especially at an event with so much buzz and hype.
"No, it definitely wasn't easy," recalled Garrett of his first experience at the Champions Classic. "Your adrenaline's running and things are happening fast."
Azubuike said the Champions Classic vibe was "not quite the same feeling" as the Final Four, but added that his team's focus should be the same.
"I think the stage of the Champions Classic is close to the same stage as the Final Four," he said. "And I just told the younger guys we can't think too much, we have to just play our game. … It's the beginning of the season. The fans are excited, everyone wants to see what Kansas can do."
The Jayhawks enter Tuesday's game 3-4 all-time in the Champions Classic and 0-2 against Michigan State at the event.
Despite their sub-.500 record in the early-season showcase, the Jayhawks are riding a two-game winning streak at the Champions Classic.
KU topped Kentucky, 65-61, last season in Chicago and knocked off Duke, 77-75, in 2016 in New York.