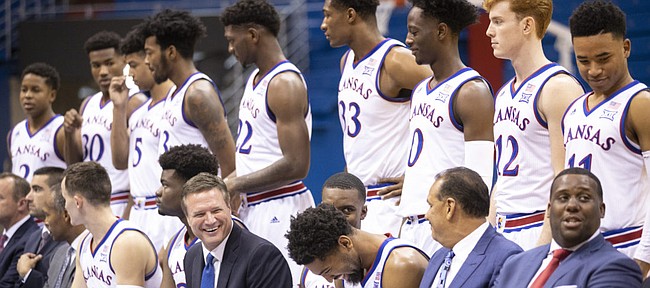 No. 1 Kansas Jayhawks (0-0) vs. No. 10 Michigan State Spartans (0-0)
Time: 6 p.m. | Location: Bankers Life Fieldhouse, Indianapolis
TV:ESPN | Radio: IMG Jayhawk Radio Network
Log on to KUsports.com for our live game blog coverage and follow the KUsports.com staff on Twitter: @KUSports @mctait @TomKeeganLJW @bentonasmith & @SJacksonLJW
Keys for Kansas
1. Size matters
Michigan State coach Tom Izzo, after his team's most recent exhibition victory, flat-out admitted that he was not sure how his big men would fare against the monster frontline that Kansas brings to this battle.
"I'm a little concerned about our bigs," Izzo said last week. "I got two really good bigs, (but) if you look at Kansas on tape, they just bring in 7-foot, 6-foot-9, 6-11, 6-9, 6-8. They bring in a lot of guys 270-280 (pounds). That concerns me a little bit."
A little bit is probably fair because of KU's depth and overall size. A lot would be unfounded considering the Spartans were the fourth-best offensive rebounding team in the country last season, grabbing 37 percent of available rebounds. One big reason for that — lottery pick Miles Bridges — is gone, but in junior forward Nick Ward (6-9, 245), Michigan State returns a player who led the nation in offensive rebounding percentage at 18.2 percent.
Neither Ward nor anyone else on the MSU roster can match the size of KU junior Udoka Azubuike, and if Azubuike can bring the kind of energy and effort to the glass that KU hopes he will all season, the Jayhawks could win this battle. It's going to take energy and effort, though, because the Spartans are known for scrapping on both ends.
"Our team is ready," Azubuike said. "Overall, I think we are ready, as far as talent, and I know they will be ready, too. So we have to attack."
2. Keep it clean
New faces in new places created problems for KU in both exhibition games.
With the Jayhawks still searching for their chemistry and trying to find out who fits where, KU topped 20 turnovers in both exhibition games.
KU coach Bill Self said the 42 turnovers in the two tuneups were mostly the product of guys trying to do too much, and the players themselves talked after both games about tightening things up and playing more under control.
Even though MSU is a Top 10 team and a much tougher opponent than either Emporia State or Washburn, the Spartans aren't known for turning teams over. At least, they weren't last year. Michigan State ranked 341st out of 351 teams last season in forcing turnovers.
If the Jayhawks can take care of the basketball and use their depth to harass Michigan State's backcourt, Kansas could both lower its giveaways and win the turnover battle, which would go a long way toward delivering a victory.
3. Surprise, surprise
When you've faced each other as many times as Self and Izzo have throughout the past couple of decades, familiarity becomes a friend and foe of both sides.
As Self recently pointed out, "They always seem to play well against us," and a big part of the reason for that is Izzo's understanding of Self's philosophy and approach to the game on both offense and defense.
Neither team showed much during their exhibition games in terms of running complicated offensive sets or giving away too much on defense, but all bets are off now that the regular season has arrived.
Remember, even though this is just the opener and there are dozens of games ahead and months of basketball to play, it has the potential to be a resume-type game for seeding when the NCAA Tournament Selection Committee is sorting things out in March. Besides, Self is always ultra-motivated to win these games against his elite coaching peers.
"We haven't run one play yet," Self admitted. "We haven't put in a crutch. I'm hopeful that we may do something that they haven't seen yet. … It's totally different personnel on both sides. We'll have to play a lot better than what we've played. Hopefully, we'll also raise our level that maybe we haven't seen yet, too."
Mega Matchup
KU's experience vs. Michigan State's experience
Two years ago, a group of Michigan State freshmen ran into a buzz saw of a Kansas basketball team in the second round of the NCAA Tournament and paid for it dearly.
Three of those freshmen are juniors today and they're looking for revenge from the 90-70 loss in Tulsa that was much closer and tougher than the final score suggests.
Joshua Langford, Cassius Winston and Nick Ward all played meaningful minutes in that loss to KU and, in some ways, this game marks their opportunity to flip the script against a talented group of Kansas freshmen.
It's not that the Jayhawks are without experience, though. Senior Lagerald Vick and juniors Azubuike, Mitch Lightfoot and Dedric Lawson have played more than their share of college basketball. And while the KU freshmen could — and probably should — play a big role in the outcome of tonight's game, this one could be decided by whichever group of veterans performs better on the big stage of the Champions Classic.
During their college careers, which includes two years of time at Memphis for Lawson, Vick, Azubuike and Lawson have appeared in 206 games and made 145 starts.
On the other side of the coin, the MSU trio has logged 210 games and 157 starts.
Jayhawk Pulse
The Duke-Kentucky nightcap might get a lot of the buzz, but No. 1 vs. No. 10 in the Champions Classic opener is certainly nothing to yawn at.
Two Hall of Fame coaches. Two Top 10 programs. Two perennial contenders. Two teams with a history of playing tough, competitive games in this very event.
The Jayhawks enter the regular season with high hopes, a loaded roster and expectations that match both. But this Kansas team is very much still a work in progress. So many new faces dot the KU rotation and these guys are still trying to find how they fit, work best and play together.
Exhibition victories over Emporia State and Washburn provided small flashes of just how good things can be when it's all clicking. But a few issues were exposed, too.
Self has said that this team could take a couple of lumps in the nonconference portion of its schedule and still have a special season. There's no doubt that this could be one of them.
But at the same time, if the top-ranked Jayhawks are able to open their season with a win over a powerhouse program ranked No. 10 in the polls, it could do wonders for the team's overall development and give some of KU's younger players a serious dose of confidence heading into the rest of November and December.
Probable Starters
No. 1 Kansas
G – Devon Dotson, 6-2, 185, Fr.
G – Marcus Garrett, 6-5, 195, Soph.
G – Lagerald Vick, 6-5, 190, Sr.
F – Dedric Lawson, 6-9, 235, Jr.
C – Udoka Azubuike, 7-0, 270, Jr.
No. 10 Michigan State
G – Cassius Winston, 6-1, 185, Jr.
G – Joshua Langford, 6-5, 210, Jr.
G – Matt McQuaid, 6-5, 200, Sr.
F – Kenny Goins, 6-7, 230, RS-Sr.
F – Nick Ward, 6-9, 245, Jr.