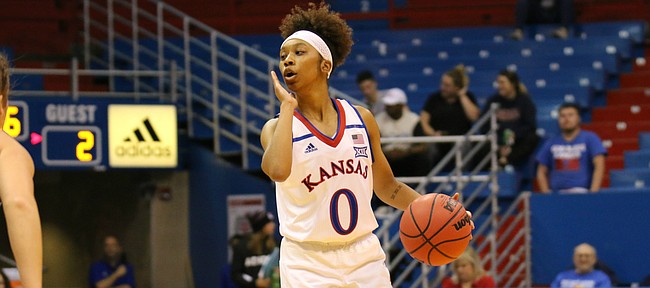 Things were a little different when the Kansas women's basketball team took the court one week after going to overtime with Fort Hays State.
No major starting five changes, no miraculous plays, just pure dominance over the opposition. Every single one of the Jayhawks' 13 players that appeared in the game were able to score during the team's 87-43 win over Washburn in the final exhibition game.
"We have a group that is willing to move the ball, (and) willing to share the ball. I think they understand the way that we're trying to play," KU coach Brandon Schneider said.
The Jayhawks finished out the preseason with a pair of exhibition victories. Forcing 24 turnovers on the Ichabods, including 16 in the first half, even Washburn head coach Ron McHenry was impressed with the Jayhawks improvement in ball pressure.
"Their pressure today was better than I thought it would be," McHenry said. "One of my going-in thoughts was we needed to get into our offensive sets, because sometimes they'll take you out of it, and they did. I thought we would be able to get into it better than we did."
Usually a sharpshooter from the field, Kylee Kopatich only made one 3-pointer on four attempts in the first half. She finished with just six points on a 2-of-11 effort from the field.
Though Kopatich's day did not revolve as much around scoring as she usually would, her three steals in the first half played a large role in the improved pressure. Kopatich finished the game with six rebounds, five assists and six points.

"A lot of that was her," Schneider said. "On a night where you're not making shots, that's when you see a senior impact the game in other ways … she was flying all around the floor on the defensive end. I think that's what senior experience should give you."

Despite the lopsided turnover number, Kansas only scored 30 points off them.
"I guess it just turned November, so it's very very early, so those are some things we continue to learn from," Schneider said.
After starting the game on a 22-2 scoring run, the Jayhawks did not let the Ichabods come any closer than nine points the rest of the game. Christalah Lyons had 15 points by the end of the first half.
"(Christalah's) very aggressive and explosive," freshman Aniya Thomas said. "She can basically get by anybody on the court and she's a great leader."
Come the second half, Kansas — a team that struggled with its late-game offense last season – only improved. Thomas and Brooklyn Mitchell surged well-ahead of their experience, with Mitchell leading in scoring at 19 and Thomas in second at 14.
As a team, Kansas shot 42 percent from the field, sinking five 3-pointers on 21 attempts.
"We ran bad offense on Sunday and scored more points because we made shots. We ran better offense today, we didn't score as many points, but we just missed shots," Schneider said. "In this time of year, I'd rather see us improving our offensive play by running better offense."
Sixth-year senior Jessica Washington was in sweats on Sunday and did not play. She also did not play last Sunday against Hays, wearing a boot on the bench. Schneider said on Sunday after the game that "she'll play soon."
Kansas will begin the regular season Wednesday, when it plays host to UMKC at 7 p.m.
More like this story on KUsports.com