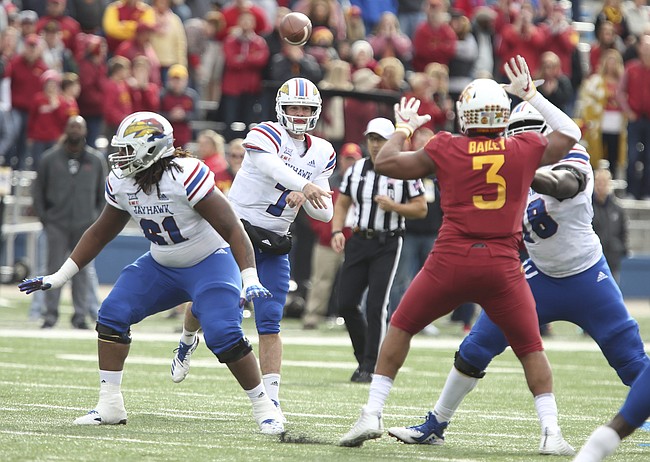 After notching its first conference win of the year, the University of Kansas football team could not build on that momentum against Iowa State.
ISU scored a pair of touchdowns in the first quarter, and KU never recovered during a 27-3 loss Saturday at David Booth Kansas Memorial Stadium. The Jayhawks (3-6, 1-5 Big 12) have now lost their last four meetings to the Cyclones (5-3, 4-2) following the lopsided defeat.
Freshman quarterback Brock Purdy helped Iowa State extend its win streak to four games by completing 16 of 23 passes for 263 yards and three scores. In the loss, Peyton Bender went 19-for-41 for 185 yards for the Jayhawks.
Kansas travels to Kansas State at 11 a.m. Friday.
Here's a quick look back at some of the action:
• The game turned when: Iowa State receiver Hakeem Butler did his best Randy Moss impersonation.
With 6:59 left in the first quarter, Butler found the end zone in emphatic fashion. Butler dusted Hasan Defense off the line, and created plenty of separation from any Kansas defender. Freshman quarterback Brock Purdy, however, underthrew the ball to make Butler come back for it.
Butler leaped over Defense to haul in the catch and then shoved off a tackle en route to a 51-yard touchdown reception to give the Cyclones the lead. It capped a 14-point opening period, in which Butler netted both scores to help the visitors take control out of the gate.
Iowa State led by at least two touchdowns for the remainder of the contest.
• Offensive highlight: This category should just be reserved for Pooka Williams every week.
The freshman running back has done it all for the Jayhawks since the second week of the season. In Saturday's loss, Williams demonstrated his strength on a run in the third quarter. Williams, who is 170 pounds, ran over an Iowa State would-be tackler during an 11-yard run.
Williams finished with 58 yards on 17 carries for the Jayhawks.
• Defensive highlight: Even though the score was lopsided by this point, Kansas kept Iowa State from extending its lead in the third quarter.
Photo Gallery
KU football vs. Iowa State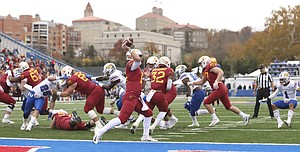 Photos from KU's 27-3 loss to Iowa State Saturday afternoon.
Trailing 27-3, Codey Cole brought down Purdy for a sack on third down to force a long field goal try. Connor Assalley's attempt from 49 yards out sailed right, keeping the margin at 24 points with 2:45 left in the third period.
It ended a strong drive for the Cyclones, who used 12 plays and 6:18 to march into the Jayhawks' territory.
• Key stat: Early miscues prove costly for the Jayhawks.
Trailing 14-0, Kansas put together a solid drive on its third possession in attempt to trim the deficit to one score. Stephen Robinson Jr. dropped a potential touchdown pass from Bender. Moments later, Bender threaded a pass through ISU's defense on a post pattern to Jeremiah Booker in the end zone. Booker was unable to come down with the catch on fourth down, however.
Just two possessions later, Robinson fumbled on the opposition's 24-yard line, ending another promising drive by the Jayhawks. The Cyclones answered with a field goal to take a 20-0 advantage.
SCORING SUMMARY
FIRST QUARTER
9:39 — Hakeem Butler 83 pass from Brock Purdy. Connor Assalley kick. Three-play drive for 95 yards, in 0:57. (ISU 7, KU 0.)
6:59 — Butler 51 pass from Purdy. Assalley kick. Two-play drive for 65 yards, in 0:33. (ISU 14, KU 0.)
SECOND QUARTER
11:20 — Assalley 47 field goal. Eleven-play drive for 39 yards, in 3:52. (ISU 17, KU 0.)
2:49 — Assalley 23 field goal. Eight-play drive for 60 yards, in 3:43. (ISU 20, KU 0.)
0:03 — Gabriel Rui 47 field goal. Fourteen-play drive for 46 yards, in 2:46. (ISU 20, KU 3.)
THIRD QUARTER
10:10 — Matthew Eaton 3 pass from Purdy. Assalley kick. Nine-play drive for 60 yards, in 3:32. (ISU 27, KU 3.)