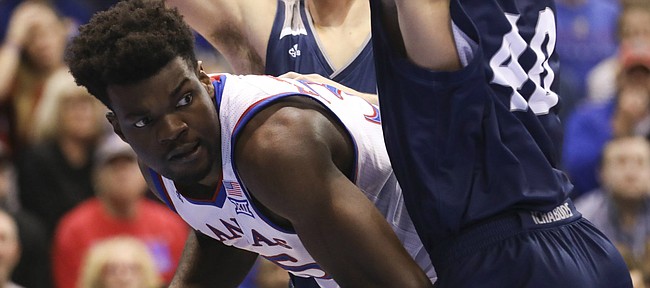 Not long after the 2017-18 season ended, and Kansas fans, players and coaches began looking ahead to the season that would follow, one of the first visions that came to mind for many was Memphis transfer Dedric Lawson working his wizardry to get easy buckets for junior center Udoka Azubuike.
And then, Thursday night happened, and the two KU big men flipped the script.
Now, it's anybody's guess what will happen and the college basketball world has been put on notice that anything is possible.
For the second exhibition game in a row, Lawson finished with just one assist while Azubuike tallied three, giving him four for the past two outings.
After the opener, Lawson was down on himself for his low assist total. This Thursday, after a 79-52 win by Kansas over Washburn, Lawson was much more interested in talking about Azubuike's skills than his own numbers.
"Dok is really a pretty good passer," Lawson said. "Over the last week, we worked on trapping the post and things like that, and he's been playing pretty well against big guys, against Silvio (De Sousa) and David (McCormack)."
The Ichabods did not have anything resembling any of KU's big men on their available roster. But they were scrappy and they swarmed Azubuike every time he caught the ball.

"They're going to double-team me a lot because, pretty much, a lot of teams can't stop me," Azubuike said. "So I just kind of figured out, when I get double-teamed, pass the ball or take two dribbles, just find ways to avoid turning it over."
On one particular play, the magic potion for Azubuike was patience.
After catching the ball on the left block and watching two WU guards come racing his way, Azubuike calmly protected the ball, moved ever so slightly away from the basket to carve out more room to operate and quickly flipped an underhand pass to Lawson for an easy layup under the basket.

"I knew that was coming," Azubuike explained after the game. "And each time I catch the ball on the block, my eyes are always wide open, trying to see the passes.
"In practice, we work on it — high-low and all that. Usually, I'm always the one trying to pass him the ball on the inside. But it was good just seeing everything that we've been practicing work out in a game."
That vision and patience is merely part of the bond developing between KU's two dynamic big men. Although they bring different things to the table and have different strengths and preferred modes and areas of operation, when the two are in harmony, it's clearly good news for the Kansas offense.
"Me and Dedric, we've been working a lot," Azubuike said. "He's a really talented guy, a skillful guy that can play in and out. We've got a chemistry going on right now."
Just because Lawson was the benefactor of a few Azubuike assists this preseason does not mean that things cannot go the other way, as well — the way everybody envisioned it going in the first place.
"Right, right, definitely," Azubuike confirmed Thursday.
KU coach Bill Self has called Lawson the best passer he's had at Kansas and the belief around the program is that a lot of Lawson's vision and many of his best passes this season will wind up in the hands of Azubuike.
"I definitely want to give him the ball," Lawson said. "Udoka's a hard guy to stop when he's in the paint, rolling. He finishes so well around the rim. Most of his points are dunks. So we've got to just keep feeding Dok."