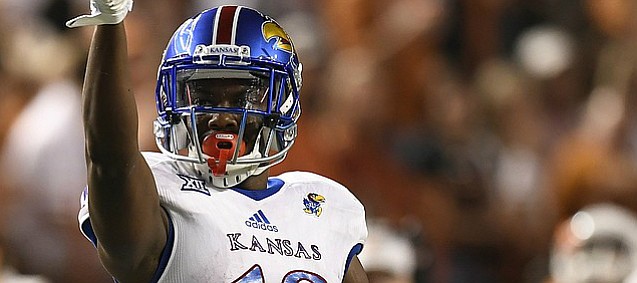 Hasan Defense spent the spring lining up against University of Kansas receivers, fixated on stopping them from making catches.
Through those countless repetitions, as well as video reviews of practices, the junior cornerback learned a great deal about the Jayhawks' receiving unit.
Defense attested to seeing firsthand significant progress from the previous season out of some of KU's most talented passing targets.
"Steven Sims, he's always been good, but he's getting a lot better," Defense reported of the team's top receiving threat. "You can tell he's becoming a leader. He's out there helping other guys and stuff."
Sims, a senior this coming fall who led KU with 59 catches, 839 yards and six touchdown grabs in 2017, of course, will need as many of the receivers around him as possible contributing and making defenses worry about them, too.
A 6-foot-3 junior, Evan Fairs could become an ideal complement to the 5-10 and speedy Sims.
"Evan Fairs, he's come a long way, as well," Defense said. "He's gotten a lot bigger (adding at least 15 pounds). He's been moving a lot better, making nice progressions. So he's been doing a really good job lately. I like what he's doing."
Defense said he and other KU defensive backs knew they were in for a physical battle every time they encountered either Fairs or senior Jeremiah Booker (6-2, 212 pounds).
"They move him around a lot, so he's really becoming deadly," Defense said of Booker. "I like it."
Sharing spotlight with KU basketball
While the perpetually down KU football program has won three or fewer games in each of the past eight seasons, the university's blue blood basketball program keeps rolling right along.
As much as KU basketball is associated with Big 12 titles, the football team often is identified by its inability to compete in the conference.
Given those circumstances, Sims was asked this spring how he and his teammates handle existing in the shadows of a tradition-rich basketball powerhouse.
"It's just extra motivation to us," Sims offered in response. "We know that we came to a basketball school. We know that those crazy fans that cheer for the basketball team will be out here on the football field once we start doing our job. First, we've got to take care of us and do our job, and then it's going to be KU football that they talk about."
LBs coach Miller a 'teacher'
Fourth-year KU football head coach David Beaty figured that adding veteran assistant Bill Miller to his staff would pay dividends for the program.
Miller worked previously at Florida State, Michigan State, Oklahoma State, Miami, Florida and other programs through his 40-year career. During the spring, Beaty thought KU's new linebackers coach stood out with his maturity and attention to details.
"He's truly a teacher. I think some of the best coaches I've ever been around, all of them, they're good teachers," Beaty said. "You can be a motivator and not really be a good coach, a good teacher."
Just having Miller around the football complex, Beaty said, has elevated the entire staff.
"I mean, he's been really, really good on that defensive side, but he's been good for all of us," Beaty related. "Bill is a guy that I respect so much that we ask for him to speak quite a bit with our staff, and he does a really nice job of really helping us understand how we should teach things."