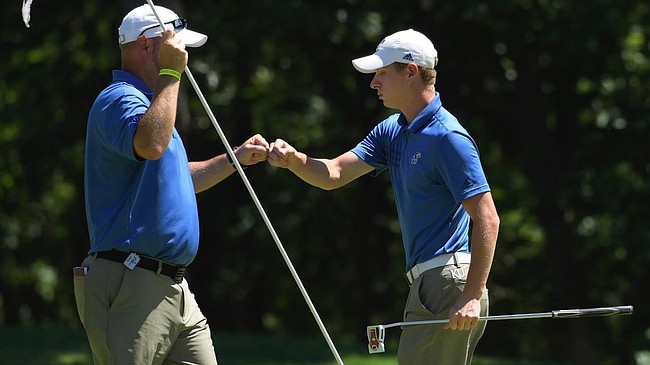 Stillwater, Okla. — Karsten Creek, site of the NCAA championship, relentlessly punishes golfers who don't find the fairway off the tee.
Sure, it's a long track, but it's accuracy that prevails at Oklahoma State's home golf course.
The higher a golfer's swing speed, the more severe the penalty for not quite hitting the sweet spot.
Consider all those factors, mix in that Kansas freshman Harry Hillier was 7,518 miles from hometown Te Puke, New Zealand and had just carded a pair of double-bogeys in a three-hole stretch Sunday, and it amounted to the perfect storm for a meltdown.
Except it didn't happen. Quite the contrary.
Hillier rebounded to birdie four of his final 10 holes to shoot a 1-under par 71, a scorecard that featured seven birdies, save pars, two bogeys and two double-bogeys.
"He has no idea how good he can be, absolutely no idea," sixth-year Kansas coach Jamie Bermel said. "We tell him all the time, I've watched 27 years of golf and he has about as high a ceiling as I've been around. Now whether he gets there, that's up to him. He's going to have to work harder. His wedge has got to get better, but the ceiling is limitless."
Remember, at Drake, Bermel coached Zach Johnson, a 12-time PGA tour winner who counts the Masters and British Open among his victories. At Colorado State, Bermel coached Martin Laird, a three-time winner on the PGA tour.
As a sophomore, Andy Spencer was the team's best player. He, too, has a high ceiling, but to watch Harry Hillier crush a drive with a seemingly effortless swing is a rare sight and calls to mind former Kansas golfer and three-time PGA tour winner Gary Woodland. The younger brother of teammate Charlie Hillier, Harry finished his Saturday round with an eagle for an 81, and lipped out an eagle putt on the first hole of his Sunday round.
In the three NCAA finals rounds before Kansas missed the cut, Harry led the team in birdies (11) and double bogeys (four) and tied his brother for the most triple bogeys.
"If he would work at it harder, he has a chance to be a good one, or he can be pretty average. I think he's scared to be great right now. I don't know how we can get around that. We push him as hard as we can push him and until he accepts that and really digs in deep," Bermel said, not needing to finish the thought to make the point. "Right now, he doesn't understand the quality of player he is. He hits a bad shot, he thinks he's a bad player, and that's not the case. He has a chance to be special."
Senior Daniel Hudson called Harry "a Dustin Johnson-type talent, can hit it forever."
"I think it's a little bit of maturity and understanding how to score," Hudson said of where he expects his teammate to make the biggest strides. "To think that he can get this experience as a freshman and play as well as he did today is a super good accomplishment and one he should be really proud of."
Ben Sigel, a fellow freshman, was KU's No. 5 golfer in the fall, when his classmate was struggling with the adjustment to college life and being so far from home.
Harry Hillier became assistant coach Chris Wilson's pet project.
"I walked every hole with him this spring," Wilson said. "Every hole. We've had some ups and downs, some kind of tense moments at times. His emotions still go all over the place at times."
Harry's Sunday round started with three birdies and a par on the first four holes. He then went bogey, double, par, double.
"He made those birdies, everything's great, then all the sudden he hit a couple crooked and he crashed almost," Wilson said. "He was ready to kind of go the other direction."
But he didn't, an encouraging sign of progress for the young talent.
"The clubbed speed is just incredible," Wilson said. "This golf course took his most powerful weapon, which is that driver, out of his bag a lot."
Wilson said the younger Hillier's drives can carry 310 yards and roll out to 330 "pretty easily."
His short-game potential is sizable as well because, Wilson said, "he's got great hands, great hands."
Harry already has made big strides with the putter.
"When he first came to the States, everything was hit it as hard as he can to the back of the hole," Wilson said. "So he three-putted a lot, battled on speed, tried to learn. Here, bent-grass greens, fast, elite-level golf, a lot of putts are rolling over the front edge. And he kind of struggled with that. He'd hit two good shots and be 12 feet. All the sudden he's got 6 feet for par coming back. You just can't put that much pressure on yourself. You want tap-in pars if it misses."
Trying to harness a young talent, especially in a game that is played to such a large extent between the ears, isn't always easy for coaches, which makes seeing progress all the more rewarding.
"He's been a challenge, but a lot of fun to spend the semester with," Wilson said.
From not playing in the top five in the fall to having the team's best score at a tight golf course on KU's final day in the NCAA championship, bodes well for Harry Hillier's future.
"He came in pretty young and traveled halfway across the world," Wilson said. "Everything's new. He's never had as much pressure put on him with school, with workouts, with where to be and what to do and how to do it. His whole world was kind of turned upside down in that regard and he's had a hard time juggling all the balls at times. That's why he didn't play in the fall."
As late, great Marquette basketball coach Al McGuire famously once said, "The best thing about freshmen is that they become sophomores."
When Harry Hillier next competes for Kansas he will be a sophomore, by which time his fall of 2017 might feel like a distant memory.
"He was kind of hitting it all over the place," Wilson said. "At the same time, he struggled with school. He struggled with being where he was supposed to be. He struggled with all little things you have to do to be out here."
And on the final day of the season, he shot one of only two under-par rounds by a Kansas player (Daniel Sutton shot 71 Friday) in three rounds of golf at punitive Karsten Creek. If he continues to improve at that rate and a develops the sort of obsessive work habits that have helped Woodland to earn nearly $19 million in PGA tour events, things could grow pretty exciting for Harry Hillier and the KU men's golf team.