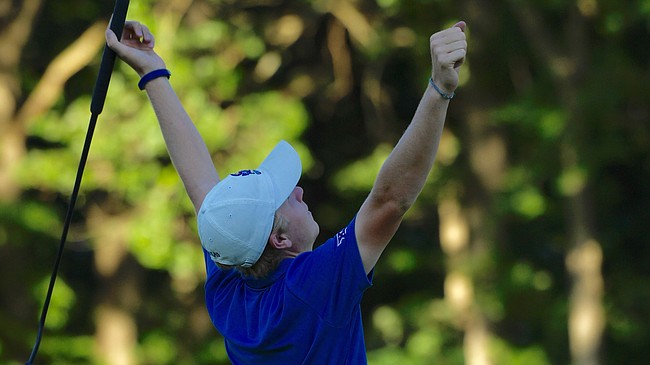 Stillwater, Okla. — Kansas moved up six spots Sunday to finish 23rd in the 30-school NCAA tournament championships, and even after it became obvious the team wouldn't make the cut to play another day, a little drama remained.
Daniel Sutton needed to make birdie on the par-5 No. 18 to qualify for the individual cut. The top nine finishers not on one of the 15 teams that made the cut advanced to play another day.
So after his drive ended up where almost all of them do, which is to say the fairway, he took a 3-wood out of the bag to try to reach the green in two.
It was long enough, but his ball found a steep green-side bunker, making it a delicate shot to get near the pin, which was on that side of the green.
He blasted out long, the ball rolling all the way to the fringe. His long putt was on line, but stopped a few feet short, leaving him tied for ninth. He lost the tiebreaker based on his third-round score of 75, his highest of the tournament.
Sutton was low Kansas medalist, tied for 39th at +3 after shooting rounds of 71-73-75. Senior Daniel Hudson was next at +5 (76-72-73). Freshman Harry Hillier finished +12 (76-81-71). Sophomore Andy Spencer was +13 (72-78-79) and junior Charlie Hillier finished +23 (82-79-78).
Sutton and Hudson are turning pro, Sutton playing this summer on a mini-tour in North Dakota, Hudson in Canada.
"We'll miss the leadership, especially from Dan Hudson, who's been around for four years," KU coach Jamie Bermel said. "For us to be good, our seniors had to play well, and I thought they were pretty good this week. We just couldn't back it up, Andy being off and Charlie being off. You never know what you're going to get out of your freshmen, but he counted two of the three rounds, so he's pretty good."
Harry Hillier, KU's longest off the tee and a tremendous talent, shot a 1-under par 71 Sunday, a score that usually means a lot of pars on the card. Nope. He had just seven pars to go with seven birdies, two double-bogeys and two bogeys. He was 3-under on the first four holes, 3-under on the final seven holes and 5-over on the middle seven holes.
Harry Hillier wasn't the only one with hot-and-cold stretches on the final day of KU's season.
Quite steady the first couple of rounds, Sutton had some big numbers and small ones on his scorecard.
He was +5 on the day through 10 holes, thanks to a triple-bogey on No. 6 and a double on No. 10, and was +5 heading into No. 14, a 570-yard par 5.
Eagle, birdie, and he was down to +2, but lost a stroke on No. 17.
His drive down the middle on 14 left him 267 yards to the pin and about 240 yards to the front of the green.
"Hit 2-iron, hit it good, kicked down to the front of the green, had about 60 feet," Sutton said of his put that climbed the hill and then at the top of the ridge fell of sharply to the left and dropped in the hole.
"It was a good moment," Sutton said. "It was fun. It stayed pretty straight going up, then it got on the hill and died sideways almost, and it dropped in almost dead weight."
For an instant on the next hole, he thought he was about to top that moment.
"It was about 190 or something," he said of the par-3 15th. "I hit 8-iron, drew it right to left. In my head, I was thinking back-to-back eagles, hole in one, but it was a little too much to come true. It stopped 3 feet short of the hole. It was right on line. It was good. It was a good two holes."
The tournament format has a final day of stroke play for the 15 remaining teams and the top eight finishers will advance to team match play and are seeded, based on their place in stroke play.
Kansas has made three consecutive NCAA tournament regionals, but this was the school's first appearance in the finals since 2000.
"It was awesome. I was thinking about it coming off 16 tee that where I stood it was probably going to be the last couple of holes I played as a Jayhawk, but to think that the previous 18 years no senior has been able to play this far through the season's pretty cool," Hudson said. "Super, super cool, and hope this is the rule and not the exception for the team."
Can it be?
"Absolutely," Hudson said. "Obviously, next year is going to be a little bit of a restart with all the freshmen coming in, but they still will have a lot of good pieces."
Hudson pointed to the positive psychological impact this year's team can have on future Jayhawks.
"I think it's one of those things, breaking the four-minute mile and the (7-foot) high jump, if you just get over the hurdle the floodgates can break through," Hudson said. "Hopefully, this can be that for the program."