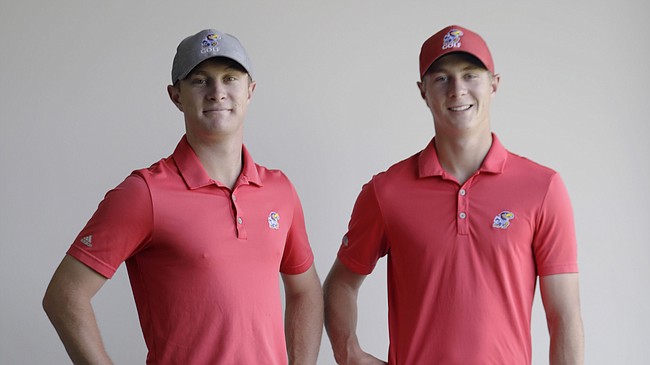 Harry, the younger brother, is more outgoing and arrived in the spotlight in need of taming, compared to his older brother, who is more reserved and naturally blessed with a personality befitting the expectations that accompany his role.
Those words just as easily could fit the British Royal brothers, William and Harry. Yet, in this case, they were intended to describe the University of Kansas golf team's brothers, Charlie and Harry Hillier, two of the five Jayhawks who will open NCAA finals play Friday afternoon at Karsten Creek in Stillwater, Okla.
How are the brothers alike and how are they different?
"Alike in no way, different in every way," senior Daniel Hudson said. "They're both a lot of fun to hang out with. I'd say Charlie is a little bit more serious. Harry's a little bit more happy-go-lucky."
And their golf games, how are they alike and different?
"Pretty different, as well," Hudson said. "Charlie's pretty cerebral. He thinks his way around the golf course pretty well. He's got a good short game, a good wedge game. Harry kind of goes in there and rips it, bombs it."
Hudson used a comparison to a pair of major winners on the PGA tour to illustrate his point: "Harry plays the game more like a Dustin Johnson, where Charlie would be more like a Zach Johnson."
Dustin's the best driver of the golf ball on the PGA tour. Zach, who played for Kansas coach Jamie Bermel at Drake, fits the description that Hudson used when talking about Charlie Hillier's game.
The brothers are alike in at least one respect. They both gave the same answer when asked to name the team's longest driver of the golf ball and the player with the best short game. Then again, everyone else gave the same answers, as well.
Longest driver?
"My brother is," Charlie said. "Don't tell him I said that, though."
Best short game?
"My brother," Harry said. "He can get it up and down from pretty much anywhere. He's over there (points), so I don't like saying it too loud."
Clearly, they didn't leave their sibling rivalry at their home in Te Puke, New Zealand, a home KU's No. 1 player, Andy Spencer, visited for a 10-day stay.
Spencer said the visit took place during winter break. Charlie Hillier said it was during summer break. They're both right. It was winter here, summer in New Zealand.
Charlie has made the adjustment well, but still misses some things about home. The biggest difference?
"The food," he said. "The portions here are massive. All of our food comes from our back yard. Mom has chickens, pigs, cows, sheep, the whole deal. It's a little fresher than it is here. You can still get it here. It's just that going to a restaurant is not quite the same."
Spencer called New Zealand "a whole new world with chickens and cows and stuff in their back yard, so the food's pretty fresh. Hopefully, I'll get an invitation back."
Spencer, from Leawood, played in a tournament with them in New Zealand.
"They're awesome," Spencer said. "Charlie is a little quieter, just goes about his business on the golf course. Harry's a little more outgoing. Hits it a long, long way. They both have great short games, I don't know if it's the Hillier hands, but some of their up-and-downs are pretty remarkable."
Kansas will have a third Kiwi on the team next year. Shaun Campbell, of Tauranga, New Zealand, is one of five incoming recruits.
"Shaun is a big, strong kid," Bermel said. "He hits the ball very hard and has a lot of playing experience to back it up."
Harry Hillier said the same basic thing, but with a different style.
"He lives about 15 miles away from me," Harry said. "One of my good mates is a member at the same course he is. He hits it a decent way."
Harry Hillier hits it a decent way and then some. Once assistant coach Chris Wilson tamed his game, Harry cracked the top five and steadily improved throughout the year.
"Coach Wilson's got me on the straight and narrow," Harry Hillier said. "He makes all my decisions. I have a little bit of input, but if I have a little bit of input, there's a little bit of risk involved. My spring season has gone very well and it's thanks to coach Wilson."
The brothers Hillier have one more thing in common: They both have had a big hand in elevating the Kansas golf program.