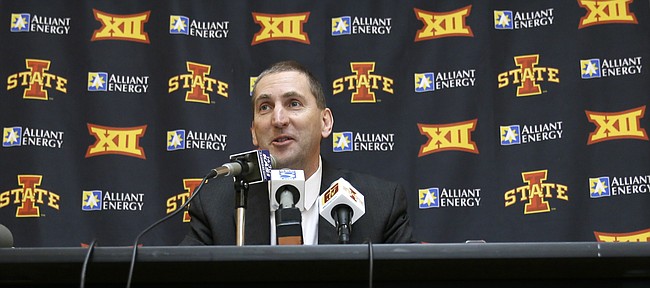 Hired by Iowa State at the start of the 2005-06 academic school year, Jamie Pollard has seen quite a change in the office he has occupied as the Cyclones' athletic director for the past 13 years.
"It can be absolutely smothering if you want to do it well because you've got to be everything to everybody," Pollard said during a recent phone interview with the Journal-World.
The evolution of what it means to be an athletic director in this day and age has been easy to spot from coast to coast at colleges and universities big and small. But when it comes to doing the job in the highly visible, high-risk, high-reward Big 12 Conference, Pollard believes there are two crucial traits that pay dividends in the quest to find success as the leader of a Big 12 athletic department.
"Number 1, you absolutely have to be a good fit for your institution and your culture," Pollard said. "That may be the single biggest deal. Just because somebody's successful somewhere else does not mean they're going to be successful in a new job if they can't fit that culture.
"I would say No. 2 is it's a big business so having somebody that can analyze really well is important. Because you can't be paralyzed. You have to be able to analyze and make decisions. You're not going to make every decision right. No one does. But can you overcome that by being able to analyze and make the best decisions possible?"
It's still early in KU Chancellor Doug Girod's search for a replacement for former KU AD Sheahon Zenger, who was fired on Monday. But Pollard, who is the second longest tenured AD in the Big 12 — hired seven years after Oklahoma's Joe Castiglione — believes the Kansas job is a good one that will attract a number of quality candidates.
How those candidates fit — or, perhaps more accurately, project to fit — into the culture at Kansas likely will be the most difficult part of the search for Girod as well as Drue Jennings and Jed Hughes, who were hired to lead the search. And Pollard said it often is impossible to know if anyone, let alone an athletic director, is a good fit for a particular place until he or she is actually there.
Once they are, a number of challenges of actually doing the job make delivering day in and day out much more difficult today than when Pollard was hired by ISU more than a decade ago.
The biggest of those, at least in Pollard's eyes, is operating under constant scrutiny.
"I think one of the hardest things about the job this day and age is just being able to balance the expectations because of the immediacy of feedback," he said. "There's no buffer any longer so the runway for things, when they're not going well, gets really short and that just puts so much more pressure on being able to stay true to your values and being able to do what you believe is the right thing to do."
Pollard said that pressure, both internal and external, comes "from multiple places and it comes so quickly now and that's just unhealthy."
While the options for a Zenger replacement are endless at the moment, the bulk of them seem to fall in two distinct categories — an AD with Power 5 experience and an AD at a school in a smaller conference.
Despite all of the pressures and potential pitfalls — i.e. losing one's job if production does not meet expectations — Pollard said the advantages of operating in a Power 5 conference and with a Power 5 budget allow major college athletic directors to both dream and achieve their visions with greater success.
"Oh, it's absolutely easier," said Pollard when asked if being in the Big 12 with NCAA giants like Texas and Oklahoma casting large shadows made things easier or harder at a school like Iowa State. "There's a huge delta between being in a P5 and not being in a P5 from a financial standpoint. So that makes it easier. The Big 12 is a tough conference. But show me a Power 5 conference that's not."
As with any job, Pollard and other Big 12 athletic directors are responsible for filling a number of different roles on a daily basis. While all of them are important, some are bigger than others and Pollard lists fund-raising as one of the most critical aspects in today's landscape.
However, just because an AD may be adept at asking for big money from donors does not make it easy. That goes back to that whole culture thing, and Pollard said establishing an environment that's both clear and competent is crucial to achieving success.
"Creating that culture is not as simple as just saying it," he said. "You've got to walk it. And that's what makes it so challenging. People like to say, 'Oh, you need a fundraiser or you need this or you need that.' I think culture raises money and individuals just facilitate culture. You could be the world's greatest fundraiser but if you're selling a bad culture, people don't want to be part of that."
At Iowa State, which has enjoyed 45 consecutive home football games with a crowd of more than 50,000, Pollard said the biggest key to the Cyclones' ability to build momentum throughout the department and successfully launch a handful of fundraising campaigns that led to more than $100 million in upgrades and renovations to Jack Trice Stadium was complete buy-in from the community and the university.
"We've created a culture where the people, they were there with us," said Pollard, who currently is seeking another $60-85 million for further football facility upgrades and also appears to have hit a home run with his latest football hire, former Toledo coach Matt Campbell, who is set to enter his third season at ISU and led the Cyclones to an 8-5 record (5-4 in Big 12 play) during his second season in Ames. "They knew it was going to be a tough road to travel and now they're finally getting their pay off. But it's because we've been in it together."
Whether the next KU athletic director can achieve that kind of unity in Lawrence remains to be seen and figures to be one of the greatest challenges of the job from Day 1.
But Pollard believes there is enough to like about Kansas and thinks there is a strong enough foundation, or launching-off point, for major movement immediately.
"The KU job's a really good job," he said. "What they were trying to do with the facilities was the absolute right thing to do. Sheahon had the right idea. That's what needs to happen. But getting it done is hard. You know, what comes first the chicken or the egg?"
More like this story on KUsports.com