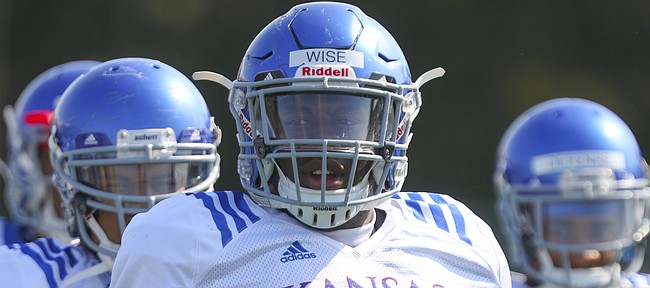 Though they play for a team often overlooked on the national landscape, Kansas football redshirt seniors Daniel Wise and Joe Dineen won't go unnoticed in their final year with the Jayhawks.
Both veteran defenders landed this week on Athlon's preseason All-Big 12 first team.
One of the program's most recognizable faces, Wise, a defensive tackle, ranked second in the conference in 2017, with his 17.0 tackles for loss, and also recorded 7.0 sacks.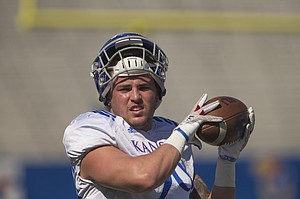 Another unmistakable team leader, Dineen, a linebacker, led the Big 12 in total tackles (137), tackles for loss (25.0) and solo tackles (93) this past year.
Thanks to its marquee players, KU tied Iowa State, Texas and Texas Tech for most first-team defensive selections.
The program's standouts weren't the only Jayhawks on Athlon's list, though. Another redshirt senior, kicker Gabriel Rui, made the second team.
By connecting on 17 of 20 field goals in 2017, Rui led the conference in kicking accuracy (85 percent).
While the Associated Press and Big 12 coaches' postseason all-conference teams end at two, Athlon's preseason blowout included third and fourth teams.
Running back Khalil Herbert, offensive tackle Hakeem Adeniji and kick returner Steven Sims Jr. — all juniors — showed up on the third team.
Fourth-team KU selections were Sims (this time at receiver) and junior safety Mike Lee.