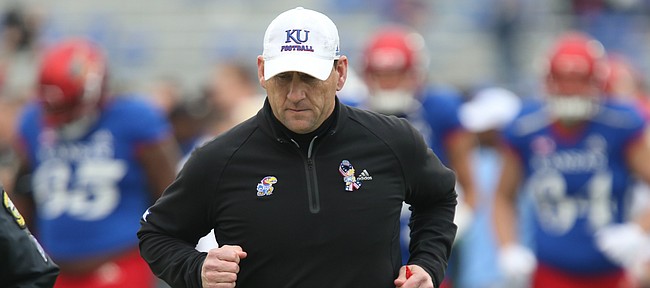 The man who hired David Beaty to coach the University of Kansas football program lost his job Monday.
No doubt, the on-field struggles that have characterized Beaty's tenure, as well as that of his predecessor, Charlie Weis, played a factor in KU chancellor Douglas Girod's decision to fire athletic director Sheahon Zenger, who hired the university's two most recent football coaches.
During his first three years in charge of attempting to overhaul the perpetually rebuilding program, Beaty's teams won three games and lost 33, with only one victory coming against Big 12 competition — an overtime home win against Texas, late in 2016. Zenger awarded Beaty with a contract extension through 2021 shortly thereafter.
In a letter Girod made public Monday morning that announced Zenger's firing, the chancellor also revealed his intentions to keep Beaty in place. Girod wrote that he shared with the current KU coach his "expectation" that Beaty will "continue recruiting hard and getting his team ready for the season."
While a KU spokesperson reached Monday said Beaty would not field any questions regarding Zenger's dismissal at this time, the fourth-year KU football coach released a statement on the day Girod terminated Zenger.
"It's certainly been a difficult day," Beaty stated. "Sheahon gave me an opportunity to be the head coach here at Kansas, a place that is special to both of us, and I will be forever grateful for that."
KU's football coach also thanked Girod for directly reaching out to him.
"Although this is a tough day, we will move forward as a program and continue to keep all of our focus on preparing for the season ahead," Beaty added.
Girod also announced deputy athletics director Sean Lester will serve as interim director for KU while the process for identifying Zenger's full-time replacement plays out. Girod indicated those endeavors already had begun, with Drue Jennings, interim KU athletics director in 2003, leading the search process. Jennings will be assisted by Jed Hughes, a consultant from the Korn Ferry executive search firm.
Zenger started at KU in January of 2011. At the conclusion of his first year on the job, he fired football coach Turner Gill, who went 5-19 over the course of two seasons. Gill coached KU to a 2-10 mark in 2011.
He replaced Gill with Weis, who went 6-22 in two-plus years at Kansas before Zenger fired him four games into the 2014 season.