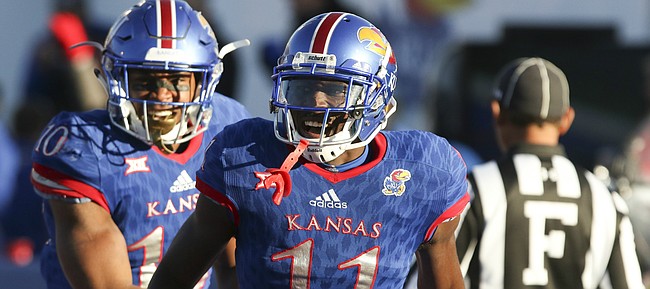 The Ring of Honor inside David Booth Kansas Memorial Stadium highlights the names of past KU football greats, evoking memories of better times for the program.
In the past year, 2008 Orange Bowl champions Aqib Talib and Anthony Collins became permanent references to bygone glory within the venue, as did 1992 Aloha Bowl champ Gilbert Brown. Before them, came two-time All-Americans John Hadl and Gale Sayers in the 1960s and many others.
Those names don't only resonate with the fans who attend KU football games. Current players can look up at them while practicing or playing in the old stadium and use the names as a handy reminder of what they're trying to accomplish.
Realistically, it would be difficult for any of KU's leaders of today to come close to reproducing the success of the program's all-time greats.
So how do the Jayhawks go about getting back to the point where they're playing in and winning big games?
"We've gotta first change the culture," senior receiver Steven Sims Jr. said, "which we're already in the progress of doing."
Even if a memorable bowl victory isn't in the cards for 2018 seniors such as Sims, Joe Dineen and Daniel Wise, their plans for the team involve taking ownership in every aspect possible as leaders.
"It has to be a player-led locker room. The team has to bring energy," Sims said. "No matter what Coach (David) Beaty says, we have to go out and do it. We have to go out on the field and make plays, we have to go out and make tackles, things like that."
It will take something remarkable for KU football to escape its current rut — nine consecutive losing seasons, with three or fewer victories in each of the previous eight.
"So I feel like it's all on the shoulders of the players and the leaders of this team," Sims said.
More experienced secondary
In 2017, KU's pass defense allowed nearly 300 yards per game as the Jayhawks relied on mostly inexperienced defensive backs.
Now that cornerbacks Hasan Defense and Shak Taylor, as well as safeties Mike Lee and Bryce Torneden, have that year of struggling behind them, they hope to provide the Jayahwks with much sounder performances this coming fall.
"Just playing that year with a bunch of these guys in the secondary — I think we have everyone back — it's definitely a lot smoother than last spring," said Torneden, entering his junior season. "That's for sure. So really trying to take advantage of that and work on what we need to and keep improving."
For Torneden, living through some disappointing mistakes and results ultimately taught him lessons about communication and confidence.
"I feel like a few of us, myself included, we came in not as confident just because we didn't have that experience that some other guys had," Torneden admitted. "So I'd say that's a big thing going in right now. Just being confident, playing confident, playing fast."
Toughness blueprint right on campus
According to coaches and players alike, one key KU football goal this off-season is to become tougher.
Asked whether the Kansas basketball program, known for its toughness during Bill Self's 15 seasons in charge, could serve as an example, redshirt senior linebacker Dineen thought KU's recent run to the Final Four doubled as an example of how intangibles can help a team maximize its potential.
"What they're doing is like the pinnacle of any college athletics and what they did this year, when no one expected it, that's just, it's crazy," Dineen said, crediting Self and the basketball team's leaders. "But what I think we can take away from that is our (external) expectations aren't super high this year, and we've got a lot of senior leadership. So let's get this thing rolling and get guys going."